On my huge road trip across the US, I stopped off at both Palm Springs and San Diego for a few days each.
I loved both locations but noticed that they were so different!
In this guide, I'd love to share with you all of the differences between them to help you decide where to visit on your next trip!
It covers hotels, activities, atmosphere, nightlife, beaches and more!
Summary – Palm Springs vs San Diego
Palm Springs
San Diego
Desert resort town
Coastal beach city
Upscale, luxury hotels
All types of hotels
Relaxed, laid-back
Laid-back city vibes
Unbearable summer
temperatures
Perfect year-round
weather
National Park, hiking,
pools
Beaches, surfing,
parks
More expensive
Less expensive
Palm Springs is a desert resort town located about two hours east of Los Angeles. It is most famously known as Hollywood's playground, where movie stars escape for some rest.
Palm Springs is a popular weekend getaway and high-end desert escape. It's very relaxed and has stunning mountain scenery.
In comparison, San Diego is an urban city that is famous for its laid-back vibe and is best known for surfing, golden beaches, perfect year-round weather and an easygoing feel.
I found that San Diego was much more crowded and touristy compared to Palm Springs which was way more relaxed and had fewer people. 
Palm Springs is located in the hot desert so temperatures soar in the summer – I personally found the heat a bit too much at times.
San Diego is a coastal, beach city that never gets too hot or too cold.
I personally prefer San Diego over Palm Springs. Firstly, I'm more of a do-er and I found there was way more to do in San Diego.
Also, as a Brit who is used to cold weather, I found the heat in Palm Springs to be way too much. I was sweating buckets even just laying by the pool.
Which Is Bigger?
San Diego, being the 8th largest city in the US and the 2nd largest in California, is much bigger than Palm Springs.
Palm Springs covers just 245km2 in the Sonoran Desert with a small population of just 47,800 people.
San Diego is enormous in comparison, covering 964km2 with a population of 1.4 million people.
Which Has Better Activities?
Whilst both locations have plenty of things to do, I found that San Diego had a much wider variety of activities available compared with Palm Springs which suited me better.
Activities In Palm Springs
Palm Springs is a relaxing destination with less activities available. Most people come to Palm Springs to rest – a day by the pool is often the way to go.
Top Activities In Palm Springs:
Living Desert Zoo and Gardens
Desert Hot Springs
Moorten Botanical Garden
Horseback riding
Wet 'n' Wild Park
Palm Springs Air Museum
In Palm Springs, expect to find large celebrity summer homes, country clubs and golf courses all surrounded by palm trees and mountains. Why not see what Palm Springs has to offer on a bike tour?
I really enjoyed taking the Aerial Tramway (which is the world's largest rotating tramcar) along the cliffs of Chino Canyon which has an elevation of 8,516 feet! 
The tram cars rotate slowly offering picturesque views of the valley floor below. I genuinely felt like I was up in the clouds here! 
Once at the top, you can enjoy the restaurants, hiking trails and observation decks that sit atop the cliffs.
I also took a day trip to the nearby Joshua Tree National Park from Palm Springs. I'd recommend joining this tour of the National Park like I did so you don't miss anything. 
Two surreal deserts meet inside this National Park, creating a strange but unique desert flora. I loved that this almost magical park had tons of interesting rock formations, Yucca trees and more.
Activities In San Diego
San Diego has so many different activities available – there is something for everyone in this SoCal metropolis.
Top Activities In San Diego:
Coronado Beach
Balboa Park
La Jolla
San Diego sits on San Diego Bay which is one of the most beautiful natural harbours in the USA. You can even jump on a boat for a cruise around San Diego Bay – look out for sea lions!
If you want something a bit more active, then you can try out a pedal boat instead.
Balboa Park is filled with some of San Diego's top attractions including San Diego Zoo, 17 museums, gardens, trails and so much more. For a bit of fun, head out on a scavenger hunt around Balboa Park.
You can also explore epic Balboa Park by segway if you prefer.
In Downtown San Diego, the Gaslamp District is the heart of the city. I loved just wandering around here as it was filled with lively bars, shops, restaurants, art galleries and museums. 
For a bit of fun, explore the Gaslamp District by segway.
One of my favorite spots in San Diego was La Jolla which is an upscale village-style neighborhood in northern San Diego. Known for its rugged coastlines, it's a great place for a scenic cliff walk with epic ocean views. 
I joined this sea cave kayaking tour in La Jolla and saw dolphins, seals and stunning coastal scenery. 
It was super fun and I learned from my guide that La Jolla is one of the best places in California to see wild sea lions!
To make sure you don't miss anything in the city, you can book onto a San Diego day tour.
You'll be able to experience all of the scenic highlights of San Diego in one day including the sea lions of La Jolla, the views from the top of Mount Soledad and the wonders of Balboa Park.
San Diego is also located incredibly close to the Mexican border so many people take a day trip to Tijuana for some authentic Mexican food and a fun day out.
Which Has Better Accommodation?
Both Palm Springs and San Diego have great hotels however I found that San Diego had a much wider range of places to stay. 
I personally stayed at the L'Horizon Resort & Spa in Palm Springs. This resort was absolutely stunning, I loved lounging by the pool with the mountains as my backdrop.
In San Diego, I stayed at Hotel del Coronado which was super modern and luxurious and located right in the heart of the city.
Accommodation In Palm Springs
In Palm Springs you'll find a wide range of luxury 5-star hotels. All come with large, refreshing pools perfect for a dip after a long day in the desert sun.
Most of the hotels are large resorts including a spa, sports facilities and more so you can spend most of your time there for a perfect, relaxing getaway.
Best Hotels In Palm Springs
Accommodation In San Diego
San Diego has an impressive range of hotels from small B&Bs to luxury, 5-star hotels and everything in between.
Best Hotels In San Diego:
Which Has Better Beaches?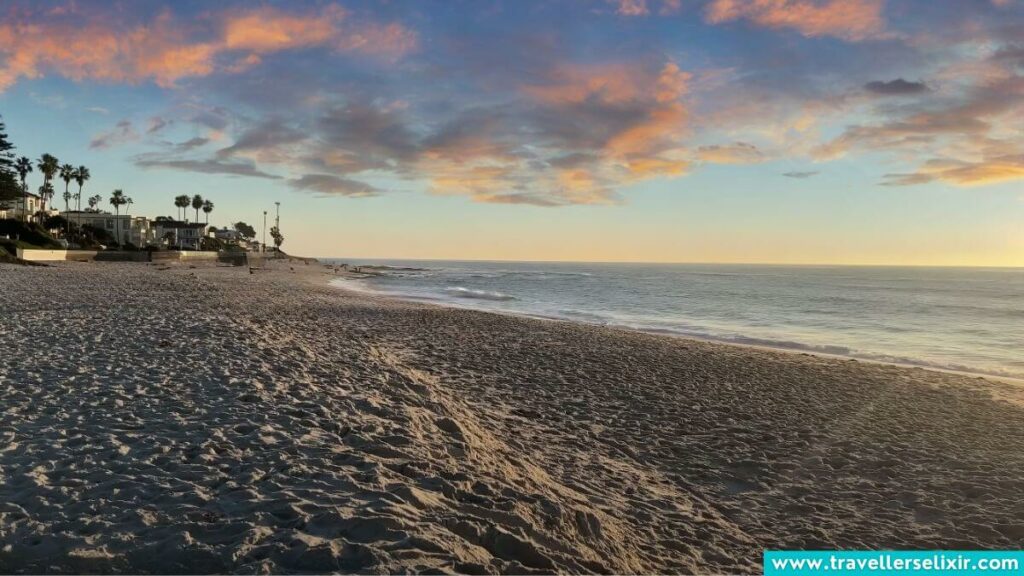 San Diego has great beaches and I spent an entire day of my trip beach hopping, trying to visit as many as I could.
Unfortunately, due to Palm Springs not being located on the coast, there are no beaches at all.
Palm Springs
Whilst Palm Springs doesn't have beaches as it is located away from the coast in the desert, you can spend your time relaxing by the pool instead which is what I spent a large proportion of my time doing.
No matter where you choose to stay in Palm Springs, one thing is almost certain: a pool is never far away, as nearly every vacation rental and hotel will have their own pool.
Beaches In San Diego
There are plenty of gorgeous coastal towns to explore in San Diego including the breathtaking coastline of La Jolla and Mission Beach. My personal favorite was La Jolla.
La Jolla is a super popular spot for water sports including surfing, snorkelling and kayaking or even hand gliding!
This area was a dream to explore with 300-foot sea cliffs, rocky reefs, secluded coves and, of course, golden sandy beaches.
I loved joining this sea cave kayaking tour in La Jolla as I got the chance to see dolphins, sea cliffs and hidden coves. 
Mission Beach is a super laid-back neighborhood whose sands attract surfers, sunbathers and volleyball players. You can also climb aboard a whale watching cruise from Mission Bay whilst you're there.
Another highlight for me was Sunset Cliffs which you should visit in the evenings for unforgettable Pacific Ocean sunset views. 
San Diego is also home to a range of other beautiful beaches including Pacific Beach, Ocean Beach, Flat Rock Beach and many more!
Which Is Better for Nightlife?
I found that the nightlife scene was very vibrant in both Palm Springs and San Diego. 
I did notice that the Palm Springs nightlife was much more high-end whereas San Diego had pretty much any type of establishment you could want!
Nightlife In Palm Springs
Palm Springs does have a pretty good nightlife scene. Once the sun goes down, I noticed that the nightlife really heats up in Palm Springs. 
Whether you want to sip on a handcrafted cocktail, listen to live music or dance the night away, Palm Springs offers endless possibilities.
Try sipping on a cocktail poolside at one of Palm Springs many pool bars. My favorite place to spend the evening was High Bar at Kimpton Rowan Palm Springs as this is the only rooftop pool bar in the area! 
You could also head over to Soleil Pool & Bar at Margaritaville Resort where they let you relax out by the poolside fire pits and watch the stars while you drink.
Nightlife In San Diego
I also loved the nightlife in San Diego as it was super vibrant and fun. 
I usually headed downtown to the city's Gaslamp Quarter which is the center of San Diego's nightlife scene. It is famous for having many rooftop bars, nightclubs with celebrity DJ's and atmospheric jazz clubs. 
The Gaslamp Quarter features 16 blocks packed with over 180 restaurants, 50 bars and 10 nightclubs.
You could head to a nightclub with a world-class DJ and dance the night away or sip on a hand-crafted cocktail in a fancy rooftop lounge. San Diego has it all.
San Diego is also pretty well known for its craft beer scene so make sure to try some on your night out.
Which Has Better Weather?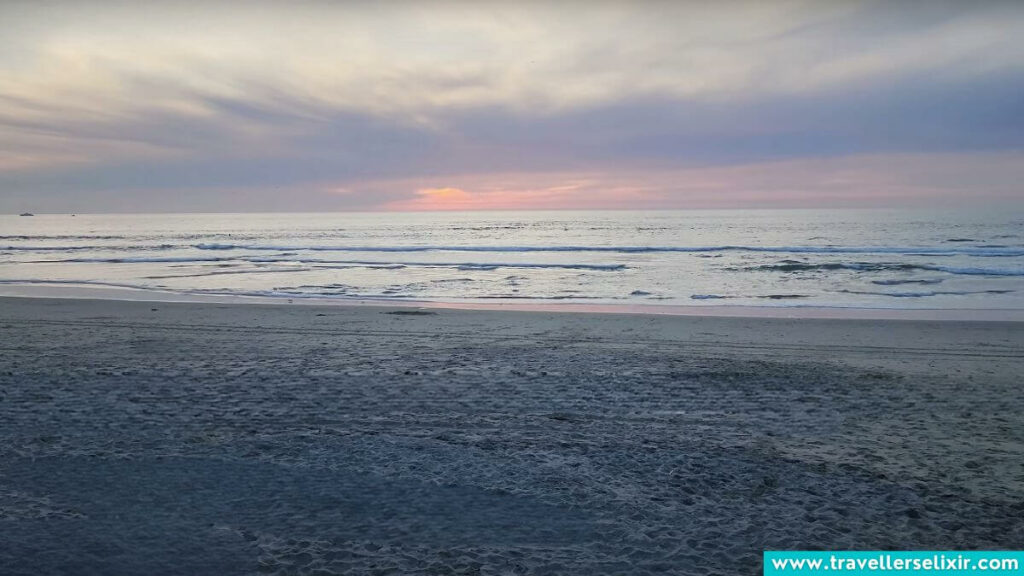 As Palm Springs is in the desert, it can get ridiculously hot in the summer. In fact, I actually found the heat to be a bit too much at times.
San Diego has year-round perfect weather and I had absolutely no complaints about the heat at all.
Weather In Palm Springs
Avoid heading to Palm Springs in the summer as the unbearable temperatures can reach up to 107ºF (42ºC) in June, July and August. 
I, of course, mistakenly visited in July which is likely why I found the head to be unbearable.
March/April is the best time to visit with temperatures reaching 88ºF (31ºC) at this time.
Weather In San Diego
San Diego has year-round perfect weather making it an excellent vacation spot at any time of year.
San Diego is great in the summer, reaching around 77ºF (25ºC). It also still reaches reasonable temperatures during winter, getting up to around 66ºF (19ºC) in the coldest parts of the year.
Which Is More Affordable?
Both Palm Springs and San Diego are fairly expensive places to vacation however I found that Palm Springs was definitely way more expensive than San Diego.
Things like hotels, food, drinks and transport all cost me a lot more in Palm Springs. 
If you've got your heart set on Palm Springs then you can make some savings by vacationing in the off-season summer months. If you can bear the heat then this will save you some cash.
---
And that's it!
Thanks for reading this guide – I hope you've now decided where to visit.
If you need any more help deciding, I wrote some other guides:
Related Posts: