If you're a regular reader of this blog then you'll know that I'm pretty obsessed with swimming with turtles. In fact, I've done it all over the world.
When I began planning my trip to the Maldives, of course the main thing I knew I had to do was swim with turtles.
I found that the best place to see turtles in the Maldives is on the island of Maafushi.
I ended up booking onto this snorkeling tour which takes you to the island's best reefs so you're basically guaranteed a turtle sighting!

You even get to snorkel around a shipwreck!
In the rest of this post, I'll go into more detail and give you the exact locations where you can find the turtles for yourself!
Best Places To See Turtles In The Maldives
Many of the islands within the Maldives have healthy coral reefs with rich seagrass beds which just so happens to be the perfect habitat for sea turtles!
The Maldives is actually home to 5 out of the world's 7 sea turtle species and there's a thriving community of turtles that call the Maldives home.
Let's jump straight in…
Maafushi
Based on my experience, Maafushi is the best places in the Maldives to see turtles.
This paradise island has soft, white sandy beaches, crystal clear waters and a healthy population of sea turtles!
For the best chance of being able to swim with turtles in the Maldives, book onto a Maldives snorkeling tour. This is the one that I did and I loved it.
I got to swim alongside turtles and I also saw a ton of tropical fish, a ray, loads of vibrant coral and even a couple of dolphins. It was truly magical and I felt so so lucky to be there.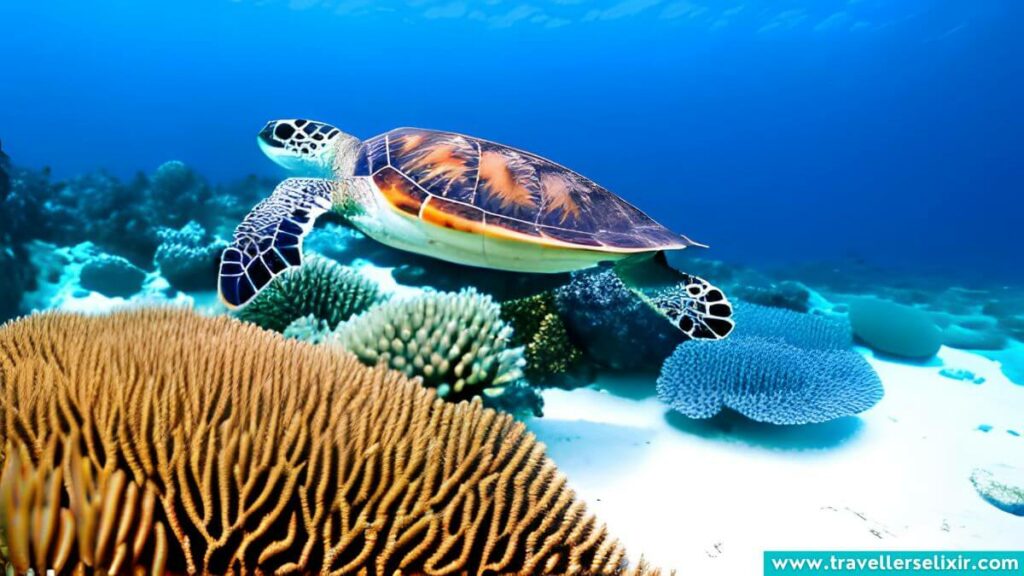 We were taken in small groups to the best reefs which were all teeming with marine life. These reefs are really hard to access on your own so you'll need to book a tour.
Don't worry these types of sharks are harmless but it is a great way to impress your friends and family when you get home.
Imagine telling people you went snorkeling with sharks in the Maldives!
Check out the video below which shows a turtle spotted whilst snorkeling in Maafushi:
Kuredu
Kuredu island has one of the biggest populations of green sea turtles in the whole of the Maldives due to its vast seagrass meadows so the chance of seeing a turtle is super high.
In fact, nearly half of all the green sea turtles in the Maldives live in this area. There are also large populations of hawksbill turtles too.
If you get super lucky you might even spot some baby turtles hatching and making their first run towards the ocean! Kuredu is the best place to see baby turtles hatching in the Maldives.
If you want to stay on the island and swim with the turtles, book your stay at Kuredu Resort Maldives which has a private beach area.
I'm not gonna lie, I literally booked two nights at this resort just so I could see the turtles! Totally worth it.
If you book one of their beachfront villas, you can often see turtles feeding on seagrass in the lagoon just meters from the beach.
This totally shocked me at first as I wasn't expected finding turtles to be so easy!
The hotel themselves even offer turtle snorkeling tours so you can snorkel and dive with the beautiful sea turtles, giving you the chance to see them up close and personal.
See if you can spot Walnut who is an adult male turtle who has been seen swimming and eating in the lagoon for over 10 years.
His shell is over 1 meter long making him the biggest sea turtle in the area. Unfortunately, I wasn't lucky enough to spot Walnut when I visited but maybe you will.
Check out the video below which shows some baby turtles hatching on Kuredu island:
Maafushivaru
Maafushivaru is a really small resort island, far far away from the crowds.
It's super peaceful and you'll feel like you've escaped life for a while. It literally only takes a few minutes to walk from one side of the island to the other!
Maafushivaru is a great place to see sea turtles and there are many spots across the island where they love to hang out.
The most common types of turtles that you'll see in Maafushivaru are the hawksbill turtles but green turtles are commonly spotted too.
If you want to stay on the island then you can book a room at the 5-star Iti Maafushivaru Maldives resort which is truly the stuff of dreams! It's so beautiful that you'll never want to leave.
The resort runs excursions every day that take guests out to swim with turtles, manta rays, whale sharks and more.
Check out the kind of sights you'll see if you choose to go snorkeling in Maafushivaru in the video below:
Komandoo
Komandoo is a relaxed and intimate resort island with nearly 50 dive sites. This pretty island is set by a stunning lagoon teeming with sea life.
Komandoo is a hotspot for turtles, especially hawksbill turtles. You can spend time snorkeling or scuba diving on the reef where you'll spot tons of turtles and marine life.
Stay at the stunning 5-star Komandoo Island Resort & Spa for the ultimate luxury experience.
The resort itself has an impressive knowledge of the resident turtle population and is actively involved in conservation efforts.
They even let you name a sea turtle if it's a new one they've never seen before so make sure you snap some photos if you see one.
Check out the beautiful turtle spotted on Komandoo island in the video below:
Athuruga
This resort island, which is surrounded by white powdery sand and a crystal clear lagoon, has a healthy reef which is home to a resident population of sea turtles.
To enjoy the island to the fullest, book a room at the luxury Diamonds Athuruga Maldives Resort which has a range of snorkeling and diving programs to choose from.
You'll feel like you're swimming in an aquarium with the vast range of tropical fish, giant sea turtles and more that lurk in the waters surrounding this paradise island.
Kandolhu
Kandolhu is the perfect place for a romantic vacation with the island itself being almost heart shaped.
This island is home to one of the most pristine and colorful reefs in the Maldives making it one of the best places to swim with turtles.
This idyllic island has a resident population of sea turtles that can often be seen all around the island. As well as sea turtles, you can often spot dolphins in the waters of Kandolhu island.
Book yourself a room at Kandolhu Maldives to enjoy this paradise island including snorkeling with turtles.
Check out one of the resident turtles of Kandolhu in the video below:
Mirihi
Mirihi is a precious gem featuring white sands, swaying palm trees and sapphire waters. The best part is that the island has a beautiful reef filled with marine life.
Whilst out snorkeling or diving you'll be able to see sea turtles, sharks, octopuses and a range of vibrant tropical fish.
There have even been sightings of baby turtles hatching on the beach in Mirihi!
To enjoy this for yourself, book your stay at the Mirihi Island Resort, a 5* accommodation that you'll absolutely adore.
This is actually one of the smallest resort islands in the Maldives which allows guests to feel like they are on their own private island.
Check out the beautiful turtle that was spotted on Mirihi in the video below:
Angaga
Angaga island is mostly known for its rich marine life with some epic diving spots.
This small island is surrounded by white powdery sand and a crystal clear water lagoon, it's the stuff of dreams.
Their lagoon has a huge reef which is filled with sea creatures including sea turtles, stingrays, sharks, tropical fish and more. You can either go snorkeling or diving in this glorious lagoon.
You can book a room at the Angaga Island Resort and Spa to enjoy this stunning island.
Tips For Swimming With Turtles
First time swimming with turtles?
To ensure the turtles remain safe, there's a few key things to bear in mind when swimming with them in the Maldives.
Remember that all of the different turtle species are endangered so it's important that we do all we can to help their chances.
Don't be too loud. Try to be as quiet as possible when swimming up to a turtle as loud noises will scare them away.
Do not touch the turtles. Turtles are wild animals and should be respected.
Do not get too close. This might scare the turtle and they could bite you if they get really scared (don't worry this is super rare!).
Do not feed the turtles. They don't need help finding food.
Always approach a turtle from the side. This gives them a clear view of you and a clear path ahead of them if they want to swim onwards.
Don't disrupt the turtle's natural behavior. You can enjoy the turtles by watching them do their thing but try not to disturb them.
These key tips protect both you and the turtles.
Best Time Of Year To See Turtles
You can see turtles all year round in the Maldives.
There are resident turtle populations all over the Maldives so if you just want to swim with the turtles then you can do so at any time of year.
There are also certain times of year when you can actually see baby turtles hatching from their eggs and making their first run towards the ocean.
One interesting feature of these turtles is that they always return to the same breeding grounds at the same time every year to lay their eggs.
The best time of year to see turtles hatching in the Maldives is between May and August as this is when the turtles return to the Maldives to lay their eggs.
Baby sea turtles tend to hatch around 45 days after their egg has been laid and then they make their way into the ocean to begin their life.
This means that from May to June you will actually be able to see the turtles nesting.
The baby turtles start hatching from July until late-August so if you're lucky you might even spot a baby sea turtle hatching from an egg! Now that would be a sight you wouldn't forget in a hurry.
Why not use these fun Maldives Instagram captions, puns & quotes for any photos you post to Instagram from your stay in the Maldives?
---
And that's it!
Hopefully I've inspired you to go out and have your own turtle spotting adventure!
The Maldives is actually one of the best places in the whole world to see turtles due to their healthy reefs and lush seagrass beds.
Did you know you can also see turtles in Greece?
Related Posts: