Aloha and welcome to the tropical paradise of Maui where the warm waters are home to some of the most captivating creatures on earth – whales!
I've been to Maui several times and never knew you could see whales there (I know, was I living under a rock or what??).
I recently visited Maui during whale watching season and got to see several incredible whales up close for myself!!
I found that the best way to see whales in Maui is by joining a whale watching boat tour that will take you up close and personal with the whales.
This boat tour actually guarantees that you'll see a whale so it's a pretty good deal.
You can also see the whales from the shore but it's much harder to see them properly as they don't come very close to the shore.
But wait, there's more! In the rest of this article, I'll be revealing the exact locations in Maui where you can catch a glimpse of these gentle giants for yourself.
Best Tours For Whale Watching In Maui
I've done all the hard work for you and put together a list of the best whale watching tours in Maui.
Whale Watching Boat Tour – whale sightings are guaranteed making this tour the top pick. This is the tour that I actually went on and I'd rate it 11/10.
Snorkeling Tour – look out for whales as you snorkel in the crystal clear waters of Hawaii. Ideal for families with kids.
I actually went on the whale watching boat tour myself and absolutely loved it.
We were able to get super close to the whales and I got to see several whales leaping out of the ocean and splashing water everywhere. Simply magical.
Check out how close you can get to the whales on a boat tour in the video below:
Find out where to go whale watching in Kauai.
Can You See Whales From The Shore?
You can definitely see whales from the shore in Maui and I did several times.
I noticed that the main issue was that the whales don't come very close to the shore and tend to stay further out in the ocean.
You'll be able to see the whales from a distance e.g. you'll likely see a huge splash and a gray lump but that's about it.
If you want to get a better, up-close view of the whales then your best option is to book a boat tour which takes you out into the ocean.
If you are planning on just watching the whales from the shore then make sure you bring along a pair of binoculars so you can get a better view!
Maui is actually the best of all Hawaii's islands for whale watching so you're definitely in the right place.
Best Places To See Whales In Maui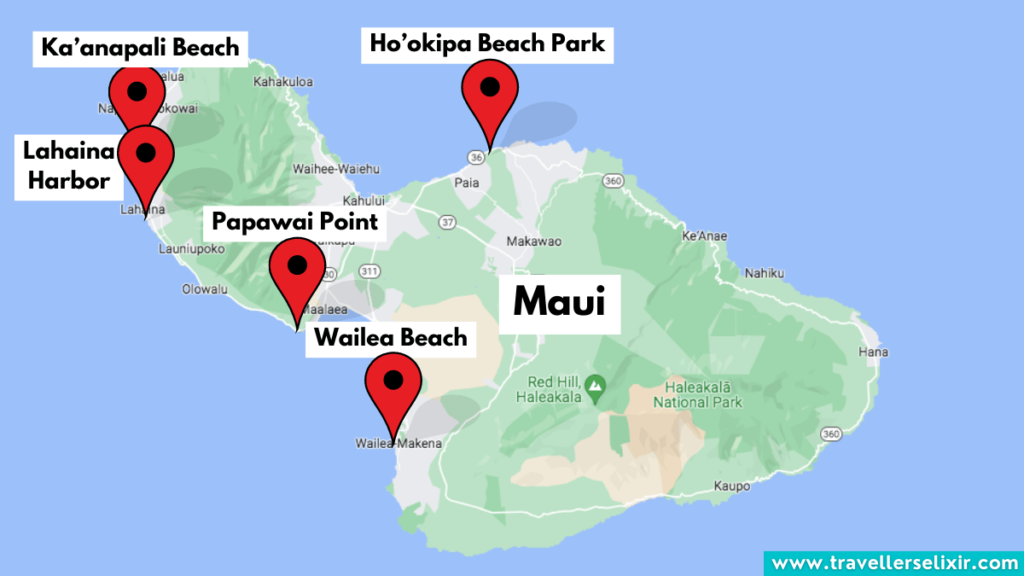 Here's the tea…below I've listed all of the exact locations where you'll have a good chance of spotting whales in Maui.
Maui Nui Basin
By far, the best place to go whale watching in Maui is around the Maui Nui Basin.
The Maui Nui Basin is the waters between the islands of Maui, Lanai and Kaho'olawe which is a protected sanctuary for whales.
You'll find an abundance of whales here during whale watching season meaning you have a really high chance of seeing one here.
It's a large area so you should join a whale watching boat tour to increase your chances of seeing a whale.
I did the whale watching tour and can only say great things about it.
Viewpoints which look out onto these waters are also great places to spot whales from the shore.
These viewpoints include Lahaina Harbor, Papawai Point and Wailea Beach (discussed in detail below).
Lahaina Harbor
Lahaina Harbor is a small harbor located on the northwestern coast of Maui. It's widely known to be one of the best whale watching spots in the whole of Hawaii.
You can try to spot whales from the harbor itself or you can book onto a boat tour for a closer look.
I did manage to spot a few whales from the shore in the distance here!
Check out the whales of Lahaina Harbor in the video below:
Did you know that you can also see sea turtles in Lahaina year round? (I list exactly where in my post!)
Papawai Point
Papawai Point is a viewpoint which looks out over the stunning Maalaea Bay.
The viewpoint sits just off of Honoapiilani Highway so it's super easy to access. There's a small car park here too.
Papawai Point is an excellent whale watching location, you can enjoy the scenic views and often spot a whale's tail appearing in the ocean, spraying up a large splash of water. 
I waited for a good half an hour before I saw anything and then BAM two whales showed up within a few minutes of each other (it could have been the same one, who knows!).
Did you know you can also go whale watching in Oahu?
Ka'anapali Beach 
Ka'anapali Beach is a stunning sandy beach located on the northwestern side of Maui. It's famous for its turquoise waters, soft sand and range of fun activities.
It's also a fantastic location to spot whales. You can see them from the beach and you can also often hear their songs from the shore as well!
Whale sightings are super common on this beach so it's a great choice. I saw 2 here after waiting for around 40 minutes.
You can see some of the whales of Ka'anapali Beach in the video below:
Wailea Beach
Wailea Beach is a popular beach that looks out onto the Maui Nui Basin. It's a prime location for whale watching during whale season with sightings being very common.
This beach is also a great place to relax and spend the day. There's a range of fun activities, restaurants and bars.
Wailea Beach is also one of the best places to see turtles in Kihei.
Ho'okipa Beach Park
Ho'okipa Beach Park is a spacious park featuring a white sandy beach and fantastic ocean views.
It is actually a very popular surfing destination but many people also come to the park to see whales. This is my favorite park in Maui so I've spent a lot of time here.
It's a great place to see marine life including whales, sea turtles, starfish, seals, seahorses and more.
Make sure you come during whale season (November to April) for the best chance of seeing a whale. Sightings here are super common during these months.
Find out where to see whales on Big Island.
Best Time For Whale Watching
Maui's whale watching season runs between November and April each year. This is, by far, the best time to spot whales.
The whales begin to arrive in late November and more show up as the season progresses.
The peak season for whale watching in Maui is from January to March. During these months, sightings are almost guaranteed if you visit the right spots.
I visited during March and saw quite a few whales.
Towards the end of April, the whales start to leave the island and by mid-May, they're all gone.
To help you plan your whale watching adventure, the table below shows the best months for whale watching in Maui.
Month
Chance Of
Seeing A Whale
January
Very Good Chance
February
Very Good Chance
March
Very Good Chance
April
Good Chance
May
Low Chance
June
No Chance
July
No Chance
August
No Chance
September
No Chance
October
No Chance
November
Low Chance
December
Good Chance
To increase your chances of spotting whales whilst in Maui, I'd recommend going out early in the morning (before 8am) as this is when the whale numbers area their highest.
This is when the whales tend to be most active and on the move. Another ideal time to go whale watching is in the late afternoon, just before sunset.
While it's less common, you can still spot whales during the daytime. However, it's important to note that whale sightings during the day are not as frequent as those in the early morning or late afternoon.
The below video gives some more information on whale season in Hawaii:
About Maui's Whales
Ask any local and they'll tell you that Maui is the best place in Hawaii for whale watching.
Every single winter, thousands of humpback whales travel all the way from Alaska down to Hawaii to mate, give birth, and raise their young.
Once winter is over, the whales return to their feeding grounds up north near Alaska to build up their fat reserves.
The waters surrounding Hawaii provide a secure environment for the whales to raise their calves, away from predators, and allows them to rest.
Whales tend to come up for air every 15 to 20 minutes or so and this is when we get to see them jumping out of the ocean and creating a huge splash.
---
And that's it! That's all you need to know to go and have your own whale watching adventure in Maui.
If you're lucky enough to spot one of these incredible creatures in the flesh then well done you as not many people can say the same.
Related Posts: