Welcome to the vibrant world of Mardi Gras, where the streets come alive with a kaleidoscope of colors, shimmering costumes and infectious energy!
To help you stand out in the sea of Mardi Gras posts, I've compiled a list of the best Mardi Gras Instagram captions that will make your photos shine brighter than a confetti-filled sky.
P.S. Follow me on IG (@travellerselixir) and tag me in your photo for a share on my story.
Best Mardi Gras Instagram Captions
Cute Mardi Gras Captions For Instagram
On Tuesdays, we wear beads
Giving my Monday blues a makeover with some Mardi Gras hues
From now on sweet dreams are made of king cake & dancing at Mardi Gras
What happens on the float, stays on the float
Let's paint the town purple, green and gold for Mardi Gras
Got a little cajun in my soul
Beads and bling: it's a Mardi Gras thing
Caught up in the Mardi Gras fever: can't stop, won't stop
Fat Tuesday is the only Tuesday I like
King cake calories don't count
We don't hide crazy, we parade it down the street
Leave a little sparkle wherever you go
Who needs a crown when you can wear a sequined mask?
Beads are a girl's best friend
Mardi Gras: where the confetti falls like glittery snowflakes
There is nothing king cake can't fix
The best things in life are meant to be shared. Especially king cake
I came, I saw, I conquered Mardi Gras. Now someone pass me a beignet
I don't need an excuse to drink on a Tuesday
Feathers, sequins and a whole lot of sass
My favorite color is glitter
Hit me with your best beads
I came for the beads but I'm staying for the king cake
Warning: Mardi Gras may cause excessive laughter, dance-offs and unforgettable memories
Hey mister, throw me one of those
I've been put under the NOLA spell
'She's wearing too much glitter.' – said no one ever
This might be our most blinged-out adventure yet
Ready for parades and party vibes
Laissez les bons temps rouler! (Let the good times roll!)
Leave your worries at the door, because at Mardi Gras, it's all about the beads and boogie!
Up Next: New Orleans Captions For Instagram
Funny Mardi Gras Captions & Mardi Gras Puns
Life of the Mardi
I like big beads and I cannot lie
Me + you = my favorite krewe
I'm kind of a bead deal
Warning: my Mardi Gras spirit is contagious. Proceed with caution!
I can't bead-lieve how fun Mardi Gras is!
You can't bead Mardi Gras
You gotta fight for your right to Mardi
I feel the need, the need for beads
Pour me a Mardi-rita
You May Also Like: Venice Captions For Instagram
Short Mardi Gras Captions
Life is a party
Let's get jazzy
Masked and marvelous
Everywhere else, it's just Tuesday
Let the Mardi Gras magic begin!
My Mardi krewe!
It's been one blur of fun
OK, but first beads
Beads or it didn't happen
Mardi Gras vibes only
Let them eat king cake
Unleashing my inner party animal for Mardi Gras
Mardi Gras memories in the making
Will run for king cake
It's Carnival time!
Happy Mardi Gras!
Time to get jazzy
Shine bright like a diamond
It all starts with one bead
Mardi on
Keep calm and party on
All about the beads
Up Next: Coachella Captions For Instagram
Inspirational & Beautiful Mardi Gras Captions
Everyone deserves to shine, smile, and sparkle
Dancing through the streets like a Mardi Gras queen
Collect moments, not things
All you need is love and some really nice beads
Leaving a trail of glitter everywhere I go
Life is short. Buy the beads
Laissez les bons temps rouler (let the good times roll)
The only good Tuesday is Fat Tuesday
Finding my sparkle in the streets of Mardi Gras
You're not fully dressed until you sparkle
Mardi Gras is the only day of the year where my behavior is not frowned upon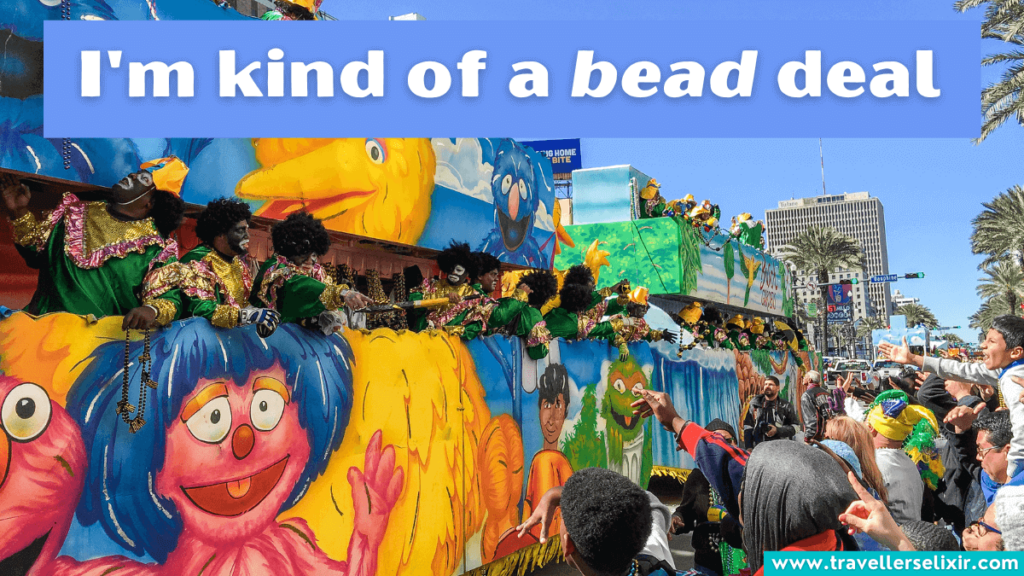 It's the beads and bling that matter most
Mardi Gras is where even the quietest of souls find their inner party animals
Make the most of the moment you're in
You May Also Like: Rooftop Instagram Captions
Mardi Gras Quotes For Instagram Captions
"Mardi Gras is in our soul." – Kim Priez
"Some girls are just born with glitter in their veins." – Paris Hilton
"Mardi Gras is a grand masquerade, where we shed the masks we wear in our daily lives and allow our true selves to emerge, vibrant and unapologetically alive." – Traveller's Elixir
"Mardi Gras is a state of mind." – Ed Muniz
"Mardi Gras: where the heart finds rhythm, the soul finds freedom and the spirit finds its wings." – Traveller's Elixir
"Mardi Gras is the love of life. It is the harmonic convergence of our food, our music, our creativity, our eccentricity, our neighborhoods, and our joy of living. All at once." – Chris Rose
"It's in our soul to have Mardi Gras." – Arthur Hardy
"Happiness is achieved when you stop waiting for your life to begin and start making the most of the moment you are in." – Germany Kent
"Like a burst of fireworks illuminating the night sky, Mardi Gras ignites our spirits and reminds us to shine brightly, embracing our uniqueness and spreading joy wherever we go." – Traveller's Elixir
"A great, wild, adult thing to see is the costume competition in front of the bar Oz on Bourbon early morning on Fat Tuesday." – Bryan Batt
"Mardi Gras is a kaleidoscope of dreams, a symphony of colors and a carnival of collective laughter that reminds us to embrace life's magic and let our spirits soar." – Traveller's Elixir
"It's a great party, and anyone who doesn't enjoy Mardi Gras is not of this world." – Franklin Alvarado
"In the heart of Mardi Gras, dreams take flight on the wings of confetti and laughter echoes through the streets like a symphony of joy." – Traveller's Elixir
"An American has not seen the United States until he has seen Mardi Gras in New Orleans." – Mark Twain
"Amidst the chaos of masks and melodies, Mardi Gras whispers a secret: in celebration, we find unity; in jubilation, we find connection; and in the freedom to be ourselves, we find true liberation." – Traveller's Elixir
"Fighting a Mardi-Gras-In-New-Orleans crowd for eight blocks from Trahan's Tavern on St. Peter to Bourbon O on Bourbon was like a man being willing to swim the Nile, climb Mount Everest, and cross the Sahara for true love." – Erin Nicholas
"With every bead tossed, a wish takes flight. With every laughter shared, a bond grows stronger." – Traveller's Elixir
"If I had a power color, it would definitely be sparkle." – Rachel Hollis
"Mardi Gras whispers to our souls, inviting us to shed our inhibitions, embrace the joy of the moment and celebrate the beauty of being alive." – Traveller's Elixir
Mardi Gras Hashtags For Instagram Likes
#mardigras
#mardigrasparade
#mardigrasparty
#mardigrass
#mardigrasball
#mardigrasseason
#mardigrasdecor
#mardigrasmakeup
#mardigrasneworleans
#mardigrasbeads
#mardigrascostume
#mardigrasworld
#mardigrasoutfit
#mardigrasmask
#mardigrasart
#mardigrasmambo
---
I hope these captivating Instagram captions have added an extra touch of sparkle to your social media game.
From clever wordplay to infectious enthusiasm, these captions are designed to make your Mardi Gras memories shine on your feed.
Related Posts: