If you're visiting New York City soon then you might be thinking to yourself: how safe is Manhattan?
We all hear those stories of people being mugged and with Manhattan being such a densely populated part of New York, it's hard to know how safe it is.
That's why I've put together this ultimate safety guide which includes if Manhattan is dangerous, the crime statistics, a safety map and the key crimes you should watch out for.
Is Manhattan Safe?
Yes, overall Manhattan is safe to visit for tourists as crime against tourists is incredibly low. Pickpocketing is the main thing to watch out for.
New York, as a whole, is actually one of the safest big cities in the US according to FBI data.
Manhattan itself is one of New York's safest areas and there aren't any particular parts of it that you should avoid.
In a hurry? Here's a summary of what you need to know about safety in Manhattan:
Overall crime rates are low in Manhattan.
Petty theft like pickpocketing is the main crime against tourists.
Most crime can be avoided by taking basic safety precautions.
Tourist scams are common but can be avoided by using common sense (I list the exact scams later in the post).
Taxis/Uber are safe to use. The subway system is also pretty safe.
In the daytime, you can pretty much just walk around anywhere and you'll be safe.
Theft, mainly pickpocketing, is particularly common in Manhattan and is the main thing you need to be concerned about as a tourist.
Unfortunately as Manhattan is a major tourist destination, this means that it is targeted by thieves who prey on tourists who often have lots of valuables and cash on them.
The best way to prevent crime is to keep your valuables secure and out of sight.
For extra safety, consider wearing a money belt that goes under your shirt or if you wear a bra, consider getting one of these handy pouches that attaches to the side of your bra.
They are ideal for storing important things like credit cards, IDs and a bit of cash.
Other than pickpocketing, crime against tourists is pretty rare in Manhattan and it's very safe to walk around in the day.
You do need to watch out for tourist scams which are fairly common. Try to book any tours or tickets online before arriving to ensure you're not getting scammed.
In general, don't buy anything from a random seller on the street. Particularly avoid buying secondhand concert or theater tickets on the street as they are often fakes and extremely overpriced.
Here's a few other common tourist scams you should watch out for in Manhattan:
It's also worth knowing that Manhattan has a really high police presence which tends to keep most trouble at bay. It's not difficult to find a police officer if you need assistance.
The Verdict: For an area of its size, Manhattan is actually incredibly safe and crime is relatively low so you have little to worry about if you're visiting.
Is Manhattan Safe at Night?
Manhattan is more dangerous at night although it is generally still safe to walk around. You should mainly avoid walking around dark areas alone.
It's generally fine to walk around well-lit and busy areas in Manhattan, even at night. If you find yourself walking along a quiet and deserted street then switch to a busier street.
As New York is a 24-hour city, even late at night it's still pretty busy in most areas which generally means it's safe to walk around.
You should avoid walking around parks, including Central Park, at night particularly if you are on your own.
Central Park does stay open until 1AM each day but it gets quiet after dark making it an easy place to commit a crime.
Quick Tip: During the winter, it can get dark as early as 4:30PM in New York so it's likely that you'll be out and about after dark.
Are Taxis Safe In Manhattan?
Taxis are perfectly safe in Manhattan but you should ensure that you only use official taxis or ride-share apps like Lyft or Uber.
Although it's pretty safe to walk around Manhattan, even at night, if you have any concerns then you can call an Uber/Lyft or get into a yellow cab.
Ensure that you don't get into any other type of car. For example, if a random person who isn't in a yellow cab offers you a ride, avoid it.
It's likely they'll either charge you a really high rate or they may not take you to your destination at all (and this could become dangerous).
Unfortunately people pretending to be taxi drivers are frequent in Manhattan so ensure that you only get into yellow cabs.
Here's what the yellow cabs in Manhattan look like:
It is also safe to use Uber or Lyft in Manhattan but make sure you check the registration plate of the car before getting into it to ensure it's your Uber (and not a random person pretending to be your Uber).
Is the Subway Safe in Manhattan?
The subway is safe to use in Manhattan at any time of day or night.
The subway runs 24 hours a day and 7 days a week in New York making it a reliable form of transport that's available at all times.
Manhattan is very well connected by the subway so you can easily use it as your main form of transportation in the city.
Although the subway is generally very safe, crime occurs from time to time. If you're traveling on the subway later at night, ensure you don't fall asleep as this makes you an easy target for theft.
Additionally, you should avoid sitting in a subway car on your own as this could make you a target. Always choose a subway car with other passengers inside.
Is it Safe to Walk Anywhere in Manhattan?
Yes, in general it is safe to walk around anywhere in Manhattan. There aren't any particularly dangerous neighborhoods in Manhattan so you should feel safe to walk around alone at any time of day.
You should take basic safety precautions, like avoiding flashing valuables, wherever you are in Manhattan. I include some more safety tips later in the post.
It's great to know that you can safely walk around pretty much every street in Manhattan during the daytime.
As I mentioned earlier in the post, at night it's still safe to walk around but you should avoid quiet and deserted areas. Crime is easier if there is nobody around so avoid these areas to keep yourself safe.
Below I go into a little bit more detail on safety in specific areas of Manhattan.
Is Downtown Manhattan Safe?
Yes, Downtown Manhattan is safe to visit for tourists.
This area of Manhattan includes Chinatown, Tribeca and the Financial District (including Wall Street).
Getting around this area is super easy as there are several major subway hubs that connect it to other parts of the city. The subway is very safe for tourists.
In the evenings and at night, the Financial District becomes incredibly quiet as all the workers have gone home.
Whilst it's not particularly dangerous, it's best not to walk around this area alone at night. Being alone on a deserted street isn't a good idea in any area of New York City as it makes you an easy target for crime.
Historically, Downtown Manhattan was home to a number of slums especially in the Chinatown area however today these areas are generally safe for tourists. They're just not super clean and a little rundown.
The only crime that poses any sort of risk in this area is pickpocketing so keep your valuables away in your bag and you should be fine.
Is Midtown Manhattan Safe?
Yes, Midtown Manhattan is safe to visit but it does have one of the highest crime rates in the whole of Manhattan.
Midtown Manhattan features most of Manhattan's biggest tourist attractions including Times Square and the Empire State Building.
According to the New York Police Department's crime map, Midtown Manhattan actually has the highest rate of reported crimes per 1,000 people.
This is even higher than some other neighborhoods, like Harlem, which are generally considered to be more dangerous.
The reason for this is likely down to tourist theft. Midtown Manhattan has the highest concentration of tourists and thieves love to target tourist hotspots.
You're unlikely to be the victim of a violent crime in Midtown Manhattan but it's highly likely that someone will steal your phone, money or camera if you're not careful.
Times Square and the Theater District, in particular, have the highest rate of crime in Midtown Manhattan. If you visit, keep your valuables hidden and secured.
In these areas, pickpockets love to take things from people's pockets and they'll often do it without you even noticing.
Despite this, it is safe to walk around Times Square at night as long as you're street-smart.
Don't make it easy for people to pickpocket you. You can do this by avoiding putting anything in your pockets. Always keep your phone and wallet in your bag.
Ideally you want to wear a cross-body bag that can't easily be snatched or a money belt which is hidden under your clothes.
Tourist scams are also extremely common in this area of Manhattan.
In particular, don't buy any secondhand theater tickets as there is no way to verify that they're real and they will likely be extremely expensive.
Is Lower Manhattan Safe?
Yes, Lower Manhattan is safe for tourists.
This area of Manhattan includes Greenwich Village, East Village, the Lower East Side, West Village and SoHo.
Lower Manhattan has a large student population as it's home to the New York University (NYU) and is the home of some of Manhattan's most trendiest neighborhoods.
Some areas, like the East Village and the Lower East Side, are a bit more gritty but don't particularly pose any safety risks.
Many of the areas here have been gentrified including the Lower East Side and are generally pretty safe to walk around now.
Is Upper Manhattan Safe?
Yes, Upper Manhattan is safe for tourists.
This area of Manhattan includes the Upper West Side, the Upper East Side and Central Park.
These areas are generally the poshest and most affluent areas of Manhattan so crime is extremely low.
This is the safest part of Manhattan as a whole due to the low crime rates.
What is the Safest Part of Manhattan?
Pretty much all of Manhattan is safe for tourists however Upper Manhattan is generally considered to be the safest part of Manhattan overall as it has extremely low crime.
Here's a list of some of the safest parts of Manhattan:
Upper East Side
Upper West Side
Chelsea
SoHo
Central Park
NoHo
Nolita
Tribeca
West Village
These areas are particularly known for having very low crime and so are extremely safe.
Most Dangerous Part of Manhattan
There aren't really any bad areas of Manhattan that you need to be aware of.
Manhattan, as a whole, is very safe and you should feel comfortable walking around it during the day (and even at night).
The most dangerous part of Manhattan tends to be deserted streets late at night. These could be located in any part of the city but due to their quiet nature, it makes it easy for crime to take place.
As an example, the Financial District, which includes Wall Street, is super busy during the day but becomes deserted in the evenings and at night when all the workers have gone home.
For this reason, you should avoid walking around here late at night. It's a similar story with Central Park.
In the past, areas like Harlem were more dangerous but they have really turned a corner in recent years and aren't much more dangerous than any other area of Manhattan now.
Other neighborhoods like Washington Heights and Inwood had a similar reputation but are much safer now.
I'd still avoid walking around these areas alone at night though as they are residential neighborhoods where tourists are rare. As a tourist, you'll stick out like a sore thumb which could make you a target.
There's also less police presence in these areas compared to the main tourist areas like Midtown. This means you may find it more difficult to find help if you need it.
The most dangerous part of Manhattan is actually Midtown Manhattan as it has the highest crime rate.
Most crime here is pickpocketing and petty theft which can be easily avoided if you don't flaunt your valuables.
As this area is the main tourist spot in the city, thieves target it heavily but it's still pretty safe to visit.
Violent crime is incredibly rare in Manhattan and generally only occurs between people that know each other like gangs. Random attacks on tourists are not common.
Manhattan Crime Statistics
Below I've included a brief overview of Manhattan's crime statistics so you know exactly what to expect.
I've also compared them to the national crime rate for context. This represents the national crime rate for the United States as a whole.
As you can see in some areas, Manhattan is safer than the US as a whole but in other areas, it's more unsafe.
For example, the average murder rate in the US is 6.1 murders per 100,000 residents however in Manhattan, the murder rate is lower than this average at just 4 murders per 100,000 people.
Similarly, car theft, rape and home burglary is more uncommon in Manhattan than in the US as a whole.
In other areas though, the crime rate is higher in Manhattan. For example, you're much more likely to be robbed or assaulted in Manhattan compared to the US as a whole.
The New York Police Department releases weekly crime statistics for Manhattan.
In the last week (28th Nov – 4th Dec 22), the following crimes were committed in Manhattan:
0 murders
4 rapes
58 robberies
87 assaults
86 burglaries
371 grand larceny (theft of valuable items)
Although this may seem like a lot of crime, the violent crime statistics are much lower here compared to other areas of New York like the Bronx and Brooklyn.
Crimes like burglaries and grand larceny are higher in Manhattan which is likely due to the fact that richer people tend to live here so thieves target this area more.
Manhattan, and New York City as a whole, has been progressively getting safer over the years.
This is largely due to increased police presence, counterterrorism efforts and the vigilance of the local community.
If you're just visiting the city as a tourist then crime shouldn't be too much of a worry for you.
Protect yourself as much as possible from pickpockets and you'll likely have a trouble free trip.
Manhattan Safety Map
Here's a Manhattan crime rate map which shows the overall crime rates in each area of Manhattan.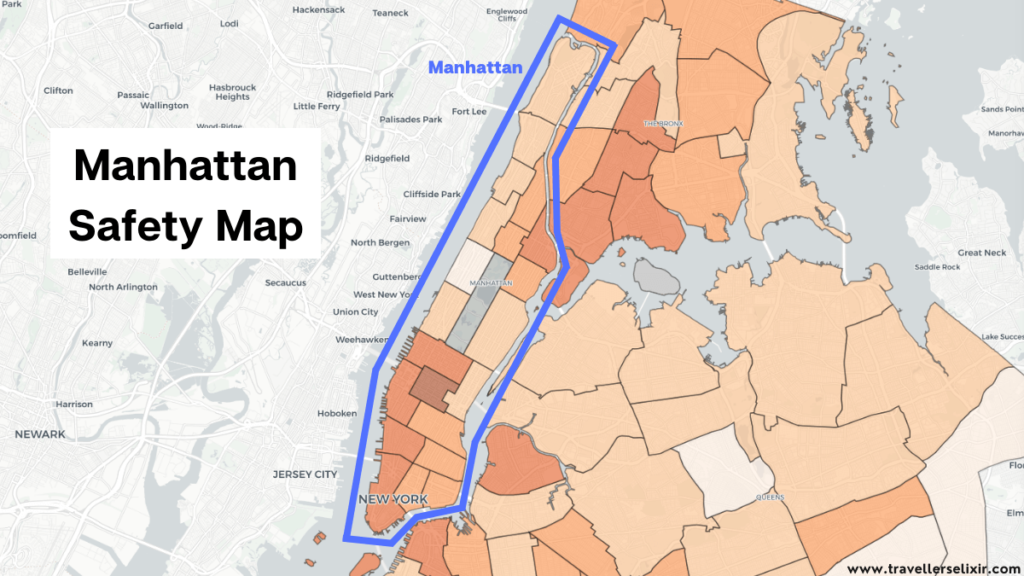 The darker orange areas have higher crime rates and the lighter colored areas have a lower crime rate.
Based on this map, the Manhattan South Precinct area has the highest crime rate which includes major tourist attractions like Times Square, the Empire State Building, Grand Central and Madison Square Garden.
If visiting this area, you should keep your wits about you and try to hide your valuable items as much as possible.
The 24th Precinct, on the Upper West Side, has the lowest crime rate according to the map. This area includes Manhattan Valley and part of Riverside Park.
This area is pretty affluent and posh which reflects the low crime rates.
Safety in Manhattan – Tips
To keep yourself safe in Manhattan, here are some safety tips that you can follow to minimize any crime.
Avoid walking alone on quiet or dimly lit streets, especially at night.
Keep your valuables concealed, especially in major tourist hotspots like Times Square.
Wear a cross-body bag so nobody can just snatch it from your shoulder.
Avoid wearing headphones so you can hear what's going on around you.
Travel in a group wherever possible.
Make a plan of where you want to go beforehand so you don't end up wandering around with your phone out too much.
If you ever feel uncomfortable or you think that someone is following you then try to head into a store whenever you can.
Avoid parks at night. They're often really quiet and provide the perfect environment for crime.
Don't board an empty subway car. Being alone makes you a target, board a busy car or wait for the next train instead.
Don't get into an unmarked car even if the driver claims they're a taxi. Only use yellow cabs or Uber. If using Uber, check the registration plate matches before getting in.
Ask for help if you need it. The NYPD are very visible in Manhattan and it isn't difficult to find an officer. Most are helpful so approach one if you need any help.
Avoid looking like a tourist. If you're standing on a street corner reading a guidebook or map then you stand out as a tourist and could be targeted. Try to blend in and look like you could be a local.
---
And that's it!
Thanks for reading this post on if Manhattan is dangerous.
If you do visit Manhattan, make sure you use these fun New York Instagram captions for any photos that you post.
Here's some more posts that you may find useful:
Related Posts: