If you need to get somewhere late at night then it's great to know your transport options.
This post tells you everything you need to know about the NYC subway hours of operation including if they run 24 hours a day.
NYC Subway Hours
The NYC subway runs 24 hours a day, 7 days a week and 365 days a year however they do run less often after midnight.
After midnight trains are more infrequent and some lines stop part of their service.
Every single subway station is still served at night however not all lines run their full service.
This means that, during the day, there may be several lines that pass through a particular station, however at night some of these lines may stop their service.
You'll still be able to get to any Subway station in New York but you may have to take a different line to get to your destination which may take a bit longer.
This limited service generally operates from midnight until 6AM each day. You can check the MTA's Night Subway Map to see which services still run.
New York is one of the few cities around the world that operates a 24/7 subway (which is a huge source of pride for New Yorkers).
💡Helpful Tip: If you're planning on riding the subway at night then read my guide on if the NYC subway is safe at night to know what to expect.
Example
For example, at night the G train still runs its full service but the M train only runs part of the route.
During the day, the M train runs all the way from Forest Hills in Queens to Manhattan then back to Metropolitan Avenue in Queens.
At night, the M train cuts its service to just the last bit of the route from Myrtle Avenue to Metropolitan Avenue.
You can see this on the map below:
The blue line on the map above shows the 24/7 part of the route. The red part of the route only runs during the day but the blue part never stops.
Not all of the subway lines close part of the route. The most popular lines and routes are not affected.
For example, the L, Q, G and 7 trains don't stop any part of their service. This is likely because they are the most popular routes.
Other lines including the N and the 5 train do close part of the line at night.
You can check the exact schedules here. If you scroll down to the heading that says 'printable subway schedules', you can click on the exact schedule for each train.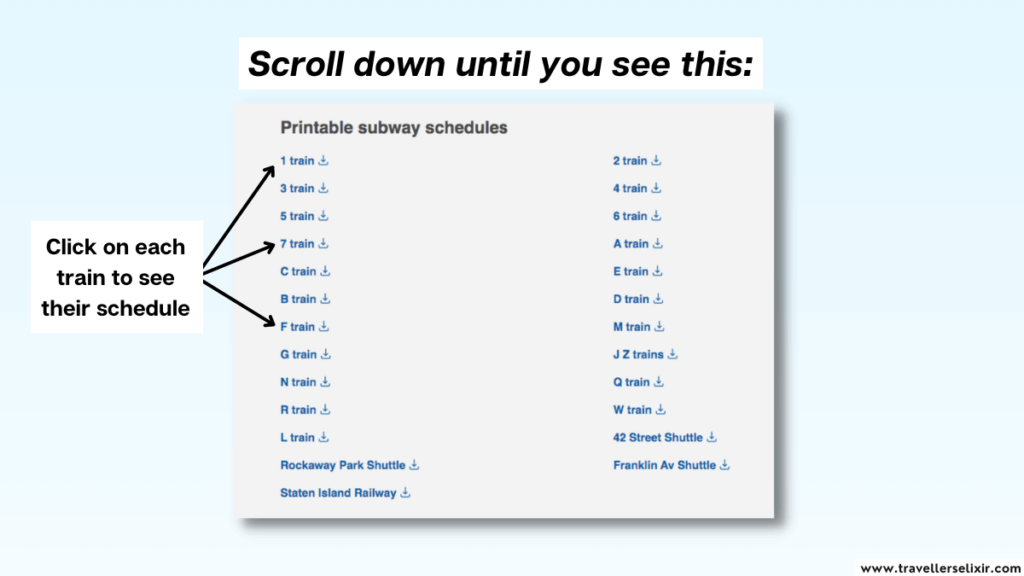 Additionally there is a reduced service on weekends and certain holidays like Christmas and Thanksgiving.
The key thing to know is that you can get pretty much anywhere in New York even at night but you may have to take an alternate route.
You can also use the MTA Subway Trip Planner to check your journey. Just input your start and end destination and when you want to leave and it will generate the best route.
NYC Subway Train Frequency at Night
Subway trains in NYC are less frequent at night meaning you may have to wait a bit longer for the train to come.
The train timings vary per line but here's a rough estimate of subway train frequencies at night:
From 8PM until 11PM, the trains come every 5 minutes.
From 11PM until midnight, the trains come every 10 minutes.
From midnight until 1AM, the trains come every 15 minutes.
From 1AM until 6AM, the train comes every 20 minutes.
Do NYC Subways Close in Snow?
The subway rarely shuts down during bad weather like thunderstorms and heavy snow.
In fact, the subway shut down for the first time due to bad weather in 2011 in preparation for Hurricane Irene which was predicted to cause a lot of damage to New York.
To put that into perspective, NYC's subway opened in 1904. That means it ran for 107 years without ever closing due to bad weather.
It snows most years in New York during the winter but it's rarely super heavy. The subway, which is mostly underground anyway, is pretty much never affected by the snow.
The overground stations that are more likely to be affected in the snow are well equipped with snow plows so service is rarely affected.
Why Does The NYC Subway Run 24/7?
There are many reasons why the NYC subway runs 24/7 and always has since it was opened in 1904.
The main reason is that New York is a 24-hour city. Whilst it is much quieter at night, there's still a lot of activity.
There's enough demand for the subway, even in the middle of the night, so naturally the trains operate to fulfill this demand.
Another reason is that New Yorkers are much more dependent on the subway than people in other cities.
The majority of people in New York don't own a car and taxis are ridiculously expensive so people rely on the subway as a means to get around.
People work in bars, shops, hospitals, police stations etc at all hours of the night. If the subway service just stopped, how would these people get home?
Interestingly, it's actually impossible for the subway to fully close as the train yards aren't big enough to fit all the trains.
The trains literally can't all stop at once as there is nowhere to store them so they have to keep running.
---
And that's it!
Thanks for reading this post on if the New York subway runs 24 hours a day.
New York City actually has several different transport options including the Long Island Rail Road (LIRR).
I actually compared the LIRR vs Subway to help you decide which one is better for you.
You may also find these posts useful:
Related Posts: