Are you ready to embark on a tropical adventure in St Thomas? If you're a fan of sea turtles then this island paradise is the perfect destination for you! 
I'm a bit of a turtle enthusiast so when I visited St Thomas on my Caribbean island hopping trip, I made sure to try and spot as many turtles as I could.
From my own experience, the best place to see turtles in St Thomas is at the conveniently named 'Turtle Cove' on Little Buck Island however it doesn't lie on the mainland.
I'd recommend joining this catamaran sailing tour which will take you over to Turtle Cove and includes a swim with turtles experience. It's one of the best tours rated tours available!
In the rest of this post, I'll be revealing all of the best places to swim with turtles in St Thomas, USVI.
Swimming with Turtles in St Thomas
You'll be happy to know that there are lots of sea turtles present all over St Thomas which forms part of the US Virgin Islands.
Below I've covered the exact locations where you can see turtles in St Thomas.
1. Little Buck Island
I found that by far, the best place to see turtles in St Thomas is on Little Buck Island.
This island is located about 2 miles south of St Thomas so you will need to take a boat to get there.
I'd personally recommend joining this top rated catamaran sailing tour as it provides transport to the island and also includes a swim with turtles experience. This is the one I did and I loved it!
They will provide you with all the snorkeling equipment and take you straight to Turtle Cove which is where you'll find the turtles. Easy right!?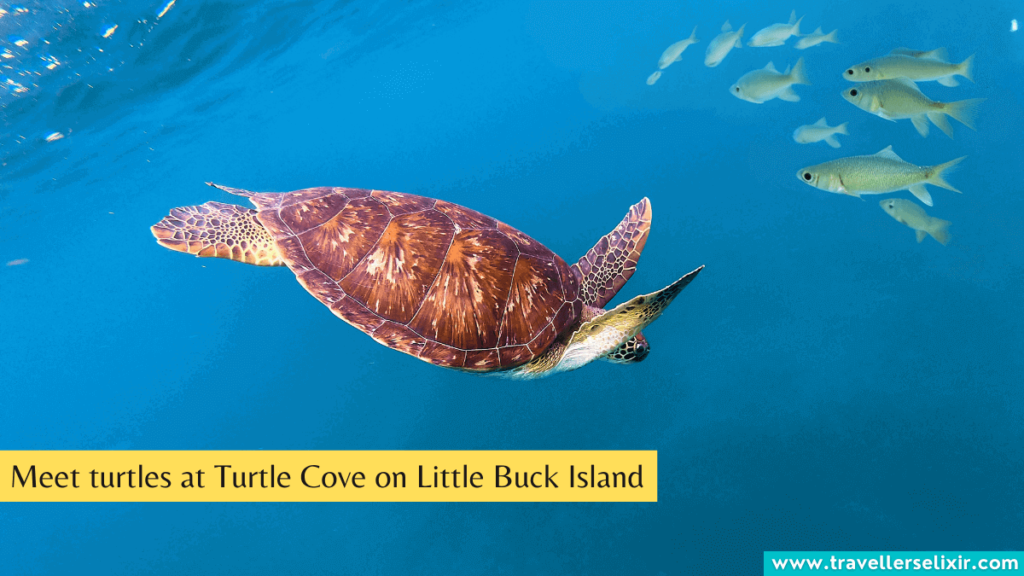 This island is completely uninhabited (apart from wildlife) so it had a very natural and untouched feel to it.
Whilst in the water with the turtles you can admire the colorful coral reefs which are home to thousands of tropical fish, sea urchins, barracudas and more. I even spotted an octopus!
I was lucky enough to observe the green sea turtles gliding along as they munched on the seagrass. It was truly a magical experience that I'll never forget.
If you don't mind spending a bit more money, then this semi-private swim with turtles tour is another good option.
The groups are much smaller, giving a more intimate and personal feel to the tour. It'll feel like it's just you and the turtles.
💡Tip: Bring an underwater camera like the GoPro Hero 10 to snap some photos of you with the turtles!
Check out the video below which shows the sort of sights you can expect whilst snorkeling in Turtle Cove:
2. Marriott Frenchman's Cove
Marriott Frenchman's Cove, situated on the main island, sits just in front of the luxurious Marriott Frenchman's Cove hotel.
Luckily, you can still access the water even if you're not staying at the hotel. I wasn't staying at the hotel and had zero issues getting into the water.
I'd recommend joining this sea kayaking tour around the cove as it gives you the best possible chance of seeing the turtles.
As I kayaked around the cove, I glided past several sea turtles, stingrays and various tropical fish species.
3. Lindquist Beach
Another location where you can swim with turtles in St Thomas is at Lindquist Beach in Smith Bay.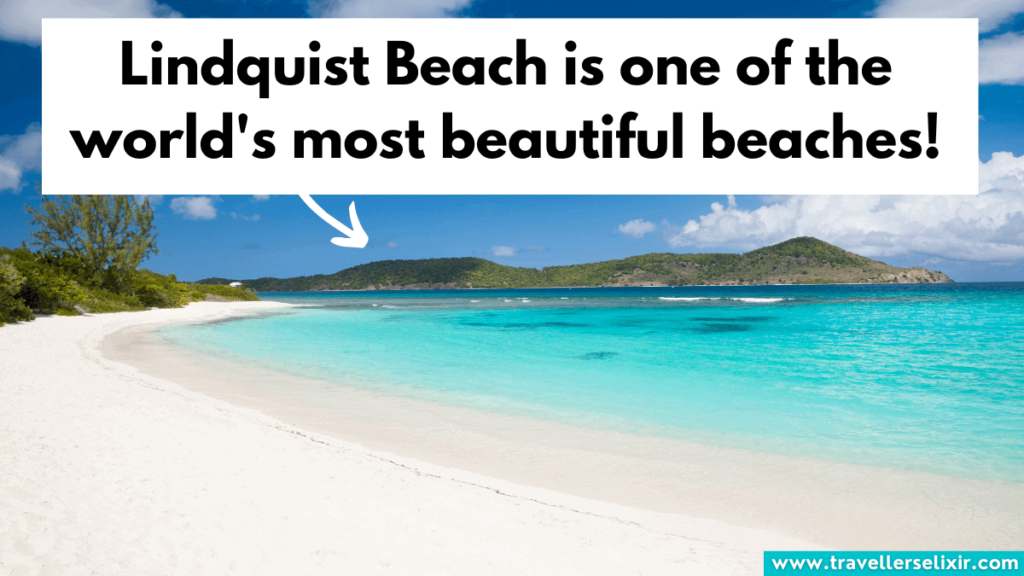 Sea turtles, as well as stingrays, love to hang out in the seagrass bed as this is their favorite food. I literally saw about 4 sea turtles within minutes of arriving!
You can easily observe them munching on their lunch here due to the extremely clear water. I'm not joking, I was shocked at how clear the water is here!!
If you swim out a bit further into the ocean you'll find a long, lush reef which is also teeming with marine life.
This beach is fairly unknown to tourists meaning it's usually very quiet and never crowded. When I visited there were maybe 10 other small groups there total.
It's an ideal place to swim with turtles as you're not surrounded by other people trying to do the same.
For a super luxury experience, you can charter a private yacht which will take you to several of St Thomas's top snorkeling beaches where you'll be able to swim with turtles.
Check out how clear the water is at Lindquist Beach in the video below:
4. Brewer's Bay
Brewer's Bay also doesn't get super crowded with tourists so it's ideal if you want to escape the crowds.
There are no coral reefs here but there is a lush, healthy seagrass bed. In fact, Brewer's Bay is one of the best places in St Thomas to find sea turtles grazing on seagrass.
The entire time I was here, the turtles were just munching on the grass. I barely ever saw them move away from it!
Due to its quiet location and huge amount of seagrass, it's an ideal spot for the turtles so you're almost guaranteed a sighting here. 
I saw around 5 turtles here after snorkeling around for about half an hour.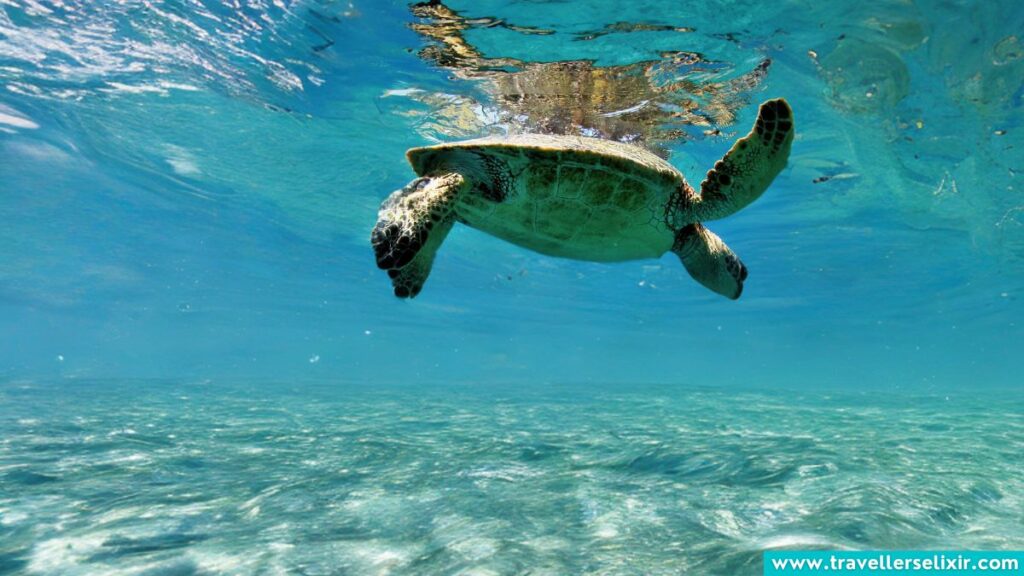 The water is also extremely clear here so you'll get an amazing view. Don't forget your underwater camera.
Another added bonus is that this beach is right next to the landing strip of the airport so as you relax on the beach you can watch the planes land.
Check out the beautiful sea turtle spotted at Brewer's Bay in the video below:
5. Christmas Cove
Christmas Cove sits just off the mainland on the west side of Great St. James Island. It's an ideal location for snorkeling as it is protected from the wind and waves of the Caribbean Sea.
You'll have an amazing time snorkeling here due to the crystal clear waters and diverse wildlife. Regular visitors to Christmas Cove include sea turtles, conchs and eagle rays.
Christmas Cove also features the only floating pizza restaurant where you can grab some lunch. And let me tell you, the pizza is extremely delicious!!
I'd recommend joining this boat tour to Christmas Cove that allows you to swim with the turtles and get some tasty pizza from the pizza boat. This is the one I did and I loved it!
This tour makes everything super easy as Christmas Cove can be difficult to get to alone.
Check out how close you can get to the beautiful sea turtles at Christmas Cove in the video below:
6. Sapphire Beach
Sapphire Beach is a popular snorkeling site, located on the east side of the island. Snorkelers are often able to see colorful fish, brain coral, rays and turtles.
It is a great place to spot marine life for all levels of swimmers due to its very calm waters.
Not only that, the beach is very picturesque with its white, sandy beaches and vibrant turquoise waters. It's like something out of a travel brochure.
Check out the video below which shows a sea turtle and some fish spotted at Sapphire Beach:
7. Secret Harbor
Another great place where you can go swimming with turtles in St Thomas is at Secret Harbor.
Secret Harbor is a protected bay with calm waters so it is perfect for people of all abilities as well as families.
Secret Harbor is often ranked as one of St Thomas's best snorkeling locations due to its abundance of underwater marine life.
You'll likely be able to swim with turtles as well as lots of fish, coral and maybe even an octopus.
To access the reef, head to the left side of the beach and walk a little bit further out into the sea. This is where you'll find most of the action.
I didn't get chance to visit this one myself unfortunately but it was recommended to me by a local on the island.
Check out a sea turtle playing in some coral in the video below:
Tips For Swimming With Turtles
First time swimming with turtles?
To ensure the turtles remain safe, there's a few key things to bear in mind when swimming with them in St Thomas, USVI.
Remember that all of the different turtle species are endangered so it's important that we do all we can to help their chances.
Don't be too loud. Try to be as quiet as possible when swimming up to a turtle as loud noises will scare them away.
Do not touch the turtle. Turtles are wild animals and should be respected.
Do not get too close. This might scare the turtle and they could bite you if they get really scared (don't worry this is super rare!).
Do not feed the turtles. They don't need help finding food.
Always approach a turtle from the side. This gives them a clear view of you and a clear path ahead of them if they want to swim onwards.
Don't disrupt the turtle's natural behavior. You can enjoy the turtles by watching them do their thing but try not to disturb them.
These key tips protect both you and the turtles.
Find out where to see turtles in St John.
---
And that's it! Thanks for reading this post on where to see turtles in St Thomas, US Virgin Islands.
St Thomas is a great place to go swimming with turtles due to the abundance of healthy seagrass beds.
There's plenty of locations all over St Thomas where you have a super high chance of spotting a turtle.
Why not use these fun snorkeling Instagram captions for any photos you post from your stay in St Thomas?
Related Posts: