Welcome to the sunny island of Curacao where the crystal clear waters are home to some of the most captivating creatures on earth – turtles!
I visited Curacao for the first time recently and spent a huge amount of time in the ocean where I managed to spot a lot of turtles.
I found that the only place where you are guaranteed to be able to swim with turtles in Curacao is at Playa Piskado.
As this turtle beach is a little bit out of the way, I'd recommend joining this top rated swim with turtles snorkeling tour as they pick you up from your hotel and take you to the beach.
In the rest of this article, I'll reveal all of the exact locations in Curacao where you can see and swim with turtles + where you can see baby turtles hatching.
Best Place To See Turtles in Curacao
There is a huge population of turtles that live in the waters around Curacao.
The most common species of turtle that you'll see in Curacao is the green sea turtles although several other species can be spotted here.
These include hawksbill turtles, loggerhead turtles and the occasional leatherback turtle.
Best Curacao Turtle Tours
The most popular activities which allow you to swim with turtles in Curacao are snorkeling and diving.
As I mentioned, Playa Piskado is the best place to see turtles and you're basically guaranteed to see them if you come to this beach.
Playa Piskado sits on the edge of town so you'll want to join a snorkeling tour like this one to get there as it includes pick-up/drop-off from your hotel.
If you're looking for a day trip then book a boat tour to Klein Curacao (a little island just off Curacao) and swim amongst turtles in a shipwreck! More details on this later.
Check out my complete list below for more information on where you can see turtles in Curacao and the best turtle beaches in Curacao.
1. Playa Piskado
Based on firsthand experience, the best place to see turtles in Curacao is at Playa Piskado, also known as Playa Grandi.
Playa Piskado is a small beach located on the northwest side of Curacao. It's less than an hours drive from the main city of Willemstad.
Playa Piskado is hands down the best place to swim with turtles in Curacao. It's so easy to spot turtles here that, in fact, you'll have trouble NOT seeing one.
I literally saw at least 10 or more turtles here within minutes of getting into the water. It was insane and I felt so lucky!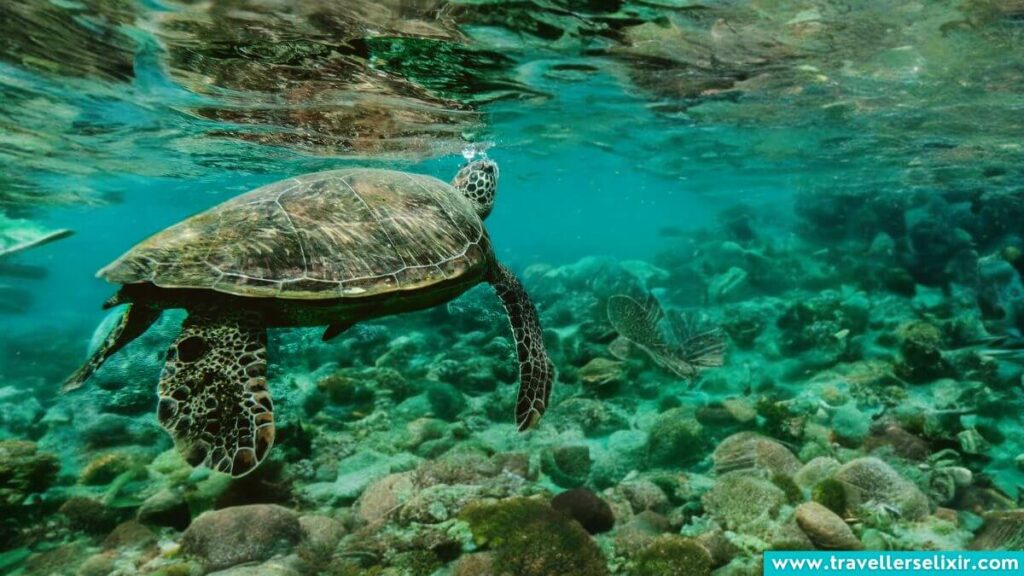 I'd recommend joining this turtle snorkeling tour which includes hotel pickup and takes you right to the beach. This is the tour that I did and I absolutely loved it.
It also includes a stop at Grote Knip Beach which is consistently ranked as one of the most beautiful beaches in the Caribbean.
Interesingly, 'Playa Piskado' actually translates to 'Fisherman's Beach'. Just beyond the pier, you'll find many fishermen in their boats casting their nets into the ocean.
The fishermen usually discard scraps of fish into the ocean and this attracts lots of fish and sea turtles!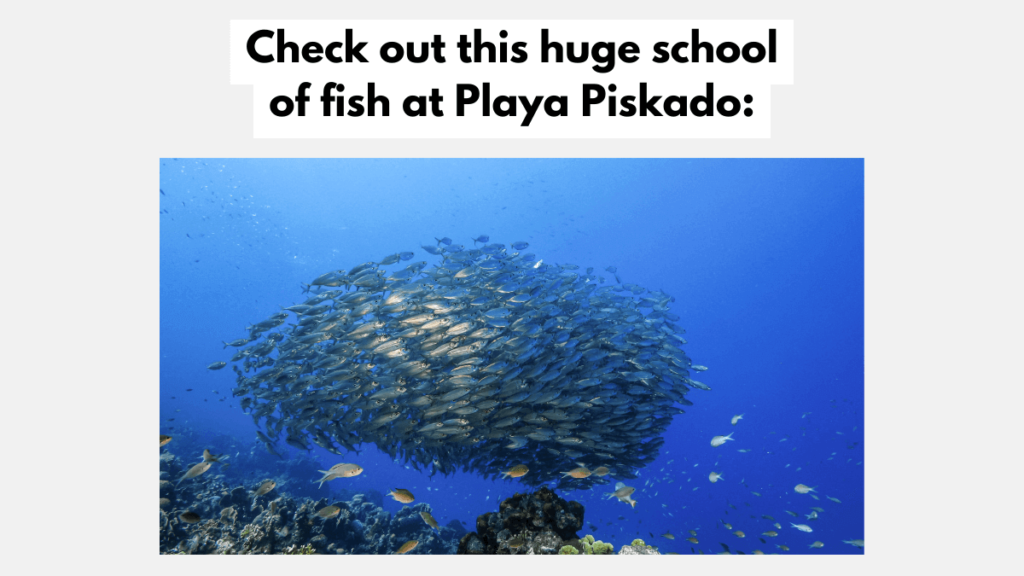 It's a beautiful beach with crystal clear water making it super easy to spot the turtles.
Swimming with turtles in Curacao is a magical experience that you'll never forget, I know I won't.
It's so beautiful to watch the turtles effortlessly gliding through the crystalline waters and observing them foraging for food.
💡Tip: Bring an underwater camera like the GoPro Hero 10 to get some photos and videos of you with the turtles.
Check out the video below to see the beautiful turtles of Playa Piskado and the sort of sights you can expect:
2. Klein Curacao
Klein Curacao is a small, uninhabited island that lies just 10km southeast of Curacao. Literally the name means 'little Curacao'.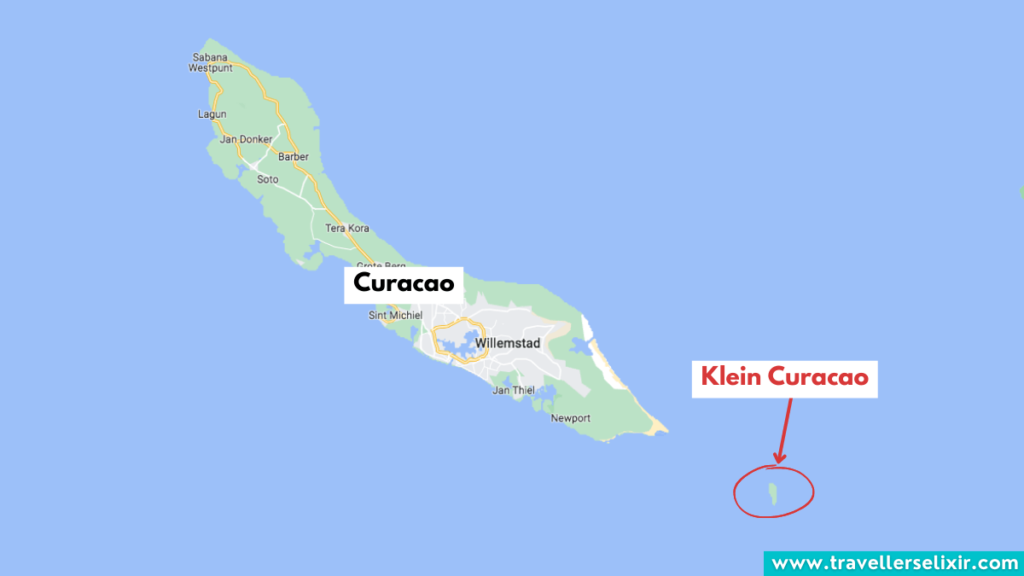 I'd recommend joining this full-day boat tour to Klein Curacao as it also includes a swim with turtles experience.
Whilst swimming with turtles at Klein Curacao, you also get the chance to swim around a shipwreck and a healthy coral reef!
I found that the shipwreck was teeming with turtles and other marine life so it was super fun to explore.
This was my first time swimming around a shipwreck and I thoroughly enjoyed it as it was a bit more interesting that just snorkeling in the ocean.
The island is a perfect day trip because, as well as the shipwreck and snorkeling site, there is also an old lighthouse and a half-mile long white sand beach.
As the island is uninhabited, it has a beautiful unspoilt feel to it. Everything here is very natural, meaning you can see the turtles in the best way possible.
As Klein Curacao is off the mainland, the only way to get there is by boat and I'd recommend booking your tour in advance to ensure you get a place as the tours are super popular and often sell out.
Check out the beautiful sea turtle spotted whilst snorkeling at Klein Curacao in the video below:
3. Playa Lagun
Playa Lagun is a beach located in northwest Curacao. 
This turtle beach is surrounded by rocky cliffs which line a long, narrow channel. The channel provides a home for a huge variety of fish, seahorses, starfish, lobsters, sea turtles and more.
It's a popular diving and snorkeling site due to its healthy coral reef and sponges all teeming with marine life.
I saw around 4 turtles here in total but I was snorkeling for around 20 minutes before I saw any at all so you have to be patient.
4. Shete Boka National Park
One place where you can often observe mother turtles laying eggs and baby turtles hatching in Curacao is on the beaches of Shete Boka National Park.
The 6-mile northern coastline has 13 small cove-like beaches and these are where the turtles come to lay their eggs.
When the nests hatch around 45 days after being laid, lots of baby turtles will scramble across the beach, making their way into the ocean for the first time.
For the best chance of seeing the turtle nests, I'd recommend joining this tour to Shete Boka National Park.
The knowledgeable guides have been doing this for years and know where to find turtles without fail – you might struggle to find them on your own as the national park is huge.
This tour is also great because they make a stop at both Playa Piskado and Playa Lagun so you get the chance to swim with turtles too.
Seeing baby turtles hatching is a magical experience and it's something you'll never forget.
Imagine the tiny turtles poking their way out of their eggs and imagine being part of it yourself.
One of the key feeding areas at this national park is Boka Ascension so head there for the best chance of spotting a turtle.
5. Caracasbaai Beach
Caracasbaai Beach is made of hard sand and pebbles but it is a super popular spot for snorkeling and diving. Just make sure to bring your water shoes.
You can commonly find sea turtles swimming around in the bay here. I managed to spot a couple when I went snorkeling.
6. ​​Playa Porto Marie
This beautiful sandy bay features clear, calm waters which are perfect for spotting turtles.
It is unique in the fact it has a double reef which you can access easily from the shore. This is a fantastic snorkel and dive site. 
When I visited, I managed to spot a few turtles, tons of tropical fish and a few rays.
Tips For Swimming With Turtles In Curacao
First time swimming with turtles?
To ensure that the turtles remain safe, there's a few key things to bear in mind when swimming with them in Curacao.
Remember that all of the different turtle species are endangered so it's important that we do all we can to help their chances.
Don't be too loud. Try to be as quiet as possible when swimming up to a turtle as loud noises will scare them away.
Do not touch the turtle. Turtles are wild animals and should be respected.
Do not get too close. This might scare the turtle and they could bite you if they get really scared (don't worry this is super rare!).
Do not feed the turtles. They don't need help finding food.
Always approach a turtle from the side. This gives them a clear view of you and a clear path ahead of them if they want to swim onwards.
Don't disrupt the turtle's natural behavior. You can enjoy the turtles by watching them do their thing but try not to disturb them.
These key tips protect both you and the turtles.
---
And that's it!
Thanks for reading this post on where to see turtles in Curacao.
There are lots of turtle beaches in Curacao which give you the chance to swim alongside the turtles and observe them in their natural habitat.
Don't forget your waterproof camera so you can capture some memories to take home with you.
Related Posts: