Welcome to the alluring island of Bermuda where the turquoise waters are home to some of the most awe-inspiring creatures on earth – sea turtles!
I visited Bermuda for the first time on my recent Caribbean island hopping trip and boy was I blown away by how many turtles I saw!!
I personally found that the best way to swim with turtles in Bermuda was to join a catamaran sail & snorkeling tour.
They take you to a private cove away from the crowds where you can do some snorkeling, kayaking or stand-up paddleboarding. It was super fun!
In the rest of this article, I'll be revealing all of the exact locations where you can see sea turtles in Bermuda.
Where To See Turtles In Bermuda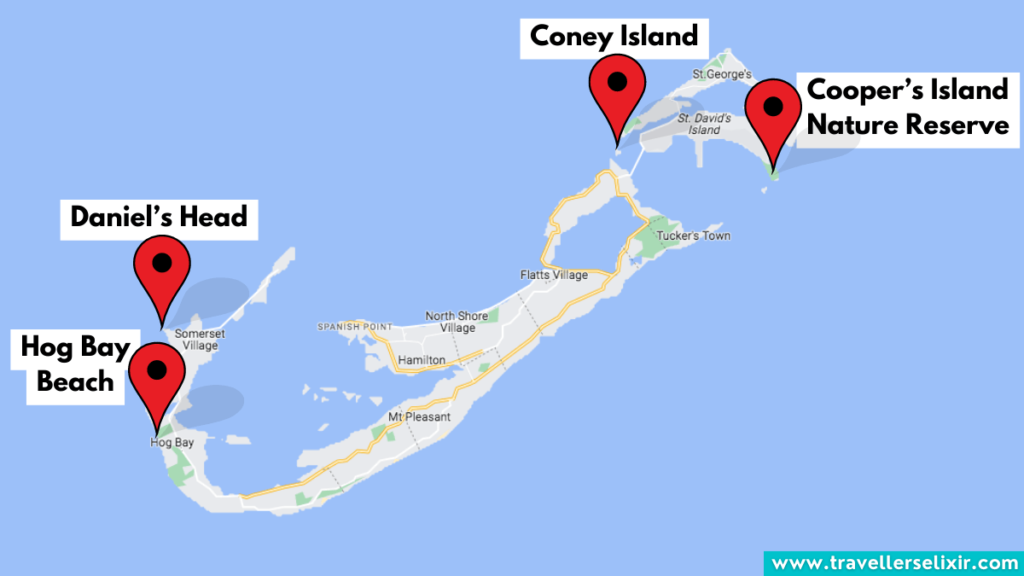 Bermuda is an ideal habitat for sea turtles as it has shallow coral reefs, lush seagrass beds and clean, unpolluted waters.
In fact, Bermuda is one of the few places on Earth where the sea turtle population is thriving.
You will be able to see plenty of sea turtles in Bermuda however you won't be able to see any baby turtles hatching.
Unfortunately, Bermuda is not a location where sea turtles regularly hatch but they do love to swim around and spend much of their early adult life in and around Bermuda.
If you're now wondering where to see turtles in Bermuda, keep reading as I'll tell you the exact spots and locations!
1. Daniel's Head
One of the best and most fun places to see sea turtles in Bermuda is at Daniel's Head.
Just northwest of Daniel's Head is a partially submerged shipwreck called HMS Vixen. The bow of the boat lies just above the water.
This area is covered in seagrass and coral making it the perfect place for turtles. The only way to get to HMS Vixen is by joining a tour.
The most popular one is this glass-bottomed boat tour which will take you to see HMS Vixen as well as the surrounding seagrass beds and coral reefs where the turtles hang out!
This tour is perfect if you don't want to get wet but still want to see the ship and the turtles that live in the area. You can observe them from the comfort of the boat.
If you're a bit more adventurous and want to get into the water itself, then join this boat and snorkeling tour instead which is what I did.
l not only got to see Vixen's shipwreck but also got to go snorkeling in the seagrass and search for turtles!
I saw so many turtles (probably at least 10 or more) and exploring the shipwreck was also pretty awesome.
The wreck was basically swarming with marine life and it was super interesting to explore for myself.
Check out what it's like to snorkel here in the video below:
2. Cooper's Island Nature Reserve
Located on the southeastern tip of Bermuda, this stunning nature reserve features sandy beaches, walking trails and epic views.
Enjoy the island and explore this nature reserve by joining the Bermuda Beach Hop Experience. I did this tour and really loved it.
They guides took us to Bermuda's top 5 beaches with the last stop being the scenic Cooper's Island Nature Reserve where we were able to see and swim with the turtles. 
I saw around 5 turtles here within minutes of getting into the water and more kept popping up the longer I swam.
From the nature reserve you'll also have access to some of Bermuda's best beaches including Turtle Bay, Clearwater Beach and Long Bay.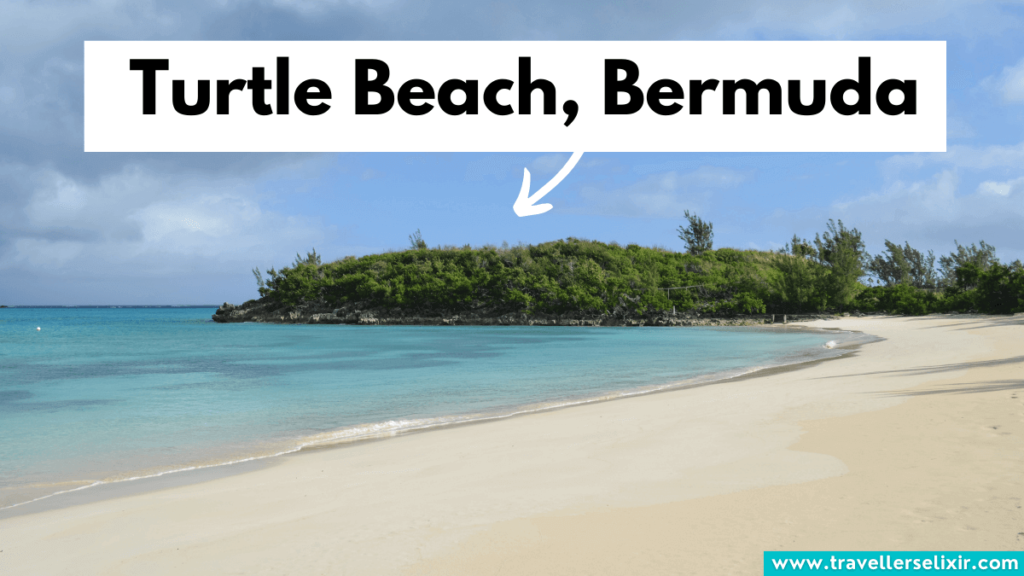 These beaches feature shallow water seagrass beds which are the ideal habitat for green turtles so you can usually spot turtles here pretty easily.
I found that Clearwater Beach in particular was the best one for spotting sea turtles. You can easily access this beach from the nature reserve.
3. Hog Bay Beach
This hidden beach is part of Hog Bay Park which covers 32 acres of land on the west side of the island.
This beach is very unknown and not that many people know about it so you'll likely have it to yourself! When I visited, there was literally nobody else on the beach.
It's not easy to find and you can't see it from the park. It can only be reached by following a hiking trail in Hog Bay Park.
I thought the beach was perfect for swimming and snorkeling due to the calm waters and I managed to spot a few turtles swimming around in the waters.
Make sure you visit this beach during low tide as sometimes it disappears completely during high tide.
You can check the times of high and low tide on the Tide Forecast website.
How To Get To Hog Bay Beach, Bermuda
As mentioned, Hog Bay Beach isn't easily found and it can't be seen from the park itself.
When you arrive at the entrance of Hog Bay Park, take the left trail. There should be a small sign that says 'walking trail'. It's easy to miss so keep your eye out for it.
There's another trail on the right which leads to an abandoned house so avoid this one.
You'll then have to walk down a trail which passes by fields and forests for around 20 minutes. The trail does get steep at times but overall it's not a difficult hike.
Eventually the trail will lead you down to the shoreline where you'll find the secluded Hog Bay Beach.
4. Ferry Reach/Coney Island
Another place where you can often see sea turtles in Bermuda is in the waters around Ferry Reach and Coney Island. These waters are just north of the Causeway.
One I found that the best turtle spotting location around here was Ferry Point Park at Ferry Reach. Green turtles can often be spotted along the north shore on calm days.
There are lots of seagrass beds surrounding both Ferry Reach and Coney Island – this is where you'll find the turtles.
Best Time Of Year To See Turtles
You can see turtles in Bermuda year round as they have a resident population of turtles that never leave the island.
The turtles like Bermuda because there are loads of seagrass beds all around the island and this is what turtles eat.
For this reason, it doesn't matter what time of year you visit Bermuda as you'll definitely be able to spot the turtles any time.
Find out where to see turtles in Antigua.
History of Sea Turtles in Bermuda
Unfortunately you can't see baby sea turtles hatching in Bermuda. It's incredibly rare for turtles to lay eggs on Bermuda's beaches.
This is something you can do in other places like Mexico (I have guides on where to see baby turtles hatching in either Tulum or Cabo San Lucas).
Centuries ago in the early 1600s, Bermuda had tons of green turtles and they laid their eggs on Bermuda's beaches.
One interesting feature of these turtles is that they always return to the same breeding grounds at the same time every year to lay their eggs.
This means that when the baby turtles grew up, they would always return to Bermuda's beaches to lay more eggs.
After the island was settled in 1609, the settlers started eating the meat of the turtles and eventually, in the late 1700s, the entire population of green turtles was eradicated.
Strict laws were put in place to prevent the killing and eating of turtles and today the turtle population in Bermuda is thriving.
---
And that's it!
Thanks for reading this post on where to see turtles in Bermuda.
Nothing beats seeing these glorious turtles in their natural habitat.
Bermuda is actually one of the best places in the whole world to see turtles due to its largely untouched landscape, lush seagrass and healthy coral reefs.
Related Posts: