Welcome to the tropical paradise of the Seychelles where the lush green forests are home to some of the most fascinating creatures on earth – giant tortoises!
I'm not gonna lie. I saw these giant tortoises on Tik Tok a few years ago and it was actually one of the main reasons why I ended up booking a trip to the Seychelles.
After visiting for myself, I found that the best place to spot giant tortoises in the Seychelles is on Moyenne Island where over 100 giant tortoises roam freely.
You can visit the island on this catamaran tour which includes hotel pick-up/drop-off, a snorkeling activity and a stop to see the giant tortoises! This is the one I did.
In the rest of this article, I'll also be revealing other fantastic locations where you can catch a glimpse of these gentle giants.
Best Places To See Giant Tortoises In The Seychelles
The giant tortoises found in the Seychelles are Aldabra Giant Tortoises which are actually one of the largest types of tortoises on the planet.
It truly is a once-in-a-lifetime opportunity to see these giant tortoises as they can only be found in 2 places in the world – the Seychelles and the Galapagos Islands.
Here's exactly where you can find the giant tortoises in the Seychelles…
1. Moyenne Island
By far, the best place to see giant tortoises in the Seychelles is on Moyenne Island which forms part of the St Anne Marine National Park.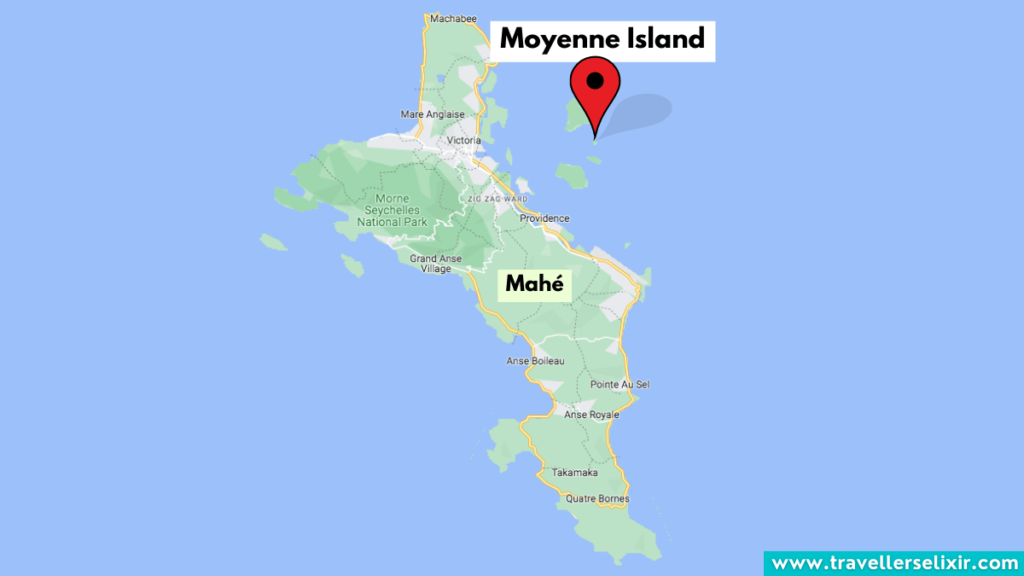 This national park is made up of 6 small islands just off the northeast coast of Mahé island. It has stunning sandy beaches, tropical vegetation and lots of great walking routes.
The best part is that the tortoises roam freely on this island (other locations keep them in captivity).
I must have seen at least 10 giant tortoises just wandering around the island as they please, it was pretty cool!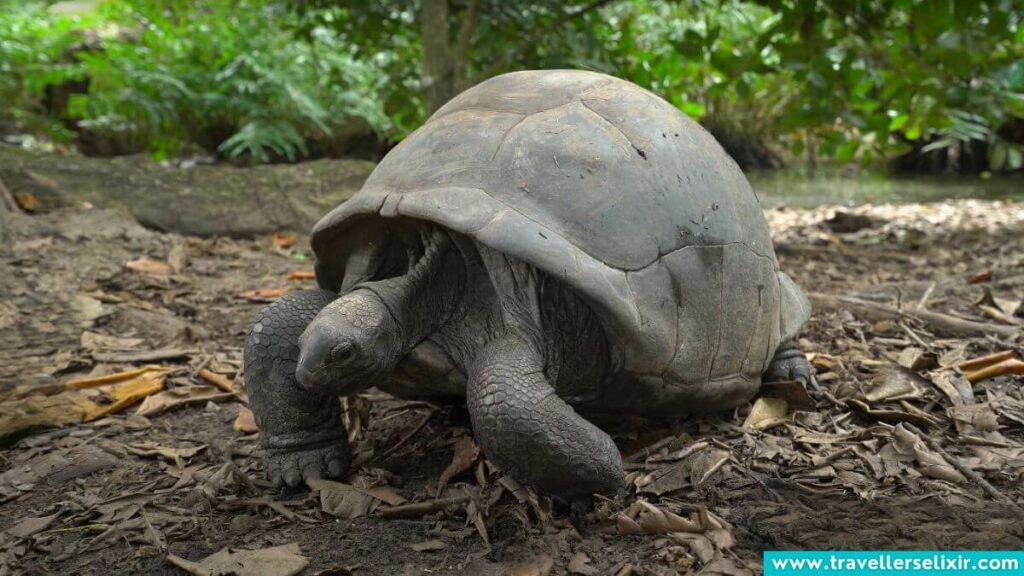 It's hard to get to Moyenne Island alone so I'd recommend joining this catamaran tour which includes roundtrip transportation from your hotel.
This is the tour that I did when I went and I thought it was really fantastic.
The tour also includes a snorkeling activity which gives you the chance to swim alongside interesting marina life and you get to see the giant tortoises in their natural habitat.
This also gives you the best possible chance of seeing the giant tortoises as your expert guide will know exactly where they like to hang out.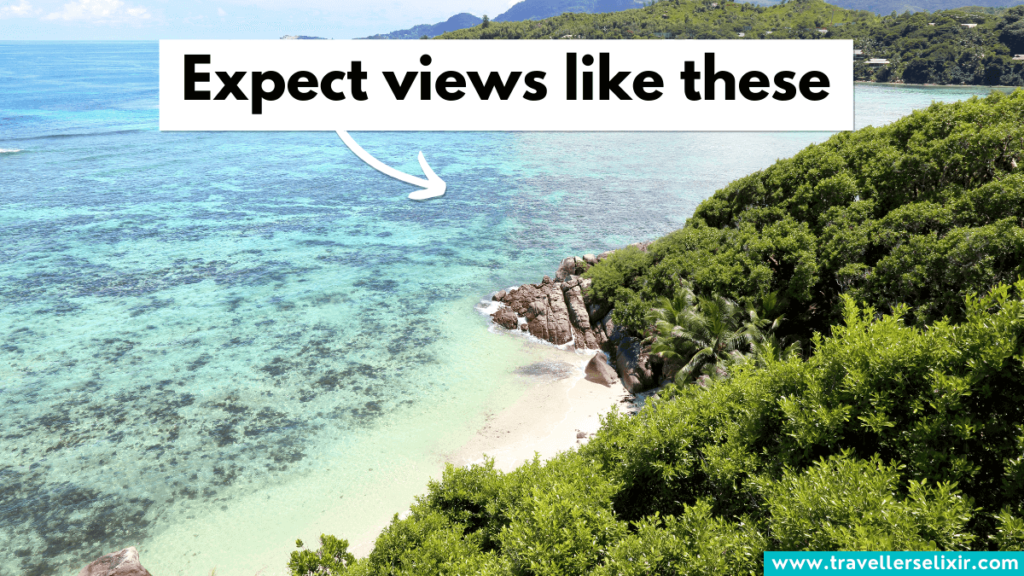 For a more intimate experience, you can book a private boat tour instead just for you and your party (it's a lot more expensive though).
Moyenne Island is by far the best place to see giant tortoises in the Seychelles as it doesn't get super crowded with tourists.
This is mainly due to its more secluded location and the fact that you need to take a boat to get there.
Check out Moyenne Island in the video below to see what it has to offer:
2. Curieuse Island
Another great place where you can see giant tortoises in the Seychelles is on Curieuse Island which is also a national park.
This is ideal if you're staying on La Digue or Praslin but can also be accessed from Mahé.
When I visited, I noticed that this small island was largely untouched so had a really natural feel.
It has quiet beaches, giant tortoises, a lush mangrove forest and also a local history museum.
The island is a little bit out of the way (this is what gives it a secluded feel) so you will need to join a tour to get there.
I'd recommend this full-day private boat tour from Mahé as it also includes a visit to the famous La Digue island as well as Curieuse Island to see the tortoises.
It's pretty pricey but does provide a super luxurious experience and allows you to see so many secluded parts of the Seychelles that few people ever visit.
Once you arrive, you'll be able to see hundreds of free roaming giant tortoises all over the island. Over 200 giant tortoises call Curieuse Island home.
I loved just standing around, watching the tortoises just going about their business. They move super slowly!!
There is also a tortoise nursery where baby tortoises are raised until they are 5 years old. Once they reach this age, they are then released into the wild.
As well as giant tortoises, the island is also home to the Coco De Mer Palm. This huge, prehistoric palm tree has the world's biggest seed.
My guide showed me one of these and I genuinely thought it was a boulder. My last guess would have been that it was a seed.
Its seed can reach up to half a meter in diameter and can weigh up to 25kg.
Check out how close you can get to the giant tortoises in the video below:
3. L'Union Estate Park
L'Union Estate Park is located at the southern end of La Digue.
L'Union Estate Park is a former coconut and vanilla plantation that gives an interesting insight into the colonial past of the islands.
It's also home to a number of glorious giant tortoises that just roam around the park.
You can join a Seychelles day tour, which takes you around La Digue and includes a stop at L'Union Estate Park, to make things super easy.
This is actually the most affordable way to see giant tortoises so if you have a tighter budget then this may be your best option.
La Digue is one of the Seychelles most famous islands. It's known for tropical beaches, turquoise waters and giant granite boulders.
I wasn't staying on La Digue so booking a tour like this gave me the chance to explore it for just a day. It's really beautiful and feels very different to Mahé.
It truly looks like something out of a travel brochure so you definitely won't be disappointed.
4. Desroches
Another island in the Seychelles where you can see giant tortoises is on Desroches.
If you're looking for a luxury vacation then this is the perfect option as you can stay at the Four Seasons Resort Seychelles.
This secluded paradise feels like you are on your own private island as the Four Seasons is the only hotel on the island and comes complete with its own population of giant tortoises.
Desroches island is home to around 150 giant tortoises, many of which roam freely across the island.
The island is also the location of a tortoise sanctuary where guests can learn all about the giant tortoises and the conservation challenges they face.
Check out what the Four Seasons Resort has to offer in the video below:
Are There Giant Tortoises on Mahé?
If you're staying on the main island of Mahé or in the Seychelles capital, Victoria, then you may be wondering if there's somewhere on the mainland where you can see the giant tortoises.
There aren't many tortoises on Mahé island but there are some at the Seychelles National Botanical Gardens in Victoria.
Here you can admire trees and flowers as well as a range of wildlife including birds, fruit bats and giant tortoises.
You can even feed the giant tortoises here. Staff will give you leaves which you can feed to the tortoises, giving you the chance to get up close and personal with them.
How Big are the Tortoises in the Seychelles?
The Aldabra Giant Tortoises, which can be found in the Seychelles, usually weigh over 400kg and are around 1.3m in length.
Some tortoises have lived to be over 250 years old but most live between 80 and 120 years.
History of Giant Tortoises in the Seychelles
Historically, giant tortoises were found on most islands in the Indian Ocean however they gradually became extinct.
They were driven to extinction due to exploitation from European sailors who took them aboard their ships to eat them.
By 1840, all species of giant tortoises were extinct apart from the Aldabra variety.
These giant tortoises mainly live on the Aldabra Atoll which is an island of the Seychelles located 700 miles from the main island of Mahé.
This island has been protected from human influence and is actually a UNESCO World Heritage Site.
It's super difficult to visit this island and only around 900 visitors are allowed to visit per year.
Today over 100,000 giant tortoises roam freely on the island.
Smaller populations of these tortoises can be found on other islands within the Seychelles (locations listed above).
They have become a popular tourist attraction with visitors coming from all over the world to see them in real life.
---
And that's it!
Thanks for reading this post on where to see giant tortoises in the Seychelles.
It truly is a remarkable experience to see these creatures in real life and definitely feels unreal.
If you're visiting the Seychelles then seeing the giant tortoises is something you just have to do as they are so rare and can only be seen in a few places in the whole world.
Related Posts: