The captivating island of Sardinia is a true Mediterranean gem that holds a secret: its dazzling flamingos!
I've been visiting Sardinia since I was a child so I know the island pretty well and I've seen the flamingos here multiple times.
Based on firsthand experience, the best place to see flamingos in Sardinia is in Cagliari where you'll find a 1,600 hectare park that is home to thousands of flamingos.
As the park is a huge place, you'll want to join this flamingo electric bike tour as the guides will show you exactly where to find the flamingos.
In the rest of this guide, I'd love to share with you all of the best places to see flamingos in Sardinia based on my own experience.
Best Places to See Flamingos in Sardinia
You can actually see flamingos all over Sardinia but the largest concentration of these pink birds is found in the capital, Cagliari.
In fact, flamingos have lived in Sardinia for centuries and have even become an icon of the island.
Sardinia is an ideal habitat for flamingos due to the abundance of large lagoons, lakes and shellfish (flamingos favorite food).
Here's exactly where you can find the flamingos…
Parco Naturale Molentargius Saline
I've found that, by far, the best place to see flamingos in Sardinia is at Parco Naturale Molentargius Saline which is a natural park located in Cagliari.
This 1,600 hectare park is a haven for wildlife especially the thousands of wild flamingos who live and feed in the expansive lakes which form part of the park.
The first time I visited this park, I was absolutely blown away as I'd never seen anything like it. Literally thousands of pink flamingos huddled together in the lakes.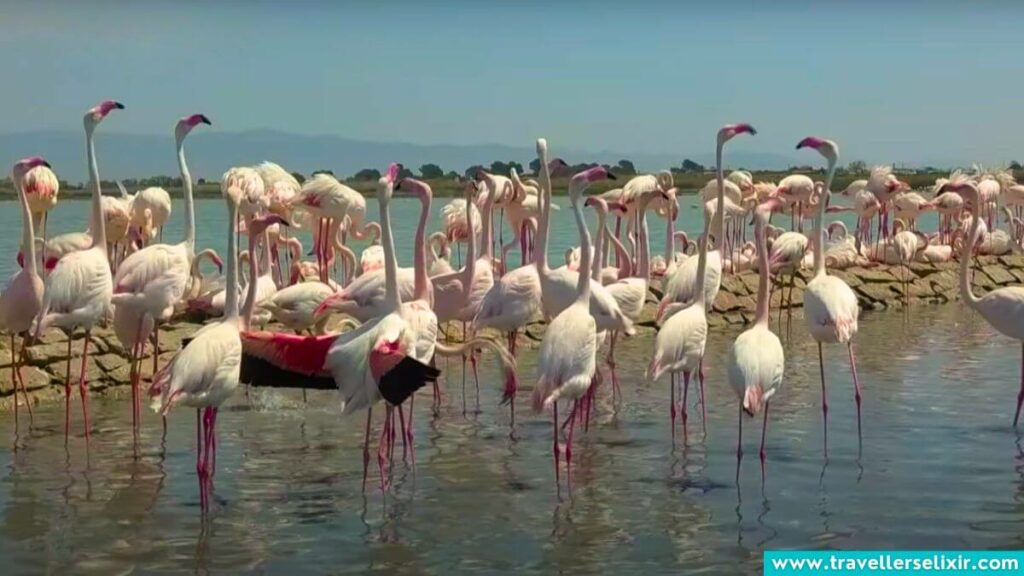 I've since visited the park 2 more times and each time I still get that same feeling of awe.
There are many different ways to explore the park. My personal favorite is by joining an electric bike tour like this one as it's super fun and an easy way to explore the park.
It's also pretty handy to go with a guide as this park is massive so finding the flamingos on your own can be a challenge.
Another alternative for those looking for something less active is this flamingo segway tour which is perfect as you can cover ground really quickly with minimal effort.
Based on my own experience, the best place within the park to find flamingos is at the Bellarosa Major pond as this is one of their favorite nesting sites.
The Monte Urpinu panoramic viewpoint is also a fantastic spot where you can get an incredible view of the flamingos from above. This is one of my favorite spots in the whole park.
If you like birdwatching then you'll also be able to see a wide range of other birds at this park including ​​several different duck and seagull species, western swamphens, coots, kingfishers and more.
Another great reason to visit this park is that it is free! There is no entrance fee.
Best Time to See Flamingos in Cagliari
Luckily the flamingos stick around all year long so you're able to see flamingos in Cagliari at any time of the year.
This is because there is a resident population of flamingos here that don't migrate elsewhere.
I'd still say that the best time to see flamingos in Cagliari is actually early summer, especially the first few weeks of June, as this is considered 'flamingo season'.
This is when the flamingos lay their eggs and nest and is usually the period when there are the most amount of flamingos present.
Don't worry if you're not visiting during this time though as flamingos can be seen in Sardinia easily all year long.
The best time of day to see flamingos is either early morning or around sunset as this is when the birds are most active.
During these times is when you'll get the chance to see the flamingos flying from one pond to another in search of food. This beautiful flight is known locally as the 'pink mist'.
You can easily see them at any time of day though so don't worry if you can't make it for these times.
San Teodoro
Another place where you can spot pink flamingos in Sardinia is in the former fishing village of San Teodoro.
I visited San Teodoro for the first time on my last trip to Sardinia and really enjoyed it.
I initially spent a few hours exploring the area and bumped into a few stray flamingos and kinda thought that was it.
Then I turned a corner and BAM I saw hundreds of flamingos congregated in a vibrant blue lagoon. I felt like the luckiest person ever!
To see the flamingos you'll wanna head straight over to the turquoise lagoon which is home to a large population of flamingos. The most popular way to explore this lagoon is by boat.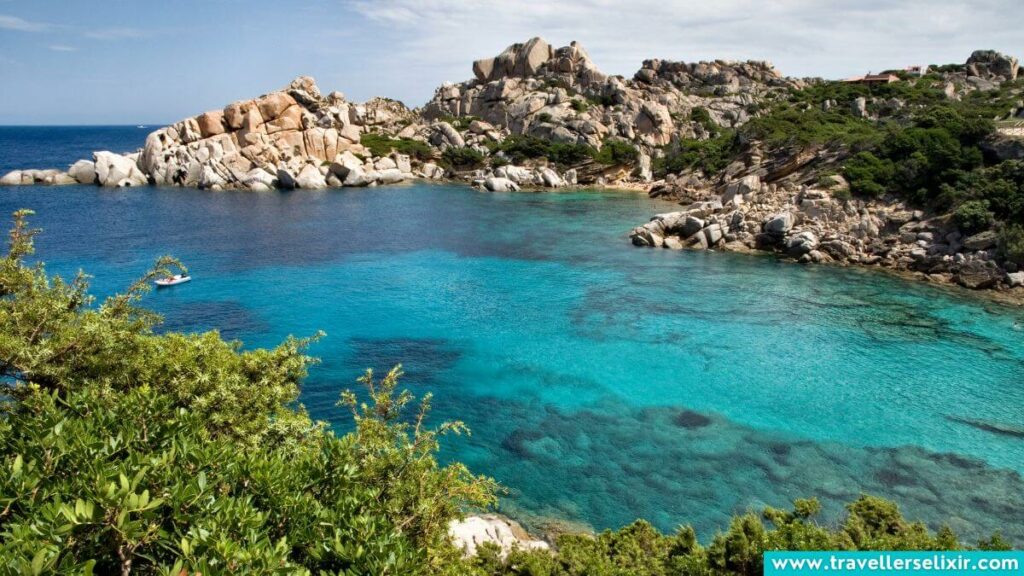 It also features stunning views of the nearby mountains and countryside and has the bluest waters you'll ever see.
This spot is great for people who love both culture and nature as they host a festival every year in September.
The festival is not only held to honor the local town but to honor the lake and the flamingos that reside there.
The flamingos are actually seen as a symbol of good luck and positivity which is why they play a huge role in the festival.
Please note that the flamingos of San Teodoro are only present during the summer months from July to September.
If you visit any later that September then you may not be able to see them.
​​Oristano
The beautiful city of Oristano is located in the central-western part of Sardinia.
Head out into the marshlands where you'll find several hundred (if not thousands) of pretty pink flamingos who live in the area.
Several rivers drain onto the plains which surround Oristano which has created a network of freshwater marshes and lagoons which provide the perfect habitat for flamingos.
I've always had the best success spotting flamingos in the ponds of S'ena Arrubia, Stagno di Cabras, Stagno di Mistras and Stagno di Santa Giusta.
One great thing to note about this location is that you can see the flamingos here all year round, even in winter.
Check out the video below which shows a huge flock of flamingos in Oristano taking flight:
Poetto Beach
One of the best beaches with flamingos in Sardinia is Poetto Beach which is the main beach in Cagliari.
This long beach stretches for 8km and offers stunning views of the deep blue ocean.
Poetto Beach is backed by two ponds, the Stagno di Molentargius and the Stagno di Quartu, where the pink flamingos can be spotted. You can see them right from the beach itself.
When I visited recently, I saw at least 50 flamingos or so prancing around the lake.
The beach has tons of amazing facilities including beach bars, restaurants, water sports, a marina, a fair and more.
Stagno di Sale 'e Porcus
Stagno di Sale 'e Porcus is a small lake on the central-western coast of Sardinia.
This lake serves as a nesting site for many bird species including pink flamingos, shelducks, cranes and purple swamphens.
During the summer, due to high temperatures, the lagoon can completely dry out and this reveals a thick layer of salt.
Stagno di Casaraccio
Stagno di Casaraccio is located in the Stintino region on the northwestern point of the island.
This is another great place to spot flamingos in Sardinia as this area features a large saltwater lake. You can see flamingos at many points across this expansive lake.
The lake is also home to many other animals including the purple heron, little bustard, great egret, little egret, spoonbill and kingfisher species.
Olbia
The city of Olbia is a coastal city located in northeast Sardinia.
This beautiful city is well-known for its medieval basilica and cafes dotting its many central squares.
It's actually one of my favorite cities to explore in Sardinia so, flamingos or no flamingos, it's worth a visit either way.
I've seen flamingos several times in the area of Poltu Quadu in the Gulf of Olbia.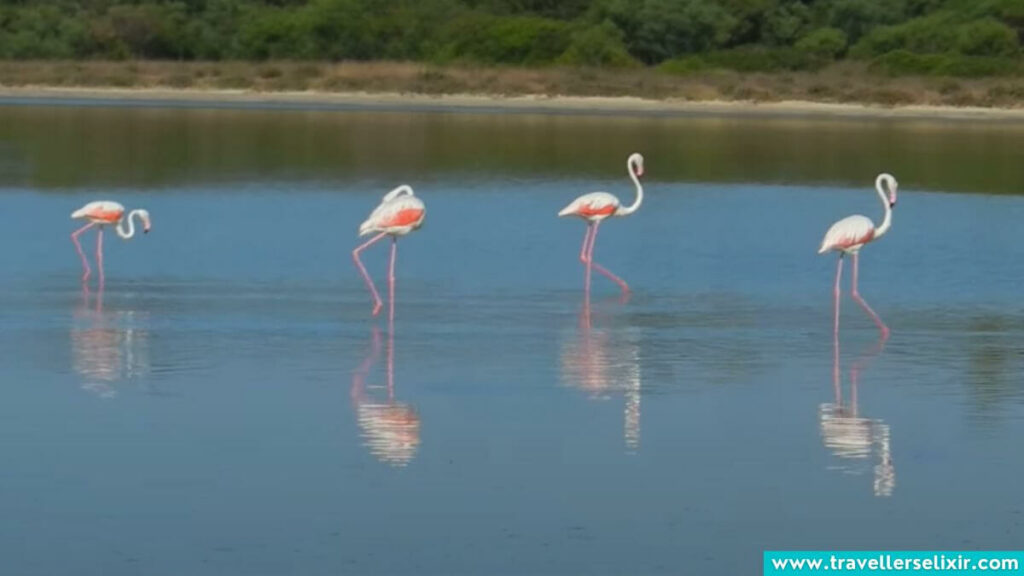 Stagno Sa Curcurica
Stagno Sa Curcurica is a small lake in Orosei located on the upper eastern coast of Sardinia.
This beautiful lake features vibrant turquoise waters with a scenic backdrop of the nearby steep hills covered by pine forests.
Many different types of wildlife call this lake home including flamingos (of course), little egrets, herons, kingfishers and more.
The lake also provides refuge for the green toad, the Sardinian tree frog and the water tortoise.
Bay of Chia
​​The Bay of Chia is located on the southern tip of the island.
There are several beaches which surround the Bay of Chia, all with soft white sand and crystal clear waters.
At the back of the main beach area is an expansive lagoon and this is where you'll find the pretty pink flamingos.
One advantage of the lagoon of Chia over other locations is that the flamingos can be seen all year even in winter.
Tips For Flamingo Spotting in Sardinia
First time seeing flamingos?
To ensure the flamingos remain safe and you get the most out of your trip, there's a few key things to bear in mind when seeing them in Sardinia.
Don't get too close to the flamingos as you could startle them and disturb their natural behavior.
Don't touch the flamingos. They are wild animals and should be respected.
These key tips protect both you and the flamingos.
---
And that's it!
Flamingos are literally an icon in Sardinia so if you're visiting then seeing flamingos definitely has to be on your list of things to do.
Nothing beats seeing these glorious flamingos in their natural habitat.
Related Posts: