Welcome to the Pacific Northwest where the chilly waters are home to some of the most intelligent and playful creatures on the planet – dolphins!
I've gone whale watching all over the world so when I heard that you could see whales in Washington, of course I had to go check it out.
Based on firsthand experience, the best place to spot dolphins in Washington is the San Juan Islands which is just 1 hr 20 mins north of Seattle.
It's hard to see the whales from the shore so I'd recommend joining a whale watching boat tour for an up close and personal view of the whales.
But wait, there's more! In the rest of this article, I'll reveal all of the exact locations where you can go whale watching in Washington state.
Best Tours For Whale Watching In Washington State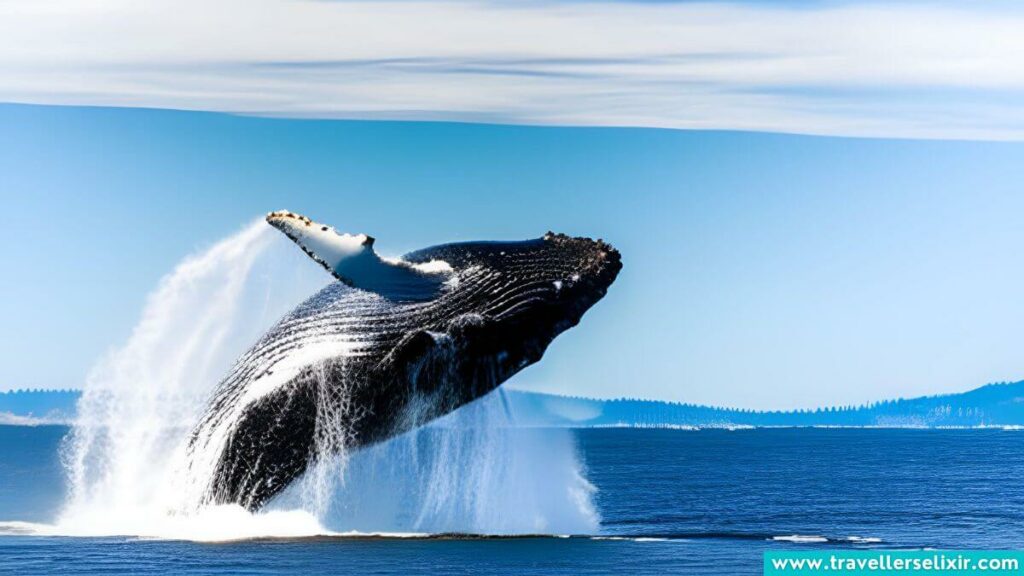 For the best chance of seeing a whale in Washington, you should book onto a whale watching tour like I did.
During the summer months, the chances of seeing a whale on a whale watching tour is as high as 90%! When I did it recently, I was lucky enough to see 5 whales!!
I've done all the hard work for you and picked up the best whale watching tours:
If you're worried about spending money on a tour and not seeing any whales then join this guaranteed whale sighting tour.
In the rare occurrence that you don't see a whale, they'll let you join another tour for free.
Can You See Whales From The Shore?
You can absolutely see whales from the shore in Washington state. There's actually several locations specifically across the state where sightings of whales are pretty common.
One thing I will say though is that the whales don't come super close to the shore so you won't get an amazing view.
I saw several whales from the shore myself but I saw little more than just a giant splash in the ocean far in the distance. It was still pretty cool though.
If you want to see a whale up close and personal then you should join a whale watching boat tour.
Below I have listed the exact locations across Washington where you can go whale watching, but bear in mind that sightings from the shore are less likely and cannot be guaranteed.
Best Places To See Whales In Washington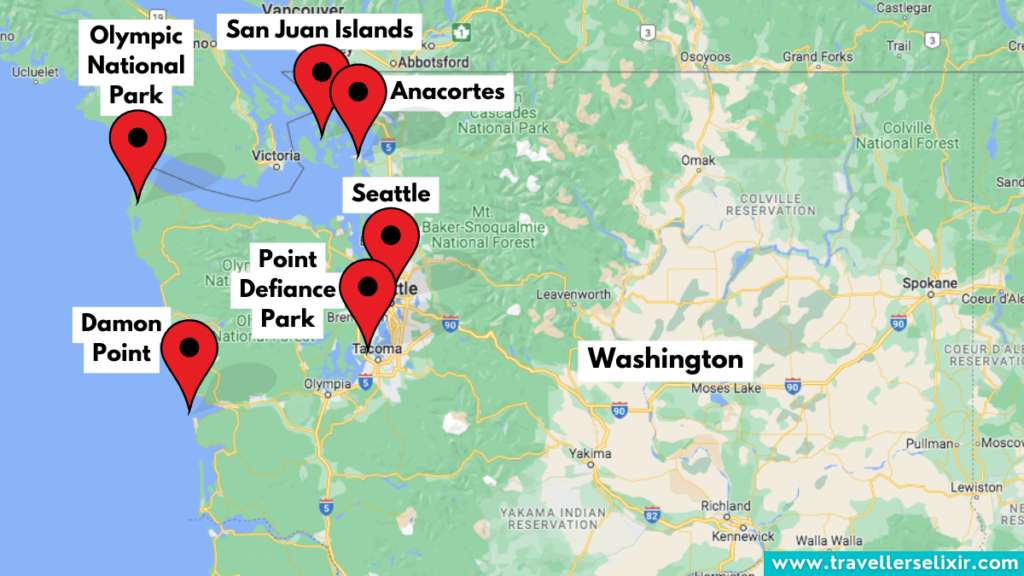 Here's exactly where you can find orcas and whales in Washington…
San Juan Islands
I found that by far the best place in Washington State to see whales is on the San Juan Islands.
The San Juan Islands are a group of islands located at the north western tip of Washington State. They are known for their stunning rural landscapes and abundance of wildlife.
At certain times of the year, whales can commonly be seen from various different spots across the islands.
Here's a list of the best places on the San Juan Islands to see whales:
Lime Kiln Point State Park
San Juan Island National Historical Park
San Juan County Park
You have a really great chance of seeing whales from the shore at the above three locations.
I saw the most at Lime Kiln (literally 3 sightings in 15 minutes!) and saw one whale each at the other two but I had to wait a lot longer.
If you want to head out on a boat tour then head over to Friday Harbor as this is where they all depart.
You can book onto a whale watching boat tour that leaves from the harbor and takes you out into the ocean searching for the whales.
The San Juan Islands is one of the best places in the entire world for whale watching and whales are spotted on these boat tours over 90% of the time!
I did the above tour and really enjoyed it. I got incredible, up close views of several whales and got to watch as they leapt out of the ocean creating a colosal splash as they re-entered.
As an alternative, you can join a kayaking tour instead which is great if you want to be more active.
Check out the video below which shows a magnificent whale sighting in the San Juan Islands:
Seattle
Seattle is a major US city and the largest in Washington State. It is surrounded by water, mountains and evergreen forests.
The city itself sits on the Puget Sound, a body of water that links to the nearby Pacific Ocean.
The Puget Sound is one of the best places in Washington to go whale watching and sightings of whales, including orcas, are super common. I was lucky enough to spot an orca here!
The best way to see whales in Seattle is to get out onto the water. It's less common to see them from the shore.
I'd recommend booking a private guided sailboat tour (this one is actually super reasonably priced and it's private!).
You'll head out onto the water with your expert guide who will show you where to find whales and you'll get a pretty epic view of Seattle's skyline.
Although it's less common, you can also sometimes see whales from the shore in Seattle.
One of the best places to see whales from the shore in Seattle is on Alki Beach.
Alki Beach is a popular beach in western Seattle with epic views of the Puget Sound. Whales can often be seen from this beach and in the summer they sometimes come close to the shore.
I saw a whale after waiting around on this beach for over an hour. Worth it though.
I heard from a local that you can also occasionally see whales from other points that look out into Elliott Bay in Seattle.
Anacortes
Anacortes is a small city situated on the tip of Fidalgo Island, just a 1 hr 20 min drive north of Seattle. The city features a vibrant coastal community and is a popular recreational site.
It's proximity to the Strait of Juan de Fuca provides fantastic opportunities to spot whales.
The water that surrounds Anacortes is home to 3 resident pods of orca whales. You will also have the opportunity to spot humpback, minke and gray whales in Anacortes too.
One of the best ways to see the whales is to get out onto the water on a kayaking tour.
These are super fun and give you the best opportunity to get up-close to a whale.
If you're wanting to view whales from the shore in Anacortes then head over to Washington Park.
This 220-acre park overlooks Burrows Pass, a water channel that lies between the park and nearby Burrows Island.
Burrows Pass is the best place to observe a variety of marine life including whales, porpoises and harbor seals.
Just head up to one of the lookout points at Washington Park for epic views of the channel.
Check out the video below which shows an amazing orca sighting in Anacortes:
Point Defiance Park
Point Defiance Park in Tacoma is a 760-acre urban park featuring woodland trails, gardens and scenic waterfront views. 
The best place to see whales at Point Defiance is along the north shore, one popular spot is Owen Beach. 
I actually managed to spot 2 whales from this beach after waiting for only half an hour.
A popular activity is to join a boat tour which takes you around the area and past Point Defiance with lots of opportunities to spot whales along the way.
You can also often see resident orcas from the Dalco Passage overlook which overlooks the water passage between Point Defiance and nearby Vashon Island.
Humpbacks, orcas, gray whales, porpoises, seals and minke whales are often seen here.
Check out the video below of an orca spotted from Point Defiance Park:
Olympic National Park
The Olympic National Park is one of the USA's most popular national parks, encompassing nearly a million acres. It features vast wilderness, dramatic peaks and backpacking trails.
The best way to experience the park to the fullest is by joining a full day guided tour – this one takes you from Seattle and back. This is the one I did and I can only say great things about it.
There's many spots across the Olympic National Park where you can go whale watching.
One of the best places to go whale watching within the park is Shi Shi Beach which is located on the western coast of the park. You can also spot whales at the nearby Neah Bay.
Gray whales are commonly spotted here and occasionally people have reported seeing orcas and humpback whales too.
Another popular spot within the park is the Destruction Island Viewpoint, located 1 mile south of Ruby Beach.
The viewpoint looks out across the water here towards the nearby uninhabited Destruction Island where orcas and gray whales can commonly be seen.
Finally, the area of Kalaloch features several sandy beaches that give great views of the Washington waters where you can often observe whales.
Port Townsend 
Port Townsend is a small city located on the northeastern tip of the Olympic Peninsula overlooking the Puget Sound.
Port Townsend has lots of whale watching opportunities. Most people book onto a whale watching tour in the town and head out into the Salish Sea.
One of the best places to see whales from the shore at Port Townsend is at Point Wilson Lighthouse.
From here, you should look out north towards the Strait of Juan de Fuca. This Strait is an important passageway for whales as it leads directly to the open ocean.
If you want to learn more about whales then you can also visit the Port Townsend Marine Science Center which teaches you all about the whales and even has a giant orca skeleton on display.
The Port Townsend Marine Science Center sits on a pier – you can often see whales from this pier if you look out east into the Admiralty Inlet.
Damon Point
One place where you can see whales on Washington's Pacific Coast is Damon Point.
Damon Point in Ocean Shores is a 61-acre park that sits on a 1 mile long, half mile wide stretch of land that juts out into the sea.
Whale sightings in the ocean at Damon Point are super common. The park has 4 miles of beaches with water on 3 sides of the island so it's a great place to hike and observe marine life.
Damon Point is also home to a variety of other wildlife including porpoises, seals and lots of birds.
Check out the video below of an impressive whale spotted at Damon Point:
Port Angeles
Port Angeles is a small city that sits along the Strait of Juan de Fuca, an important whale passageway. It's the gateway city to one of the USA's most popular national parks – Olympic National Park.
One of the best places to spot whales in Port Angeles is at Crescent Bay. The Salt Creek Recreation Area sits on this bay which has great views of the Strait of Juan de Fuca where orcas, minke whales and humpback whales can often be spotted.
You can also often spot whales at Freshwater Bay County Park.
Westport
Westport is a small city located on the south side of the entrance into Grays Harbor from the Pacific Ocean.
Westport is a great place to spot gray whales which hang out off the western coast of Washington from March to May as they migrate north towards Alaska. 
There's plenty of boat tours available in Westport that will take you for a closer look or you can observe the magnificent whales from the shore.
One of the best spots to view whales from the shore in Westport is at the Westport Viewing Tower and in Grays Harbor.
Check out the below video of an incredible whale sighting in Westport:
Seabrook
Seabrook is a new beach town on Washington's coast and a popular vacation spot.
Whales can commonly be spotted from Seabrook's shoreline. Many people opt to rent an oceanside vacation home where you can usually see gray whales right from the window!
For even closer views, you can head down to Seabrook beach and look out into the ocean for a glimpse of a whale's tail splashing around in the sea.
Best Time Of Year To See Whales
Whales are a migratory species that migrate along the pacific coast during the spring and fall.
Whale sightings in Washington occur between May through to September.
Peak season for whale watching is from mid-June to early September so this is the best time to visit Washington for whale watching.
Salmon runs attract a range of different whales to these waters every year, including humpback whales, minke whales, orcas and gray whales.
---
And that's it!
Thanks for reading my ultimate guide to whale watching in Washington.
If you're lucky enough to see one of these incredible creatures in the flesh then well done you as not many people can say the same.
Related Posts: