Standing proudly in the heart of French Polynesia, Bora Bora has long served as a haven for both adventurous souls and serenity seekers.
Its lush cuisine, which has been influenced largely by France, has impressed many taste buds over the years.
After visiting Bora Bora for myself, I'd love to talk to you today all about the types of food that you'll find on the island!
Does cheese rule most of their plates like French cuisine or do they cook their meals in banana leaves like in Tahiti? Let's find out!
What Kind of Food Do They Eat in Bora Bora?
Bora Bora cuisine is an infusion of many cultures, making it diverse enough to satisfy every taste.
It's mostly dominated by seafood because of the island's geographic place on the map, and one of its most famous dishes is Poisson Cru.
Poisson Cru is basically a plate of raw fish, most commonly tuna, that's been marinated in coconut milk and lime juice.
The meat is served cold with a salad of onions, cucumbers and tomatoes, making Poisson Cru pretty refreshing.
I'm a vegetarian so I didn't try it but my boyfriend did and he said it was super delicious.
He was unsure if he'd like the mix of coconut and lime but said they actually worked really well together.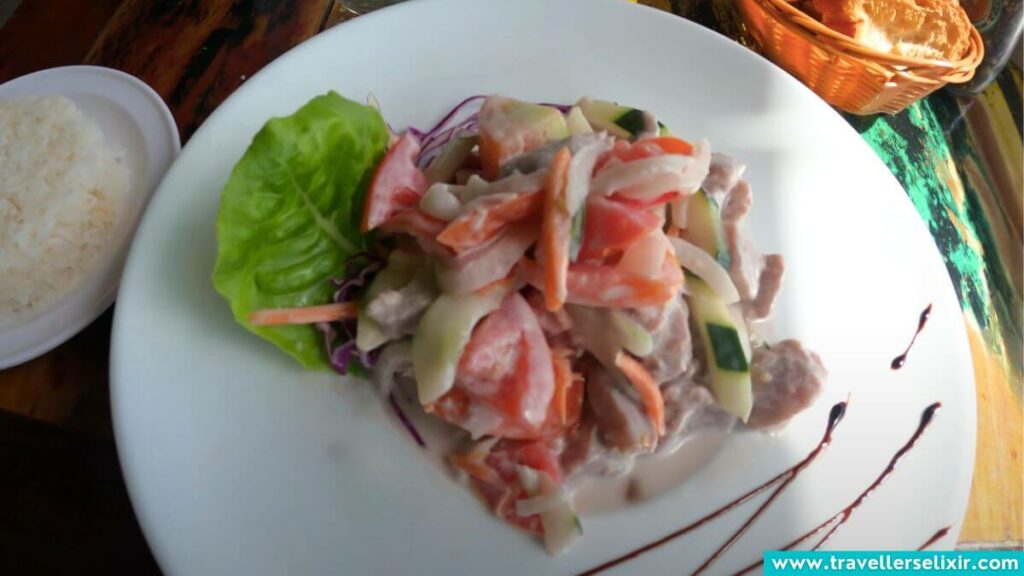 Cooking hot plates in Bora Bora is largely influenced by its Pacific nature, as locals use underground ovens and hot volcanic stones to cook food.
First, they wrap their meat in leaves so that it comes out tender. Next, they leave the food to cook in the oven for a few hours and then they serve it alongside some vegetables or fruits.
One of the best plates cooked in an underground oven is Poulet Fafa. It's a delicious alternative for people who don't eat seafood and don't want to miss out on the tropical experience.
Poulet Fafa consists of chicken wrapped in taro leaves and cooked underground. It's usually marinated with coconut milk, garlic and onions.
Again, I didn't try this one myself as I'm a veggie but this was by far my boyfriend's favorite dish. He ordered it over and over again as it was apparently just that tasty!!
Besides meat, Bora Bora is famous for its exotic fruits like papaya, mangos and bananas. It also has an array of mouth-watering desserts like Firi Firi donuts and papaya purees.
I genuinely can't tell you how many mangos I ate in Bora Bora, it was a lot. They were super fresh and sweet and I just couldn't get enough of them.
Bora Bora Traditional Food
In Bora Bora, every traditional plate contains at least one type of freshly caught fish or tropical fruit, sometimes both.
Many traditional plates there are also available throughout the islands of French Polynesia, where imported goods come and go between islands.
One of the most famous dishes that you can find in French Polynesia is Fafaru. Fafaru consists of crushed shrimps, tuna, and parrotfish.
It's known for its distinctive aroma and unusual taste and, to be honest, not many tourists are fans of it.
French Polynesia cuisine, in general, is largely influenced by French and Asian cuisine. It depends largely on fishing, which is logical considering the 121 islands that make up French Polynesia.
The most common types of fish there are tuna, parrotfish, swordfish and jackfish.
For people who dislike seafood, they can try Australia-imported high-quality lamb and beef. Chicken is also widely available in Bora Bora but it is mostly imported from the United States.
As for fruits, they're what to eat in Bora Bora if you're looking for a unique and refreshing taste. I ate a ridiculous amount of fruit on this trip as they were just so juicy and delicious.
Some of my favorites were bananas, breadfruits, noni fruits, mangos, coconuts and papayas. Other fruits that don't grow in Bora Bora are imported from other French Polynesian islands.
Since Bora Bora's weather isn't suitable for growing most vegetables, locals depend on tropical vegetables like taro, also known as Polynesian potato, for cooking.
They use taro leaves to wrap food and cook it. As for the roots, they serve them as the main ingredient in many traditional dishes.
Check out my Bora Bora tipping guide to work out how much you'll need to leave for a tip when eating out in Bora Bora.
Does Bora Bora Have Good Food?
Bora Bora's flavorsome cuisine has been a tourist attraction for decades. It satisfies most tastes as it includes fish, chicken, and other meats.
For vegans and vegetarians, the island has its fair share of delicious tropical fruits and local vegetables but you may find the selection limited.
As a vegetarian myself, I did find eating out tough as most menus don't have any vegetarian dishes on them other than salads.
I often had to just ask if they'd make something without the meat for me which most chefs were happy to do.
You'll find no halal food in Bora Bora as the island is Christian so they don't import any halal meats. If this is a requirement for you, you'll have to stick to vegetarian dishes.
The main downside to Bora Bora dining is that the food there is on the pricey side of the market. So if you plan on going there, you'll need to put aside a decent sized budget for food.
On average, I spent around $150 per person per day on food. We did go over a few times, for example, at the Four Seasons resort, our dinner bill one night came to $300 alone!!
For more information on pricing, check out my guide on how much food costs in Bora Bora.
It's also worth remembering that you don't need to go to a fine dining place every night.
There are many snack bars and roulottes in Bora Bora and all of the French Polynesian islands that serve budget-friendly food.
Roulottes are essentially street food vans that serve traditional plates like Poisson Cru and quick snacks like fries.
In fact, the food from the roulottes were some of the tastiest I tried. I actually would rate it far higher than the fine dining options I tried.
Best Restaurants in Bora Bora
Here's a map of the most popular 3 restaurants in Bora Bora:
Here's a list of the best places to eat in Bora Bora.
1. Bloody Mary's
Bloody Mary's is a world famous restaurant that Bora Bora tourists are lucky to have.
Everything about this place is iconic, from its authentic tropical decor to its mouth-watering dishes.
Not only that, but it has a wall of fame filled with the celebrities who visited it and fell in love with what it serves including Pierce Brosnan and astronaut Buzz Aldrin.
Bloody Mary's is famously known for its remarkable rock lobster plate and authentic interior decor.
I absolutely loved dining here as it felt really laid back and relaxed plus I really enjoyed their cocktails.
2. La Villa Mahana
La Villa Mahana offers a luxurious gourmet experience complemented by the charm of the French Polynesian islands.
Its five-course menu consists mostly of authentic plates that belong to French cuisine with a touch of tropicality.
Because of its romantic seating arrangement and decor, La Villa Mahana is a favorite destination for honeymooners.
It's also one of the busiest restaurants on the island as it only allows seven couples each night so be sure to book in advance for this one.
3. Lagoon Restaurant by Jean-Georges
Inside the St Regis resort in Bora Bora lies one of the most luxurious restaurants in the entirety of French Polynesia.
Lagoon by Jean-Georges is built over a lagoon and designed in a way that lets you watch fish swim underneath you as you eat your dinner.
I actually stayed at the St Regis resort so I visited this restaurant one night and was blown away by the interior! It really was a treat getting to watch the little fishies as we ate.
The menu consists of French and Asian plates with iconic entrees that might dent your wallet but will leave you longing for more.
All in all, dining in the Lagoon Restaurant is a once-in-a-lifetime experience and one that shouldn't be missed.
Hint: You don't need to be staying at St Regis to attend this restaurant!
---
And that's it!
Thanks for reading this post about what kind of food they eat in Bora Bora including what traditional food in Bora Bora is.
Need more help planning your Bora Bora vacation?
Related posts: