St Kitts & Nevis is a tropical paradise like no other. You'll find white sandy beaches, swaying palm trees and crystal clear waters in this haven.
But will you also find black sand beaches?
In this article, I'll be spilling all the tea on if St Kitts & Nevis really has black sand beaches, what causes them and where you can find them.
Does St Kitts & Nevis Have Black Sand Beaches?
Yes, St Kitts & Nevis does have black sand beaches. Most of the beaches on the island feature white sand but there are also a few black sand beaches.
In fact, many islands in the Caribbean have black sand beaches. Other popular Caribbean islands like Dominica, Montserrat, St Lucia and Grenada also have black sand beaches on their shores.
On some of these islands, such as Dominica and Montserrat, most of the beaches are actually black and they have very few white sand beaches at all.
This is not the case on St Kitts & Nevis though which only actually has 4 black sand beaches in total. These are South Friars Bay, Dieppe Bay, Pump Bay and Black Sand Cove.
Check out the map below for the locations of these beaches: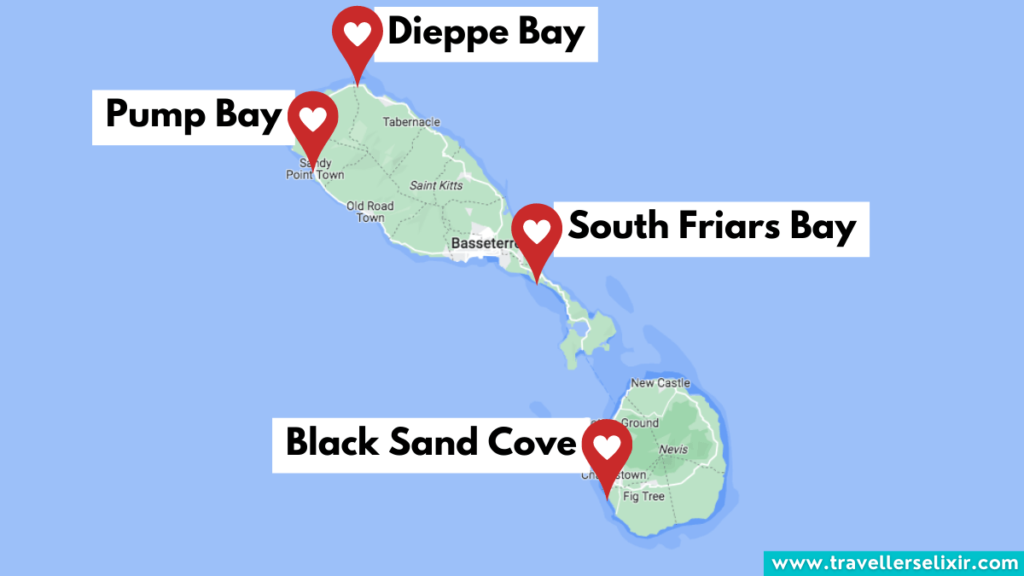 As you can see Dieppe Bay, Pump Bay and South Friars Bay are all located on St Kitts whilst Black Sand Cove is the only black sand beach located on Nevis.
Which Beaches On St Kitts Have Black Sand?
So as I said, there's 3 black sand beaches on St Kitts.
Let's take a closer look at each one…
South Friars Bay, St Kitts
This tranquil beach is the perfect place to spend a day and is very popular with families.
South Friars Bay is technically a 'black sand beach' but in reality the sand is far from black. It's more of a dark brown color and is insanely smooth, let me tell you!
At one end of the beach lies the Carambola Beach Club which has many sun loungers and umbrellas for rent. There's also a beach bar that serves refreshments throughout the day.
Along the beach is a rock jetty that is usually packed to the brim with tropical fish and other marine life like turtles and stingrays. It's the perfect place to go snorkeling and swim with the fish!
The views from the beach are absolutely stunning as it's surrounded by towering mountains. You can even see the island of Nevis in the distance.
There's tons of amenities nearby including lots of bars and restaurants that line the sand. There's also tons of water sports available nearby including jet skiing.
Dieppe Bay, St Kitts
Dieppe Bay actually has real black sand along its shores which is really interesting to see.
It's a super peaceful beach that lies along the northern shores of St Kitts.
You'll get breathtaking views from here as Dieppe Bay is where the Atlantic Ocean and the Caribbean Sea meet.
You'll get to see the astonishing line forming in the sea where the two oceans crash into each other from opposite directions. It's pretty cool!
This black sand beach has tons of sea glass on it and you'll get incredible views here of the nearby island of Sint Eustatius which is actually a territory of the Netherlands.
On one side of the beach, you'll find a cove that is protected by a major reef making it perfect for swimming and snorkeling.
The bay itself is also lined with palm trees that sway slightly in the gentle breeze making it a great place to relax.
One interesting fact that I learned is that Dieppe Bay was actually the site of the first European settlement in the eastern Caribbean so it's pretty historically significant.
The French actually set up a colony here in 1538 but it was destroyed just 2 weeks later by the Spanish.
Pump Bay, St Kitts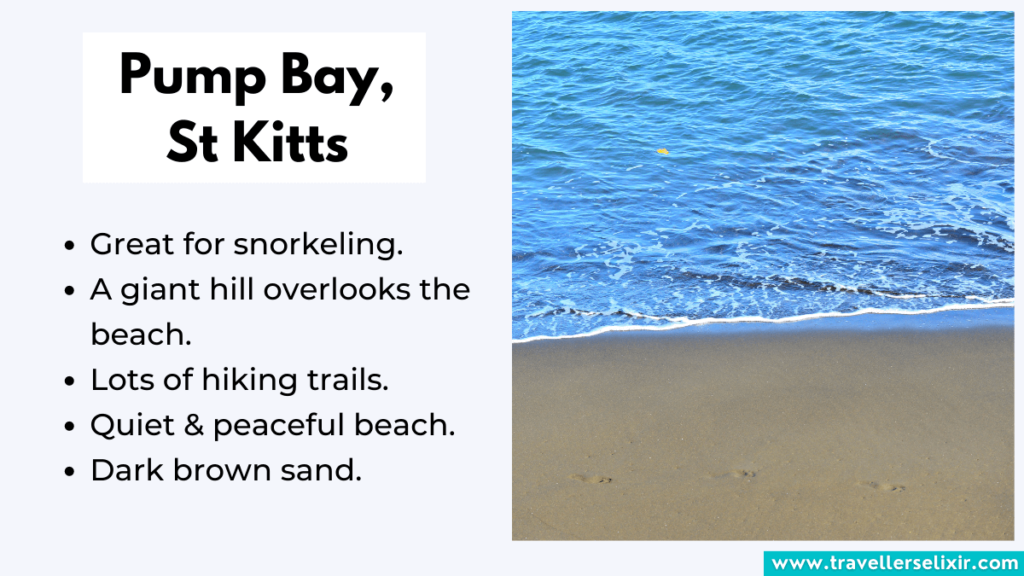 Similar to South Friars Bay, the sand on Pump Bay isn't actually black in color, it's more of a dark brown color.
This beach is a very popular spot for snorkeling and is located on the north western edge of the island of St Kitts.
Snorkelers and divers come from all over the island as the seas are so calm here so it's easy to spot interesting marine life.
Additionally, it has epic views of the nearby Brimstone Hill fortress which overlooks the beach. You can actually hike up this hill for incredible views of the beach and ocean.
Which Beaches On Nevis Have Black Sand?
There's just one beach on Nevis that has black sand. Here's what you need to know…
Black Sand Cove, Nevis
Black Sand Cove is a stunning beach located on the southwestern edge of Nevis. It's super secluded and hidden away but is quite small and narrow.
When you arrive, you'll find a set of steps that lead down to the beach itself.
The beach is known to have rough waves at times and is rocky so it may not be the place to spend an entire day but it is definitely worth visiting.
There are several villas that you can rent which overlook the cove, however anyone can visit the beach as all beaches in St Kitts & Nevis are public by law.
You'll find very few people around as this part of the island is very remote and secluded but that does mean that if you visit, you might have the beach entirely to yourself!
Why Is The Sand On St Kitts & Nevis Black?
Black sand is usually found on beaches which were formed from volcanic activity.
The black sand develops from eroded volcanic material which includes things like lava and basalt rocks.
These volcanic materials were deposited into the sea and then were eroded over time. Eventually they washed up onto the shore, leaving the impressive dark sand that we see today.
St Kitts & Nevis both have volcanoes on them and are the result of volcanic activity.
Mount Liamuiga on St Kitts and Nevis Peak on Nevis are both volcanoes that can be found on the islands and due to this volcanic landscape, over the years black sand has formed.
The same is true for many islands in the Caribbean as many of these islands were formed due to volcanic eruptions.
---
And that's it!
Thanks for reading this post on if St Kitts & Nevis has black sand beaches.
They really are an interesting phenomenon so if you're ever on one of the islands, be sure to check them out!
Related Posts: