Wondering if you can go shelling in Destin, Florida? You're in the right place.
Many people love to search beaches all over the world for unique treasures from the ocean.
Florida is a super popular shelling and beachcombing location but where is the best place to find seashells in Destin?
Let's find out…
Can You Find Seashells in Destin?
You can definitely find seashells in Destin however it's not the best shelling destination in the country.
You'll be able to find plenty of seashells but they are often very small (i.e. the size of a fingernail).
Look along the shoreline of the beaches in Destin and you'll likely find lots of these small shells. You can also find the odd sand dollar in Destin.
It's unlikely you'll find any larger or rarer shells but they do show up from time to time.
Whilst shelling in Destin isn't as good as other more famous shelling locations like Sanibel Island, you will be able to see a variety of marine life including baby seahorses, baby shrimp, puffer fish and blue crabs.
Don't worry though, there are many places super close to Destin where you can find seashells.
Best Place to Find Seashells Near Destin
If you are happy to venture out a little further from Destin then you will be able to find lots of interesting and unique seashells that you wouldn't be able to find in Destin. 
I've included a range of options with some being just a short drive from Destin. 
Okaloosa Island
One of the best places to go shelling near Destin is on the deserted beaches of Okaloosa Island.
You can access this island by crossing the bridge on the western side of Destin. It takes just a few minutes by car to get there.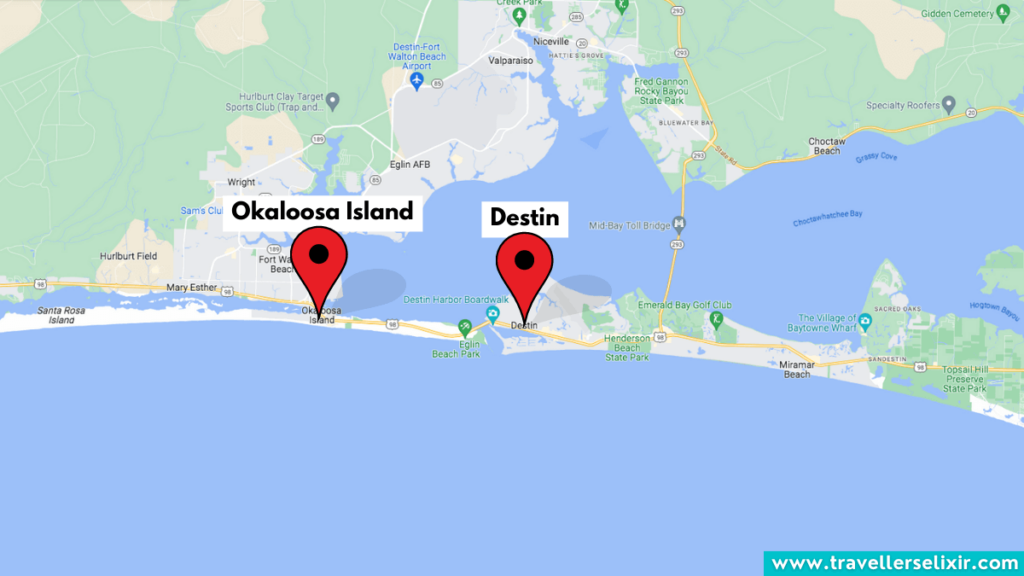 You'll find lots of deserted, mostly empty beaches here where you can usually find lots of seashells.
I'd recommend taking a walk along the water's edge as there are always shells to be found there.
Check out the video below to see the sorts of shells you can find on Okaloosa Island.
Shell Island, Panama City Beach
Another place close to Destin where you can go shelling is at the conveniently named Shell Island in Panama City Beach.
Shell Island takes around 1 hour 30 minutes to reach from Destin so it's a bit of a drive compared with nearby Okaloosa Island.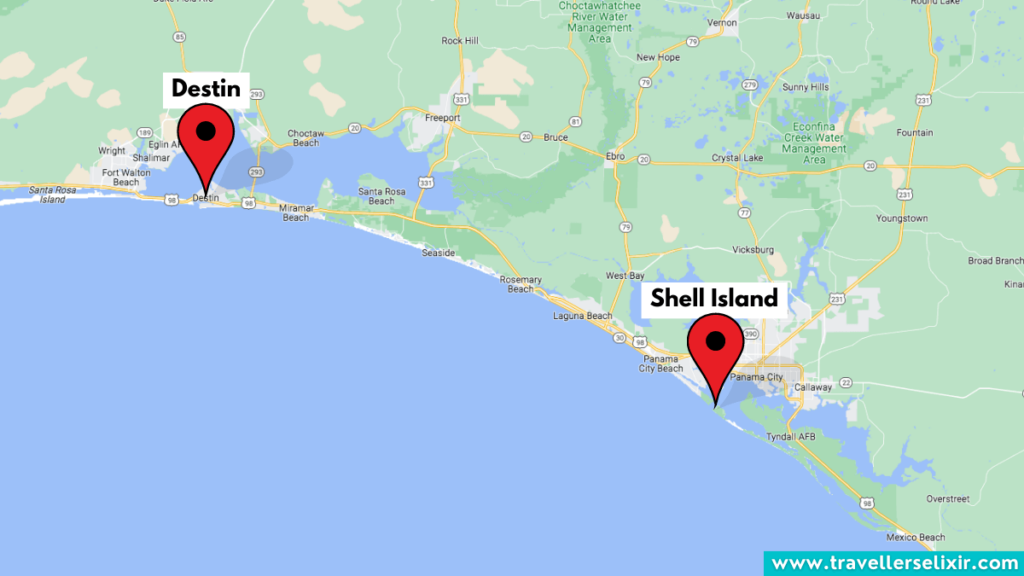 The drive is worth it though as you'll have a much better chance of finding interesting seashells.
Shell Island really does live up to its name. You can easily find sand dollars, moon snails, conch shells, pin shells, periwinkles, whelk and olive shells on the beaches here.
As long as there are no live animals living inside them, you are welcome to take the seashells home with you.
Check out the sorts of shells you can find on Shell Island in the video below:
Navarre Beach
Another fantastic location where you can find seashells near Destin is at Navarre Beach which can be found just east of Pensacola at the far northwestern tip of Florida.
Navarre Beach is just a 30 minute drive from Destin and is totally worth it if you love shelling.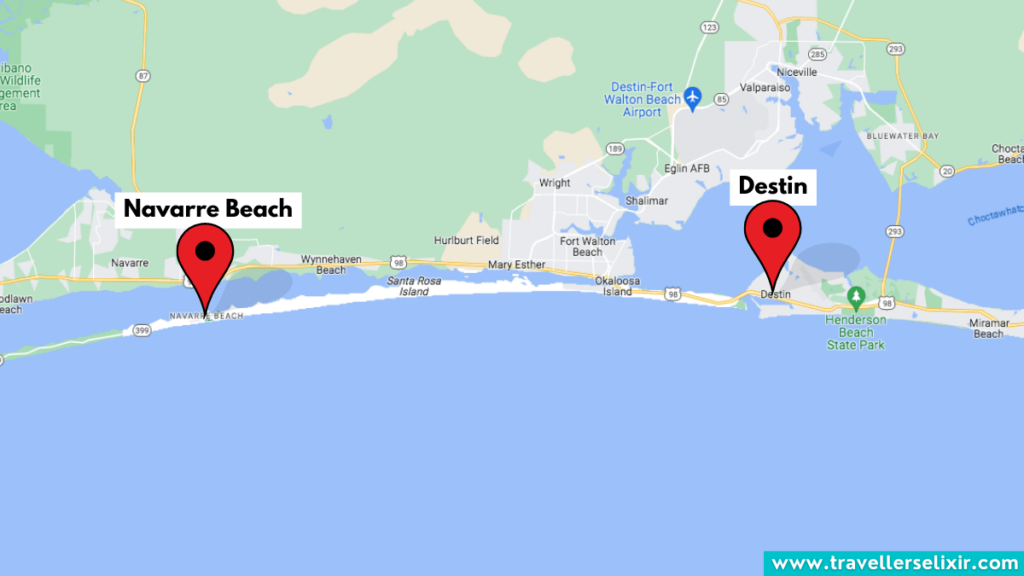 This lesser known beach is actually one of Florida's best beaches for shelling!
You'll find white sandy beaches and crystal clear waters with few crowds.
Thousands of seashells wash up on Navarre Beach each day and the clear, calm waters make it a perfect place for finding them.
Another plus is that Navarre Beach is home to some rare and beautiful seashells that you will struggle to find elsewhere in Florida.
Expect to find the rare Junonia shells, sunray venus shells, worm snails, shark eye shells, tulip shells, scallops and the American auger shell.
Check out the sorts of seashells you can find at Navarre Beach in the video below:
Miramar Beach
Another place where you can find seashells is at Miramar Beach which is just a short 15 minute drive from Destin.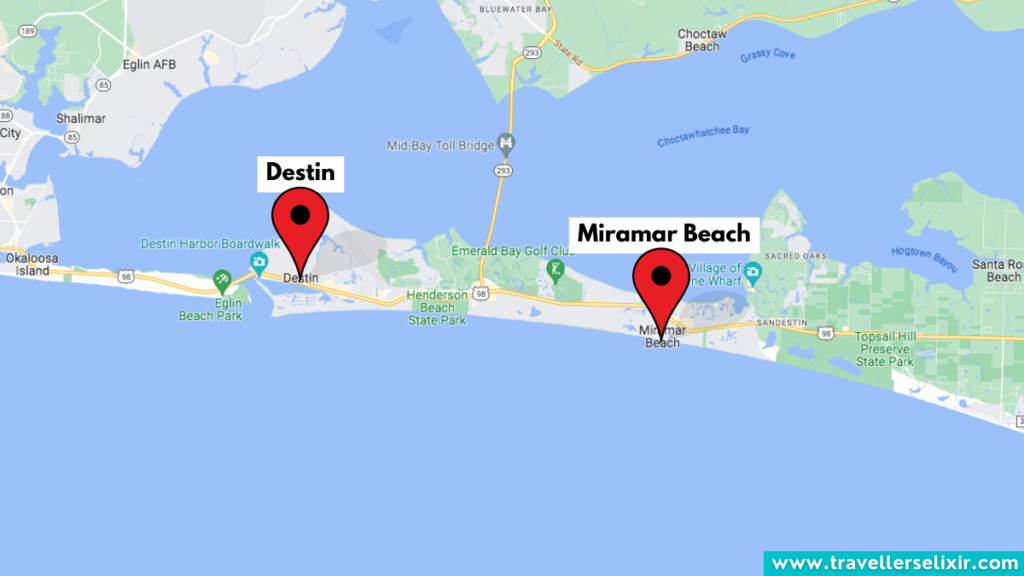 You can often find plenty of seashells along the beaches here.
For a better chance of finding shells, I'd recommend taking a walk into the water and search there too. You don't have to go too far in, no more than knee deep.
St George Island
Another great place for shelling in Florida is at St George Island, a small island in Franklin County.
It is a bit of a drive to reach St George Island from Destin and takes approximately 2 hours 40 minutes by car.
St George Island is a shelling paradise and on a typical day you'll likely be able to find oysters, clams, scallop shells, cockles, boat shells, sand dollars, sponges and even starfish.
Occasionally you may also be able to find conchs, lightning whelk, fig shells, pen shells, murex, tulip, angel-wing shells and bright coquinas.
No two days are the same when it comes to shelling and beachcombing on St George Island.
Check out the sorts of shells you can expect on St George Island in the video below:
Shelling Tips & Tricks
Here's some useful tips on shelling that will help you find the best shells.
Whether it's your first time shelling or you've been doing it for years, you might learn something useful.
Go early in the morning. This allows you to beat the crowds and get first pick of the seashells.
Use a hand sieve. Using one of these hand sieves can hugely increase your chances of finding interesting shells and speeds up the process.
Go just after a storm. Shelling just after a storm or strong winds is the best as this often brings new shells to the shore.
The best time for shelling is an hour before or after low tide. High tide brings seashells inland, low tide is when you can find them.
Wade into the water. You only need to go just a few feet into the water and you'll likely find some of the best shells.
Dig into the sand. Sometimes the shells get covered with sand so it's a good idea to bring a small shovel and dig a little.
Take your time. Finding the best shells takes time so don't be in a rush.
---
And that's it!
Thanks for reading this post all about going shelling in Destin, Florida.
Interested in finding out if you can go shelling in Key West?
Related Posts: