After flying over 9 hours from the UK to St Lucia, I really had my heart set on exploring a few other nearby islands including Martinique.
The two islands are super close together and it's actually super easy to get between them!
This article explains exactly how to get from St Lucia to Martinique by ferry or plane including the exact schedules and costs.
How To Get From St Lucia To Martinique
There are two different ways that you can travel from St Lucia to Martinique, either by plane or by ferry.
Here's what you need to know:
Ferry: 1hr 30 mins, ~$60
Plane: 25 minutes, ~$150
The fastest way to get there is by plane however it costs more than the ferry.
The cheapest way to get there is by ferry. The ferry is more picturesque but it does take a bit longer to get there than flying.
When I did this trip, I ended up going by ferry as the journey wasn't ridiculously long and I was able to avoid all the hassle of flying.
Taking the ferry also costs around half as much as flying which is another plus!
Below I go into much more detail on the two options including the schedules, exact costs and all the details on how you can get from St Lucia to Martinique.
💡Helpful Tip: To see as much of St Lucia as possible in a short period of time, book this land and sea tour. This highly-rated tour takes you across the island to see all of St Lucia's top attractions including the Drive-In Volcano, the Pitons, Toraille Waterfall and more.
Distance From St Lucia To Martinique
St Lucia sits approximately 50 miles (80km) south of Martinique.
It takes 1 hour and 30 minutes to travel between them by ferry and around 25 minutes to travel by plane.
Of course, if you choose to travel by plane then you also need to factor in the extra time associated with getting to the airport, getting through security etc which can easily be a few hours.
After considering this, in the end you probably won't save much time by taking a plane instead of the ferry. In the end, this is one of the key reasons why I ended up taking the ferry.
Ferry From St Lucia To Martinique
Taking the ferry is the cheapest way to get to Martinique from St Lucia making it the best option if you're on a budget.
The journey between the two islands is relatively short and it's a great way to see both islands in one trip.
How Long is the Ferry From St Lucia to Martinique?
The ferry ride takes approximately 1 hour and 30 minutes.
When I took the ferry recently, I noticed that there were plenty of services on board to keep you busy during the crossing including a restaurant.
I also saw a bar onboard too so you can grab yourself a refreshing drink whilst you enjoy the ride.
Up on the deck, you'll find some relaxing chairs to sit in so you can enjoy the scenery as you sail.
Most crossings take place in the morning so you'll have a great view of the surrounding scenery and you'll arrive in Martinique with plenty of time left to see everything it has to offer.
I was genuinely so mesmerized by the views on this ferry crossing that it made me so glad I took the ferry instead of a flight.
How Much Does the Ferry Cost?
The ferry fares start at $50 USD each way making this option significantly cheaper than flying (flights cost at least $150 one-way).
Tickets for peak times cost $60 each way. Please note this price is for both adult and child tickets.
I got lucky and paid just $50 for my ticket which is a real bargain!
When Does the Ferry Operate?
The ferry operates most days however it does often sell out up to a week or two before travel so book in advance if you can.
The boat you need to look out for is the Perle Express ferry which is run by L'Express des Iles.
Their schedule varies each week. You can find the most up-to-date schedule here.
Where Does the Ferry Leave From?
The ferry leaves from the ferry terminal in Castries, St Lucia, and arrives in Fort-de-France, Martinique.
Ferry Company Details
L'Express des Iles offers ferry services to various destinations throughout the Caribbean.
You can either book your trip on their website or call their phone number.
The website is easy to use, and you can even check out the schedule and fares in advance.
Tips for Taking the Ferry
There are a few things to keep in mind when taking the ferry from St Lucia to Martinique:
Tickets can be purchased online in advance, by phone or at the port on the day of departure.
Passengers must arrive at the port at least 30 minutes before departure.
It is essential to have your passport handy when boarding the ferry.
Food and drink are available on board but feel free to bring your own snacks and beverages if you like.
Taking a boat from St Lucia to Martinique is a great way to travel between the two islands.
Flights From St Lucia To Martinique
If you're looking for the quickest way to get from St Lucia to Martinique then taking a flight is definitely the way to go.
How Long Does the Flight From St Lucia to Martinique Take?
The flight itself is only 25 minutes long and you'll be able to enjoy stunning views of both islands from above.
Remember though that you need to add on the time it takes to get to the airport & get through security which could easily add on a few hours.
The views from the air are also stunning so be sure to bring your camera!
How Often Are There Flights?
Flights from St Lucia to Martinique are typically scheduled for Sundays, Mondays, Wednesdays, and Fridays.
However it is always best to check the flight schedule in advance as there may be changes due to weather or other factors.
If you are flexible with your travel dates, you may be able to find cheaper flights.
I usually use Skyscanner to check flights as they search the entire web for the best possible flight deals.
They also make it super easy to see what flights are available each day.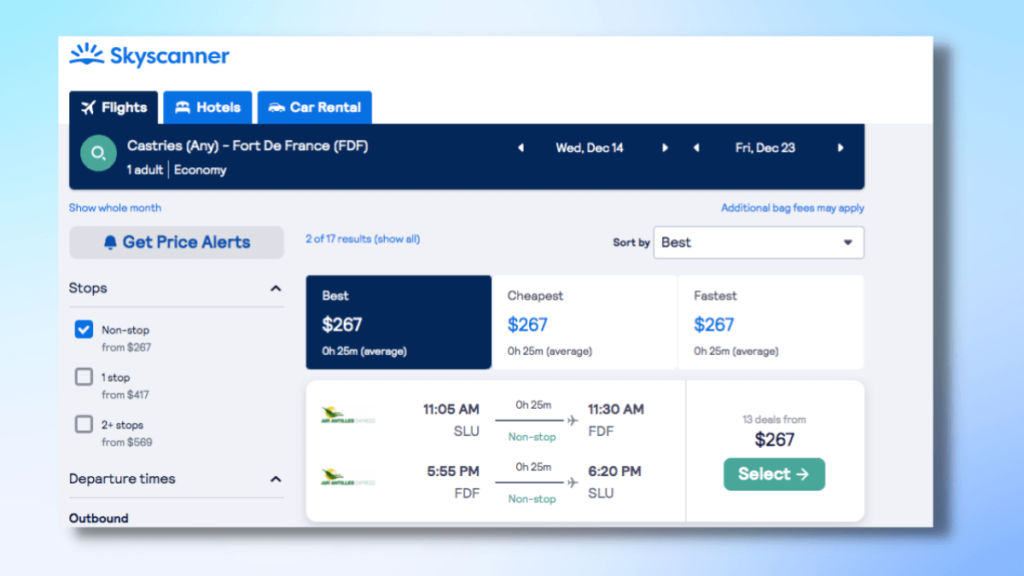 The only airline that operates direct flights from St Lucia to Martinique is Air Antilles.
How Much Does a Flight From St Lucia to Martinique Cost?
A return flight costs between $267 and $290. One-way flights cost around $156.
The prices do vary slightly depending on the time of year and how far in advance you're booking.
The best way to get a cheap deal is by booking as far in advance as possible.
Departure & Arrival Airports
The flights depart from George F. L. Charles Airport (SLU) which is located in Castries, St Lucia.
They arrive at Martinique Aimé Césaire International Airport (FDF), located in Fort-de-France, Martinique.
Upon Arrival
Once you land in Fort-de-France, the capital of Martinique, you'll be able to take a taxi into the city center.
Aimé Césaire International Airport is about 8 miles (12 kilometers) from downtown Fort-de-France, so the ride should take only 15 minutes by taxi.
Taxis are available just outside the arrivals terminal and it should cost approximately $15 USD to get into town.
Unfortunately, since island regulations do not permit city buses in airport facilities, there are no buses from Martinique Airport to Fort-de-France.
Tips for Taking the Plane
It's generally cheaper to book your flight in advance, so plan ahead if you can.
Check Skyscanner before booking to ensure you're getting the best price.
If your travel dates are flexible, look for flights on days that are typically cheaper to fly, such as midweek departures.
The cheapest month to book flights is in November.
If you're a student, there may be discounts available.
You will need a valid passport as Martinique is a different country to St Lucia.
Remember that Martinique is a French-speaking island so it is a good idea to brush up on your French before you go.
---
And that's it!
Martinique is one of the most popular day trips from St Lucia to nearby islands. Other popular day trips include Dominica and Barbados which are also located nearby.
Take a look at my guide on getting between Barbados and St Lucia for more information.
Until next time,
Meg
Need more help planning your St Lucia vacation?
Related Posts: