I've been traveling the world full-time for the last year and a half and during that time I've taken a lot of Air Asia flights.
On a recent trip to Bali, I was debating whether I should pay their super high fees for an extra checked bag or risk just bringing it as my carry-on and potentially being over the weight limit.
When researching whether or not AirAsia weigh carry-on bags, I couldn't really find an answer so I ended up just paying for the checked bag to avoid any difficulties.
So here's the answer, based on my experience, to whether or not AirAsia weighs carry-on bags.
How Strict Is AirAsia With Carry On Luggage?
When I flew with AirAsia recently, they did not weigh my carry-on bag. Additionally, I did not see them weighing anyone else's carry-on bags even the ones that looked super big or heavy.
I had a standard carry-on suitcase along with a small backpack which I'd carefully packed to ensure it was under their weight limit.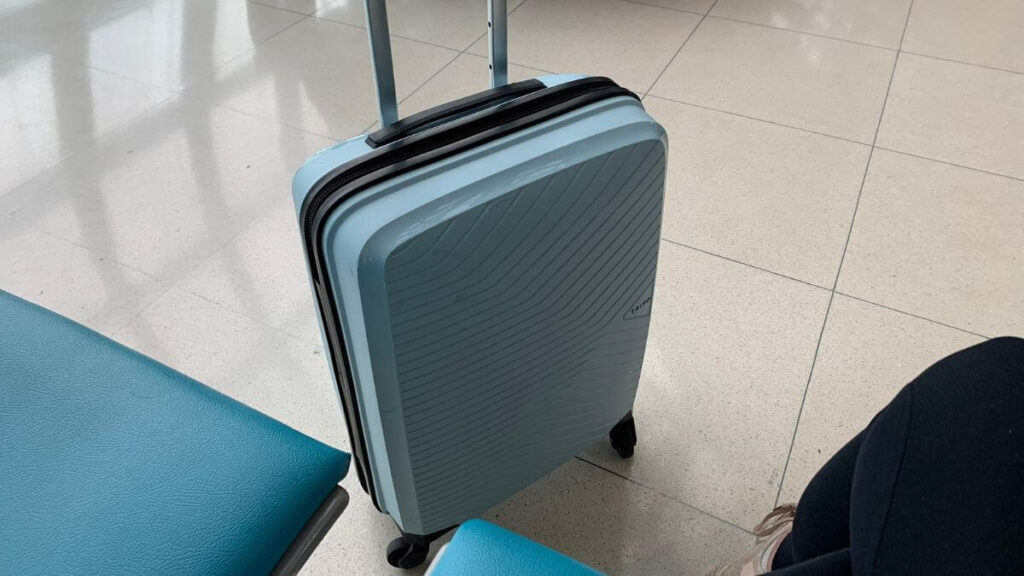 My partner was traveling with a larger backpack that we'd also packed carefully to ensure it was under 7kg.
We did have another carry-on sized bag that was over the limit but to avoid any large fees at the airport, we paid for an extra checked bag a few days prior to the flight.
After seeing that AirAsia didn't bother weighing any of the bags, it was a little annoying because we paid around $90 for this checked bag when it turned out that we could have gotten away with it.
I didn't mind too much though as it was worth it to eliminate the stress of potentially being fined on the day.
For reference, this flight was from Don Mueang International Airport in Bangkok to Ngurah Rai International Airport in Bali in October 2022.
I took the same flight back to Bangkok two weeks later and again they didn't weigh my bag and I didn't see them weighing anyone else's hand luggage either.
Despite having these metal cages located near to the check-in counter, I didn't see anyone using them at all.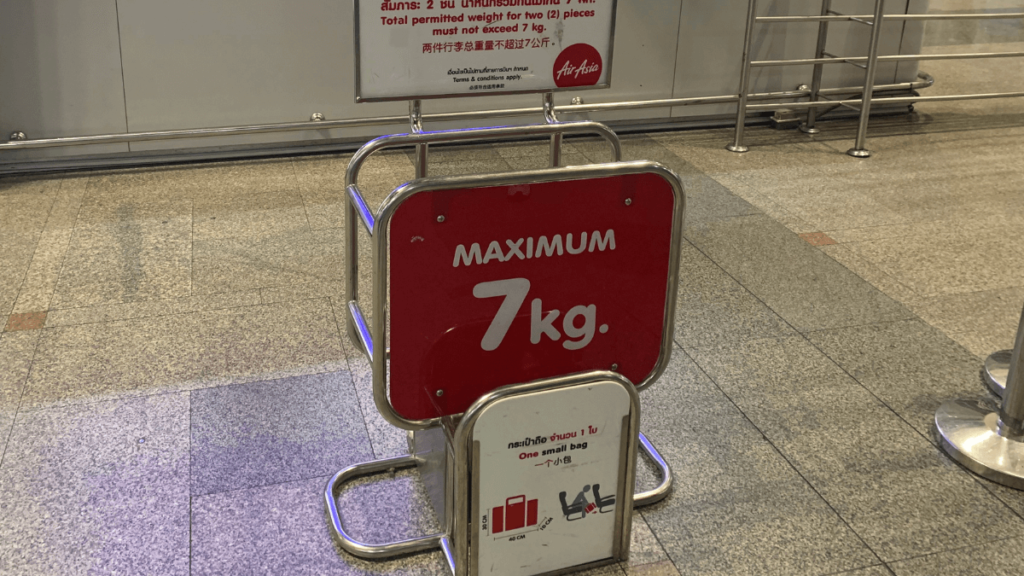 Additionally, I flew with AirAsia several times a few years ago (2018) and don't recall them weighing my carry on luggage then either.
I also asked one of my friends who had recently (Summer 2022) traveled to and from Kuala Lumpur with AirAsia and he also said that he never saw staff weighing carry-on bags.
Of course, this doesn't mean that they won't weigh your bag if you choose to travel with AirAsia and you definitely shouldn't take this as confirmation that AirAsia never weigh bags.
AirAsia can (and definitely sometimes do) weigh bags and if your bag is found to be over the limit then you could be fined.
It's up to you to decide whether or not you're happy to take the risk.
What Do Other People Say?
I spent a lot of time researching this topic before taking my flight as there are several forums available that discuss the topic in depth.
The comments on the forums are mixed with some people saying AirAsia didn't weigh their carry-on luggage at all and some people said they did.
Some people even said that AirAsia weighed their luggage but didn't fine them even though their bag was over the weight limit.
I took a note of all the responses and found that 42% of the responses said that AirAsia did weigh their hand luggage and 58% of people said that AirAsia didn't weigh their hand luggage.
It likely varies heavily on the individual staff members as well as how busy they are and how packed the flight is.
Here's some examples of what people had to say on Reddit about this topic:
AirAsia Carry-On Bag Policy
Here is AirAsia's official carry-on bag policy:
Each person can bring 2 bags onboard the flight as part of their cabin baggage.
The total weight of both items together must not exceed 7kg.
One bag must not exceed 56cm x 36cm x 23cm. This bag will go into the overhead compartment in the cabin.
The second bag must not exceed 40cm x 30cm x 10cm. This may be a handbag, laptop bag, backpack or other small bag which must fit under the seat in front of you.
It's worth knowing that anything purchased in duty-free that is packed in a Security Tamper-Evident Bag which is sealed will not form part of you cabin baggage allowance. 
You must ensure your item is placed in one of these special sealed bags or AirAsia will count it as part of your allowance.
As we know, AirAsia don't always enforce the policy but they are perfectly within their rights to do so at any time.
You can read AirAsia's official policy here.
---
And that's it!
Thanks for reading this post on how strict AirAsia are with their hand luggage policy.
It's always worth checking airline rules before traveling to ensure you don't get any nasty surprises when you get to the airport.
One question that comes up frequently is whether you can take nail clippers, tweezers or nail files on a plane. I answered that one too if you're interested.
Related Posts: