I just got back from my epic adventure in Bora Bora and today I'd love to share with you exactly how much cash I think you should bring based on my own experience.
I know that I would have found this guide super helpful beforehand so you're welcome!
In this guide, I'll be covering how much cash you should bring to Bora Bora as well as some handy tips on the local currency, credit cards and money.
Currency in Bora Bora
The local currency in Bora Bora is the French Pacific Franc which has the code XPF. 
You'll also sometimes see the code as CFP. XPF and CFP are the exact same currency.
Exchange rates change daily but in the last few years, $1 USD has ranged between 95 XPF and 115 XPF.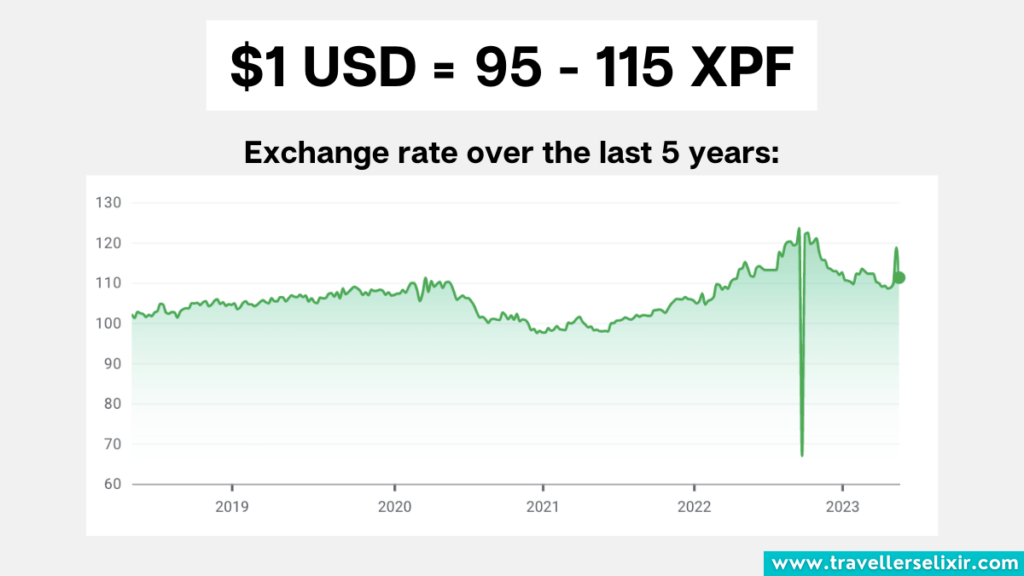 Head over to XE.com for today's exchange rate.
How Much Cash to Bring to Bora Bora
Based on firsthand experience, I'd recommend only bringing between $100 and $200 in cash with you to Bora Bora. 
You should exchange this into XPF at Faa'a Airport (PPT) when you arrive in Tahiti.
You don't need to bring much cash with you to Bora Bora as most places accept credit cards.
I was surprised to find that pretty much all of the restaurants, bars, large shops and grocery stores all accepted card. I very rarely came across anywhere that didn't accept card.
Small shops and market stalls also generally accept credit cards but do have a minimum purchase amount.
The only time that I couldn't use my card was when I bought necklace from a small craft stall in Vaitape so I paid in cash. I also used some cash to leave tips on certain occasions.
Visa and Mastercard are the two most widely accepted credit cards in Bora Bora, however American Express is also accepted at some hotels and large shops.
I found that it was much easier to just use card in Bora Bora than bother with cash. I also generally found that credit cards provided the best exchange rate plus it was just super convenient for most purchases.
Additionally, most hotels, especially the resorts, will allow you to charge almost everything to your room so you'll never need cash there either.
💡Quick Tip: Use your credit card whenever possible for the best exchange rate and use your local currency only for those places where credit cards aren't accepted (e.g. taxis, small shops etc.)
Tipping generally isn't customary in Bora Bora and some restaurants even include a 'service charge' in the bill already. I did leave the odd tip in cash where I felt it was deserved.
For more information, check out my complete guide to tipping in Bora Bora.
In fact, you'll rarely need to use cash in Bora Bora at all as credit cards are so widely accepted. If anything, you may need a little on hand for a local taxi driver or potentially a local market stall.
I would recommend exchanging your money either in your home country before coming to Bora Bora or at the airport in Tahiti to get the best exchange rate.
💡Tip: Currency exchanges located in the US don't often have XPF so you'll have to ask them to order it in for you.
Does Bora Bora Have ATMs?
I came across several ATMs in Bora Bora both at the airport and in the main town on Vaitape. You won't find any ATMs at the resorts.
There are ATMs in Faa'a Airport (PPT) which is the airport you'll arrive at in Tahiti before catching a connecting flight to Bora Bora.
There are also several ATMs in Vaitape which is Bora Bora's main town.
There are ATMs inside the Bank of Tahiti, the Bank of Polynesia and Socredo Bank in Vaitape.
Withdrawal limits depend on the individual ATM machine and your bank/credit card provider.
ATMs are the best way to get money whilst in Bora Bora. I don't recommend using travelers checks as you'll need to visit a bank to exchange them into money which is a pain.
Additionally, banks are closed on weekends and aren't open all day so they're not very convenient.
Some resorts will also exchange travelers checks for you but they'll give you a much lower exchange rate than the bank so you'll end up with less money.
Can I Use US Dollars in Bora Bora?
US Dollars are not widely accepted in Bora Bora so make sure you have some local currency on hand.
You will find that US Dollars are sometimes accepted in hotels, restaurants and large shops but this isn't super common at all.
I made sure to exchange all of my cash into XPF when I arrived to ensure it would be accepted everywhere.
You should definitely bring local currency with you if you can or get some from an ATM when you arrive in Bora Bora.
Even if you find a restaurant or shop that will accept US Dollars as payment, it's not a good idea as the exchange rate given will usually be very poor.
You'll get a much better exchange rate if you convert your dollars to XPF and pay in the local currency.
---
And that's it!
Hopefully this ultimate guide to currency in Bora Bora and how much cash to bring came in useful.
Need more help planning your Bora Bora vacation?
Related posts: