Covered in green leaves and standing tall in the center of the island, Bora Bora's extinct volcano is literally an icon of the island.
But did you know that you can actually climb it? Yep, I hiked up Mt Otemanu myself on my recent trip to Bora Bora and it was so much fun.
Here's my ultimate guide to hiking Mount Otemanu including how long it takes, how hard it is and what to expect.
Can You Hike Mount Otemanu?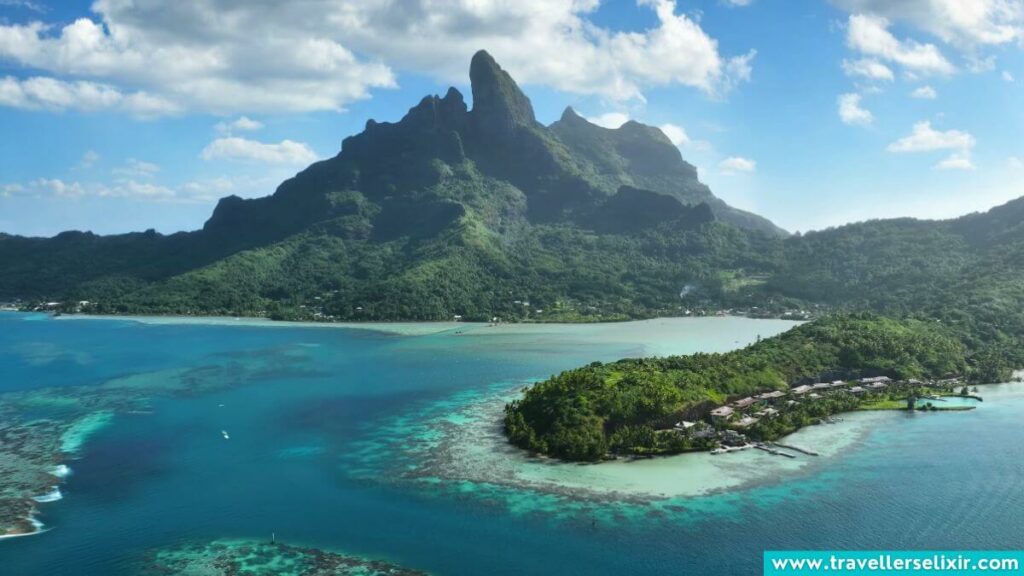 A lot of people visiting Bora Bora don't realize that it's actually possible to hike up Mt Otemanu.
There are several different hikes available in Bora Bora but this one if by far the most impressive.
Mt Otemanu is Bora Bora's highest point so, as you can imagine, hiking it definitely isn't a walk in the park but you will be rewarded at the end with some spectacular views!
The hike itself takes you up to the shoulder region of the mountain (about halfway up) where you'll find a huge cave that can be seen from ground level.
Mount Otemanu Hike – What to Expect
Mount Otemanu stands at 727 meters tall. Unfortunately, it's not possible to hike all the way to the peak of the volcano due to loose rocks and steep verticals.
You can however hike up to the 'shoulder' areas of the volcano and this still provides a pretty impressive view of Bora Bora and its iconic blue lagoon.
This is what I did and I'd say that it's totally worth doing if you're moderately fit. The views from the top are just spectacular as you can see the entire lagoon and out into the open ocean.
I found that the hike started off pretty moderate in intensity but it got harder the higher up we got. I was definitely drenched in sweat by the end.
In total, it's a 4km trail. The final 30 minutes of the climb was very intense so make sure you're prepared for this.
Towards the end, you will need to heave yourself up using some ropes which have been installed on the steepest parts of the trail.
I assumed it was just gonna be a standard hike just walking along a trail but nope, I literally had to grab onto ropes & rocks and pull myself up. It was more like climbing at certain points.
It was totally worth it though as the views at the end were breathtaking!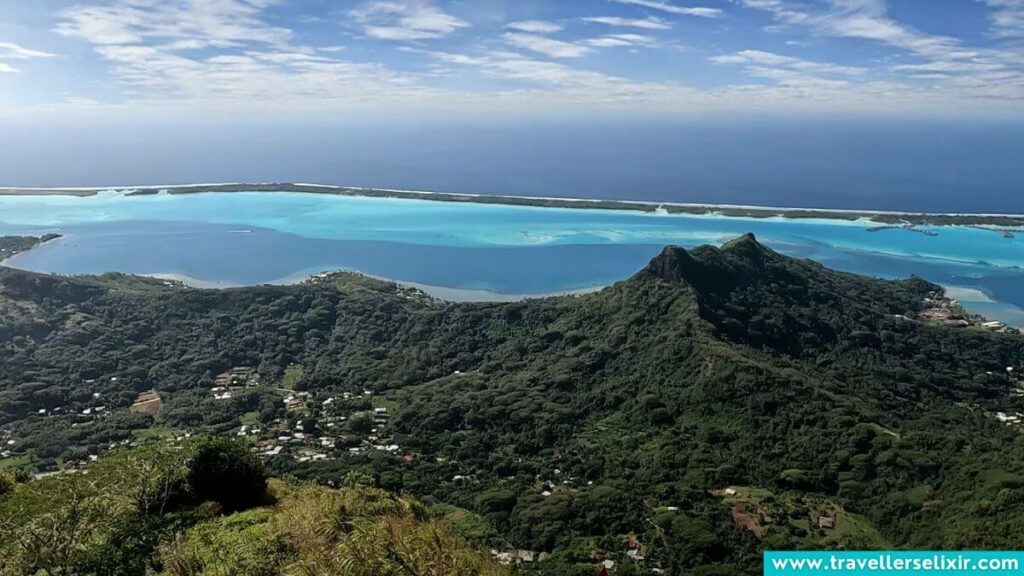 You'll get a panoramic view of the whole island including the blue lagoon, the neighboring islands and the lush green vegetation.
Do I Need a Guide?
Although it is technically possible to do this hike without a guide, I wouldn't recommend it.
There is some difficult terrain and not many signs so it's best to go with a guide for your safety. Ask the reception desk at your hotel for packages or book a guide via Polynesian Island Tours.
My guide, Manu, was absolutely incredible. He matched our pace, allowed us to rest when we needed it and told me so many interesting things about the island. I had a blast.
He also told us tons of interesting myths and legends about the volcano which was super fun.
The Route
The hiking route starts off at the base of Mount Otemanu with you trekking through an overgrown area which then leads you up the northeastern side of the mountain.
You'll walk along winding trails as you scale the mountain, getting steeper and steeper until eventually you need the help of the strategically placed ropes to pull yourself up to the highest point.
You'll also find several viewing platforms on the way up to the top. These were my favorite parts as we got a chance to rest AND enjoy scenic views of the island.
Make sure you look out for the old American WWII cannons which are scattered around as well as some ancient-looking altars that remain from old Polyensian temples.
The Cave of Mount Otemanu
When you reach the shoulder region of Mount Otemanu, you'll get to the Anau Cave.
Anau Cave on Mount Otemanu sits on the northeastern side of the mountain and is the highest point that hikers are able to reach.
This cave is said to be the resting place of ancient Polynesian kings and queens from many years ago.
My guide, Manu, told me that Bora Bora did have a royal family until 1895 when the last Queen, Teriimaevarua III, was forced to abdicate by the French when they took over the country.
The views from the cave were just incredible as you can see all the way over to the neighboring islands of Taha'a and Ra'iatea. 
You can also see the blue lagoon and the lush green vegetation all around.
Our guide told us that many people believe the cave is haunted but the views from up here are definitely worth the risk.
You can also go inside the cave where you'll find colossal volcanic walls which rise up to nearly 20 meters. It's pretty impressive.
This awesome cave makes Mount Otemanu one of the best Bora Bora hiking trails as it's such a treat to see at the end of a strenuous climb.
How Long Does it Take to Hike Mount Otemanu?
Hiking Mount Otemanu takes between 5 and 6 hours on average – this includes going up and coming back down.
Super fit, experienced hikers may be able to conquer it in a slightly shorter time.
When I did the hike, it took just over 5 hours which I didn't think was too bad. Just make sure you take plenty of water as you'll need it.
How Fit Do You Need to Be to Hike Mount Otemanu?
I found the hike up Mount Otemanu wasn't easy at all and it was fairly strenuous at certain parts so you do need to be moderately fit to do it.
Don't worry, you don't need to be an athlete to do this hike but you do need to have a decent level of fitness.
Just for reference, I'm a 26 year old moderately fit female but I don't go to the gym regularly. I found the hike to be tough but more than doable.
Most people will be absolutely fine but you will have to put in some effort. It can get quite strenuous at certain points towards the end.
The hike also gets steadily harder and harder as you ascend the mountain.
Towards the end of the hike, you'll even need to use the ropes which have been placed along certain points to help you on the steepest points.
You'll need to be able to physically pull yourself up using the ropes to get to the cave.
Do not attempt this hike if you can't deal with heights or suffer from vertigo.
It's also super important to wear appropriate clothing and footwear when doing this hike.
Check out the video below for a visual representation of the trail. Skip to 3:00 to see how steep the rope sections of the hike are.
Need more ideas of things to do in Bora Bora? Check out my 5 day Bora Bora itinerary which contains a detailed plan of what you can do in Bora Bora for a whole week!
Mount Otemanu Hike – Tips
After doing this hike myself, I thought I'd include a few tips to help you get the most out of your hike.
Some of these tips were also provided to me by my guide.
Due to the mountainous nature of the trail and lack of signage, it's always recommended that you go with a guide.
Don't attempt this hike after heavy rainfall as the ground will be too slippery and dangerous.
Many hiking tours don't operate during the wet season (November to April).
You do need to be moderately fit to take on this hike.
As the hike can take up to 6 hours, bring plenty of water, food and suncream. A hat is also recommended to protect you from the sun.
Set off early in the morning to avoid the heat.
Wear a comfortable pair of shoes. No flip flops or sandals.
Need some help packing for your trip? I wrote an insanely detailed Bora Bora packing list to make sure you don't forget anything important.
Mount Otemanu Last Eruption
Mount Otemanu's last eruption is estimated to have occurred over 3 million years ago.
Today, Mount Otemanu is actually an extinct volcano so there's no chance that it could erupt again.
The lush green peak that remains is just the remnant of an ancient volcano which hasn't been active for millions of years.
In fact, Bora Bora itself was actually formed from erupting volcanoes around 7 million years ago.
Mount Otemanu Facts
Whether you've decided to climb Mount Otemanu or not, it's always a good idea to find out more about Bora Bora's most iconic landmark.
Here's some fun Mount Otemanu facts:
Mount Otemanu is the highest point in Bora Bora, rising up to 727 meters tall.
It sits at the center of the atoll and can be seen from most points around the island.
In World War II, the US chose Bora Bora as a military supply base and used Mount Otemanu, due to its high elevation, to place some of their equipment including a cannon.
Did you know: The US left behind 8 large cannons in Bora Bora, all of which can still be seen today.
Mount Otemanu serves as an important and sacred place for the Polynesian people who have lived in Bora Bora since the 3rd century.
Certain areas of the mountain contain the bodies of ancient Polynesian kings and queens.
On the south side, you can see huge circular stones which are said to house the king's spirit.
---
And that's it!
Thanks for reading this post all about the Mount Otemanu hike and what you can expect if you choose to climb it.
Climbing Mount Otemanu is a hugely rewarding experience so if you're able to, I highly recommend you try it out. It's one of the best Bora Bora hiking trails.
Need more help planning your Bora Bora vacation?
Related posts: