I recently spent 5 days sunning it up in lovely Bora Bora. Initially I was concerned that I'd not have enough to keep me entertained but I couldn't have been more wrong!
There was tons to do and I really enjoyed my entire stay so today I'd love to share with you the exact 5-day itinerary that I followed.
5 Day Bora Bora Itinerary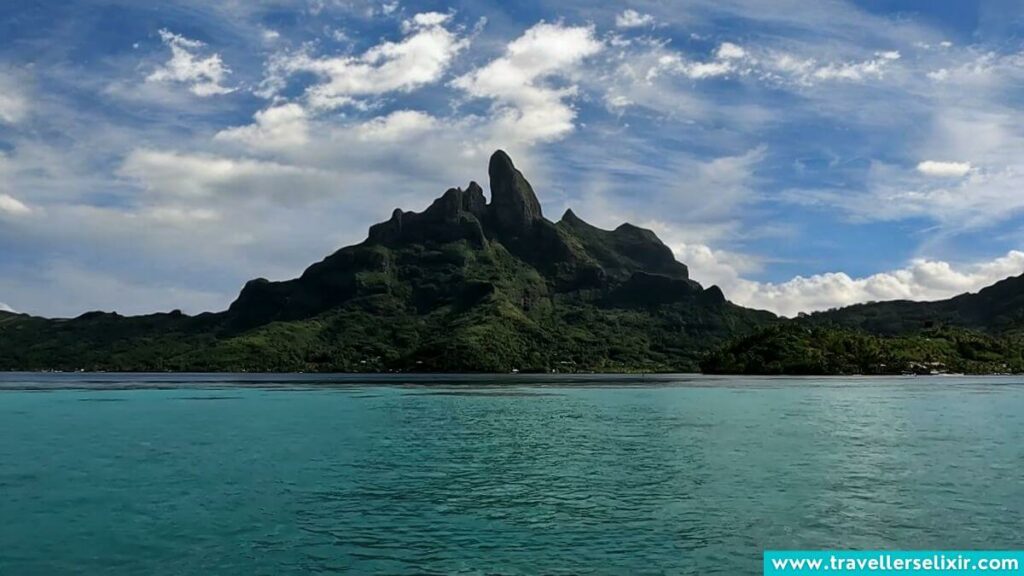 Bora Bora is known for its luxury overwater bungalows, vibrant turquoise lagoon and epic extinct volcano, Mount Otemanu, which can be seen from all over the island.
People visit Bora Bora to relax and unwind, experience world-class snorkeling and for the breathtaking views.
With that in mind, I wanted to create an itinerary that allowed me to experience and enjoy everything that Bora Bora is known for!
Here's my detailed 5 day Bora Bora itinerary which takes you step-by-step through each day of your vacation. 
This would also work as a Bora Bora honeymoon itinerary.
Day 1
On my full first day in Bora Bora, I was still pretty tired from all the travel so I wanted to take it easy.
I'd just travelled over 25 hours and taken 3 flights to get here so all I wanted to do was relax.
I started off by grabbing some breakfast from the breakfast buffet at my resort (I started my vacation at the St Regis). You could also grab some brekkie from a local restaurant. 
After that, I spend some time just exploring the resort! If you're not staying at a resort, then you can explore the local area around your hotel instead.
If you're staying at one of the fancy resorts like St Regis Bora Bora then you'll have a huge area to explore.
These types of resorts are usually set on their own private islet and are pretty extensive.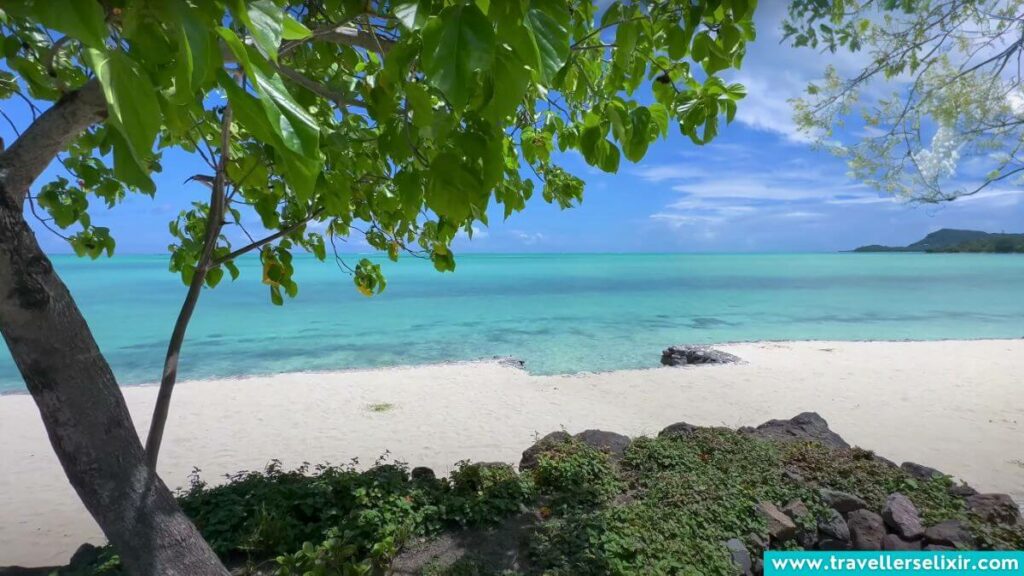 I wandered around the resort, taking a look at the on-site lagoonarium, the private beach, pool, various restaurants, bars and more.
Most of the high end resorts also have free kayaks, paddle boards and snorkeling equipment available.
If you need some extra help to feel more rested then you can book a relaxing massage at the spa like I did. Check out my guide on massage prices in Bora Bora for more information.
My massage was super relaxing, I genuinely felt like a new person afterwards. It really helped me shake some of that jet lag off.
Later on in the day when I felt a bit more rested, we headed out on our first activity of the trip = a jet skiing tour around the lagoon! 
There's no better way to experience Bora Bora's iconic turquoise lagoon than on a jet ski. It was really fun and I loved zipping around the lagoon just really taking in the views for the first time.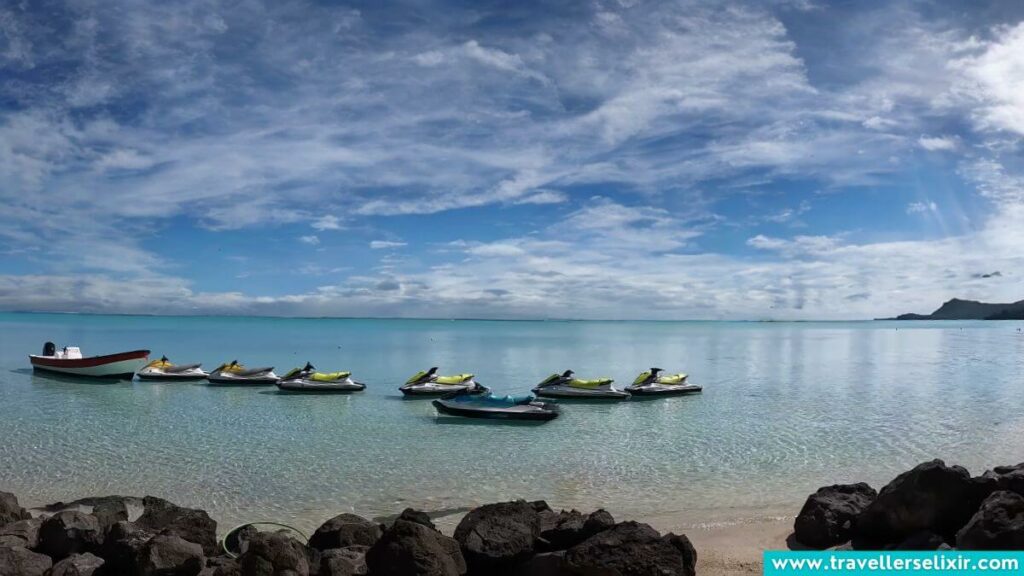 We effortlessly glided past all of Bora Bora's best sights including Mt Otemanu, numerous overwater bungalows, sailboats and more. It felt like a dream.
It's a great way to get acquainted with the island and isn't super strenuous either (which was ideal as I was still tired).
Day 2
As Bora Bora is a smallish island surrounded by ocean, it's probably not surprising to hear that most activities are water-based and revolve around the stunning blue lagoon.
On our second day in Bora Bora, we booked onto a snorkeling tour to meet some rays and sharks.
There are certain snorkeling locations on the island where you'll find tons of stingrays and reef sharks. They can be difficult to access alone though so you'll want to go with a tour guide.
My guide told me that the animals were originally drawn to these locations as the local fishermen used to drop off any unwanted catches here but years later the animals still hang around.
Bora Bora is actually one of the only places in the world where you can go swimming with sharks. Don't worry, the sharks are friendly.
I did this activity and really loved it. I'd never been so close to sharks before so I was completely in awe. The sharks didn't really seem phased by us humans, they just swam past happily.
Snorkeling tours like this one include all of your snorkeling equipment so you don't have to bring anything along. It also includes pick-up and drop-off from your hotel.
If you'd prefer, you can also try out a scuba diving experience instead.
Don't worry if you've never scuba dived before as you can book onto an introductory tour for beginners.
In the evening, we booked onto a sunset cruise around the lagoon. These are super fun and should be on everyone's Bora Bora itinerary.
On the cruise, we were taken around Bora Bora's lagoon where we got to admire the views of the iconic Mount Otemanu as the sun set.
Watching the sunset here was truly magical, it felt like one of those once-in-a-lifetime moments that you know you'll never forget. It's probably one of the best sunsets I've ever seen in my life!
I'd recommend booking onto this sunset cruise as it also includes dinner at St James Restaurant which is one of Bora Bora's best rated restaurants. 
I absolutely adored the St James Restaurant as it's open air and sits by the lagoon so you'll get amazing views whilst you dine.
The sunset cruise provides round-trip transportation to and from your hotel, a glass of champagne and a reservation at St James too.
I actually wrote a whole guide on things to do in Bora Bora at night for more ideas!
Day 3
After spending so much time in and around the lagoon, on day 3 we were ready to explore Bora Bora by land.
That's why, on day 3, we joined this ATV tour of the island.
Our professional guide took us out into the mountains on quad bikes and we stopped off at lots of wondrous viewpoints along the way.
It was a super fun activity and a great way to see the island in all its glory from every angle.
If you'd rather not drive an ATV yourself, you can book onto a 4×4 Jeep tour instead and sit back and relax. This allows you to really enjoy the views and not worry about driving.
Alternatively, if you're up for the challenge, you can go on a hike up Mount Otemanu.
I actually did this hike on my last day in Bora Bora but it was super tiring so I feel like it would work better on day 3.
Mt Otemanu is the symbol of Bora Bora. You can see this green extinct volcano from all over Bora Bora, standing tall in the center of the island.
Standing at 727 meters tall, it's pretty impressive! You can't get right to the peak as it's just not possible but you can hike up to the 'shoulder' areas of the volcano which is what I did.
The hike takes between 5 and 6 hours overall and is suited to moderately fit people. It's also recommended that you go with a guide.
It was a tough hike I'm not gonna lie and towards the end, you do need to heave yourself up various rocks with the help of some ropes.
We were rewarded with breathtaking views of the lagoon, neighboring islands and the ocean so it was all worth it in the end.
In the evening, why not grab dinner at La Villa Mahana which is another one of Bora Bora's best rated restaurants (it's eye-wateringly expensive though).
Day 4
On your fourth day in paradise, I'd recommend heading over to the main island (if you're not staying there) and exploring Vaitape town.
Vaitape is the largest city in Bora Bora but it's still pretty small with a population of just under 5,000 people.
There's lots of restaurants, cafes, shops and art galleries to explore in Vaitape. You can grab yourself a souvenir to take home with you.
There are lots of black pearl shops where you can buy some handmade pearl jewelry. My personal favorite one is Deep Sea Pearls where I bought a pretty pearl necklace.
You can also check out the Alain Despert art gallery. The artist himself, Alain, is often there so you might even be able to meet him.
Bring along your bathing suit and snorkeling gear too so that you can head over to Matira Beach after you're done exploring Vaitape. It's just a 10-minute car ride.
I ended up spending most of the day here as it was just so relaxing and felt really authentically Polynesian.
Matira Beach is often ranked as one of the most beautiful beaches in the whole world. It has soft white sand, crystal clear waters and swaying coconut palm trees. What more could you need?
I found that it was a fantastic place to relax, sunbathe, swim or snorkel. Matira Beach is one of Bora Bora's best snorkeling locations and has a huge abundance of tropical fish as well as the occasional ray or reef shark.
You can spot these wonderful creatures quite easily and you don't have to swim far from the shore making it an ideal spot for beginners.
Related Post: Why Is Bora Bora's Water So Clear & So Blue?
Finish off your day with dinner and drinks at the famous Bloody Mary's restaurant.
It's hosted tons of famous celebrities and travelers over the years including Pierce Brosnan and astronaut Buzz Aldrin.
Make sure you order their specialty Bloody Mary cocktail – I can confirm it's super delicious.
Day 5
On your last day in Bora Bora, you'll want to take it easy. Spend some time relaxing and soaking in the atmosphere of this island paradise.
Why not start off your day lounging on the beach or heading out for a swim in the lagoon?
If you're staying in an overwater bungalow then you'll want to spend as much time as possible sitting on your outdoor deck, enjoying the sounds of the ocean all around you.
One of my favorite things to do was just grab a book and read it on the outdoor deck. It's just so peaceful!
Still deciding which hotel is best? Check out my ultimate list of the best overwater bungalows in Bora Bora.
In the afternoon, why not head out on a helicopter tour and see Bora Bora from above.
This is a super cool way to end your trip and get a birds-eye-view of the island. You'll not believe how amazing it all looks from up above!
Glide past all of your favorite Bora Bora landmarks and reminisce about your favorite vacation memories as you fly by Mt Otemanu, the blue lagoon and various beaches.
This activity is ideal for couples especially those on a honeymoon.
How Many Days Should I Spend In Bora Bora?
I'd recommend spending between 3 and 5 days in Bora Bora. I personally stayed for 5 days and split my time between 2 resorts.
This gives you more than enough time to explore the island and see everything that Bora Bora has to offer. 
However, you can easily spend much longer here (some travelers stay for up to 2 weeks!)
If you're visiting Bora Bora on a stand-alone trip then I'd recommend spending 5 to 7 days there.
This is mainly due to the super long travel times to reach Bora Bora. It's not really worth traveling 10+ hours each way just for 3 days in Bora Bora.
If you're visiting other islands as part of the same trip (like Tahiti or Moorea) then 3 to 5 days in Bora Bora is perfect.
I did travel over to Moorea afterwards and spent another few days there so 5 days felt like the right amount of time in Bora Bora.
Related Post: How To Get From Moorea To Bora Bora
Where to Stay in Bora Bora
Whilst there are options for every type of traveler, without a doubt, the best places to stay are the large resorts.
My top picks are the Four Seasons Bora Bora resort and the St Regis Bora Bora as I actually split my 5 day trip between these 2 resorts.
Whilst they do come with a hefty price tag (I'm talking $1,500+ per night), you'll be blown away by the beauty of these resorts.
If you're not on a tight budget then you just have to stay in an overwater bungalow because that's kinda what Bora Bora is all about.
Bora Bora is usually a once in a lifetime trip and, for many people, it is the only time they'll ever stay in an overwater villa so it's worth splashing the cash just this one time.
These villas are usually built on stilts in Bora Bora's famous blue lagoon. Their most popular feature is the wooden outdoor deck which often has a ladder that leads down straight into the ocean.
You can often see fish swimming around your bungalow and the best part is that most of the villas have glass panels in the floors so you can see the fish below your feet!
Budget Accommodation in Bora Bora
If you're on a budget then the best way to save money on accommodation is to avoid overwater villas and large resorts.
One of my favorite budget friendly places to stay is Villa Yrondi which is a beautiful little guesthouse that won't hurt your wallet.
This idyllic hotel has incredible views of Mt Otemanu and has a real authentic feel to it.
For more help on budgeting, check out my full cost breakdown of a trip to Bora Bora.
Where to Eat in Bora Bora
If you're staying at one of the resorts, then you'll usually eat at one of the on-site restaurants. Each of the large resorts has between 3 and 4 restaurants.
Unfortunately, none of the resorts in Bora Bora offer all inclusive packages so you will have to pay for each individual meal and drink.
To budget for this, I wrote an entire guide on food and drinks prices in Bora Bora which contains so much useful information including the exact prices of various things.
I'd recommend making the effort to go over to the main island for dinner at least once or twice during your stay as it's nice to experience something a little different.
💡Tip: Most of the resorts which sit on a private island offer a shuttle service to and from the main island. Some charge for this and some are free so check with your hotel beforehand to avoid any unexpected costs.
Here's my top recommendations of places to eat in Bora Bora:
Bloody Mary's
St James Restaurant
Bora Bora Yacht Club
Some of these restaurants can be a bit pricey for those on a strict budget.
If you're looking for more cheaper options then head into Vaitape town and dine at one of the food trucks. You can get delicious meals for under $10 there.
How to Get to Bora Bora
Unfortunately, you can't fly directly into Bora Bora. All international flights go to Tahiti and from there, you'll need to get a short flight over to Bora Bora.
Pretty much all flights to Tahiti from the US leave from either Los Angeles or San Francisco.
These flights take around 8 & a half hours and will arrive into Papeete Airport in Tahiti.
From there, you'll have to use the inter-island airline Air Tahiti to take a short 50 minute flight to Bora Bora.
💡Tip: If you're flying from Europe then you'll probably have to fly to Los Angeles/San Francisco to get a flight to Tahiti.
For more information, check out my complete guide on how to get to Bora Bora from Tahiti.
How to Get Around in Bora Bora
Bora Bora is a pretty small place so getting around is very simple.
If you're staying at one of the fancy resorts on their own private islet then the only way to get to the main island is by boat.
Most of the resorts offer a shuttle service which runs several times a day and transports passengers to and from the islet.
Some resorts charge a fee every time you use the shuttle and some offer it for free so make sure to check with your hotel to avoid any unexpected costs.
At St Regis this was completely free but at the Four Seasons, they charged us $37 per person each way so visiting the main island became super pricey fast.
If you're staying on the main island then almost everything you need will be within walking distance.
For anything that's a little too far, you can easily grab a taxi.
---
And that's it!
Thanks for reading this Bora Bora itinerary which tells you what to do in Bora Bora for a week.
There really are no rules when it comes to a Bora Bora vacation so just do whatever your heart desires!
Need more help planning your Bora Bora vacation?
Related posts: