If you're wondering how to get from Barbados to St Lucia by boat then this post is for you.
When I went island hopping around the Caribbean, I wanted to take as few flights as possible.
Unfortunately I quickly found out that there was no ferry between St Lucia and Barbados so I ended up doing a ton of research on how else I could get there.
In this guide, I'll be sharing all of that research with you!
How Far is St Lucia from Barbados by Boat?
Barbados sits 174km (or 108 miles) southeast of St Lucia. This would take around 3 hours to cross by ferry (if there was one).
Both St Lucia and Barbados form part of the Windward Islands in the Eastern Caribbean meaning they are very close to each other.
Here's a map showing the locations of St Lucia and Barbados: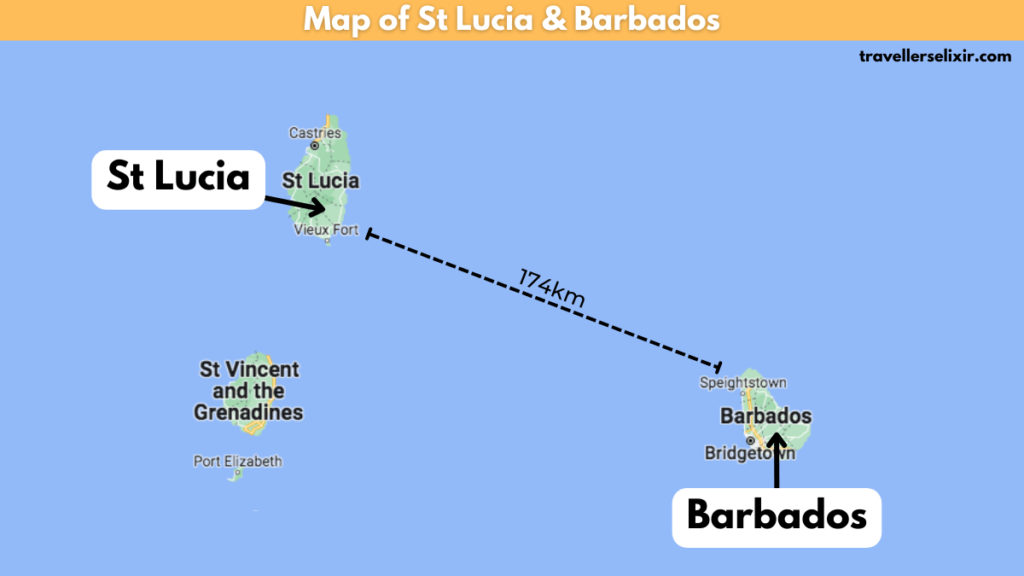 Ferry from Barbados to St Lucia 
As I said, unfortunately there is currently no ferry service available between Barbados and St Lucia. To get from Barbados to St Lucia by boat, you will need to charter a boat or join a cruise.
There used to be a ferry that ran from Barbados to St Lucia however it is no longer running. There are currently no plans to set up another ferry service. 
Below I cover all the different transport options available including flights, charter boat and cruises.
How To Get From Barbados To St Lucia
The main way to get from Barbados to St Lucia is by taking a flight.
I really wanted to avoid taking a flight to Barbados if I could help it as I'd already taken a few ferries between other islands (like St Lucia & Martinique) and really enjoyed it.
I ended up taking a flight just because it was the most convenient option. It would have cost me so much money to charter my own boat and in the end I didn't think it was worth it.
Barbados to St Lucia – Flights
By far, the easiest and cheapest way to travel between Barbados and St Lucia is by plane. 
The flight itself takes 45 minutes. Of course, you also need to factor in the time of getting to the airport, going through security and going through immigration when you get there.
A one-way flight from Barbados to St Lucia costs around $180. After doing some research, I found that flights are slightly cheaper during low season but not significantly.
There are two main airlines that offer non-stop flights between St Lucia and Barbados. These are Air Antilles and InterCaribbean Airways.
I personally flew with Air Antilles and I have absolutely no complaints about them – it was a really comfortable flight.
There are flights available most days between St Lucia and Barbados. On average there are 1 to 2 flights each day but service varies. I checked this myself using kayak.com.
It's best to book as far in advance as possible to ensure you manage to get good flights.
Flight will depart from Grantley Adams International Airport (BGI) in Barbados and arrive at George F. L. Charles Airport (SLU) in St Lucia.
Even with flying, it is possible to do a day trip from Barbados to St Lucia if you book your first flight early in the morning and your return flight as late as possible.
Here's an example flight I found that will give you plenty of time to explore St Lucia:

This option will give you a good 6 hours in St Lucia which is plenty of time to fit in a few activities.
Charter Boat from Barbados to St Lucia
If you've really got your heart set on sailing then it is possible to charter a boat from Barbados to St Lucia (or vice versa). 
You actually have several different options including motor yachts, sailing yachts, catamarans and sailboats with various companies offering this service.
Prices vary drastically depending on the type of boat and service you require but they do have one thing in common – they're pricey.
Charter boats are extremely expensive. After scouring the web for hours, the cheapest one I could find costs around $750 per day. 
This was way too expensive for me so I ended up just booking a flight instead.
This boat is a Catamaran and can be rented with Your Boat Holiday.
Traveling from Barbados to St Lucia by boat is by far the most scenic way to get between the two islands.
You'll have plenty of time to take in the breathtaking scenery and wonderful views are basically guaranteed.
You may even be able to see marine life in the water. Look out for tropical fish, turtles, dolphins, jellyfish and maybe even the odd shark!
Cruises From Barbados to St Lucia
If you choose to join a cruise that starts in Barbados and stops at St Lucia then it's worth bearing in mind that you'll only have a specified amount of time on the island.
This option gives you less freedom to explore the island but is a great way to see as many places as possible in a short time.
Here's a few of my favorite cruises that start in Barbados and include a stop in St Lucia:
Can You Island Hop From St Lucia?
Island hopping is definitely a thing in St Lucia but it is more difficult here than in other parts of the world.
St Lucia is part of the Windward Islands in the Eastern Caribbean. There are several options if you want to take a day trip from St Lucia to other islands in this group.
You can take a ferry to Martinique from St Lucia or you can get a short flight to the Grenadines.
It's also possible to island hop by ferry to Dominica and Guadeloupe from St Lucia.
---
And that's it!
Thanks for reading this post all about the Barbados to St Lucia ferry.
Unfortunately, as it stands there isn't a ferry connecting these two paradise islands but there are several other ways you can travel between them.
Need more help planning your St Lucia vacation?
Related Posts: