Photos are often the best souvenir that you take home from your travels. The worst thing is when they come out boring, or even worse, blurry!
If you want to learn how to take better pictures on your travels, this article is packed with everything you need to improve your travel photography skills and take better photos.
I've taken photos in beautiful locations all over the world – from the busy streets of Hong Kong to the Taj Mahal and along the way I've learnt lots about taking the best photos.
These practical and easy photography tips will help bring your travel photography to the next level.
Easy Travel Photography Tips
1. Carry A Small Tripod
There's many reasons why having a small tripod can up your photography game.
They're great for taking shots of stunning landscapes with you in the photo. Just set up the shot, then jump into it!
Not everyone is comfortable with handing their camera over to a stranger and if you're in a quiet place there might not be anyone around to take a photo of you.
Additionally, most people aren't super talented when it comes to taking photos and often photos taken by strangers aren't what you'd hoped so set the shot up yourself with a tripod.
My top pick for a small, compact tripod that's easy to carry around is the Joby GorillaPod. It has really flexible legs so you can attach it to pretty much anything.
2. Be Patient (Especially In Crowded Places)
If you want to take an epic shot in a famous or busy location then you need to have patience.
Unfortunately you're not able to just show up to iconic locations like the Eiffel Tower or Big Ben and get a perfect shot on the first try.
You will need to be patient with the crowds and just wait for people to pass by. You might have to take several shots to get it just right but it will be worth it in the end.
Don't worry, I've got more tips on how to avoid people in the back of your shots later in the post.
3. Make Sure Your Lens Is Clean
This might sound obvious but make sure your lens is clean before you go out to shoot.
It's happened to me more times than I'd care to admit when a stunning photo is ruined by a spot on the lens.
You can pick up a travel sized lens cleaning kit from Amazon which ensures you can clean your lens safely wherever you are in the world.
Getting a proper lens cleaning kit is essential, don't just clean it with any old cloth because this could cause more damage.
4. Set Your Camera To Shoot In Burst Mode
This is a great trick if you're trying to take an action shot, for example, a whale breaching the water's surface.
By setting your camera to 'burst mode' this means that several shots will be taken when you click the shutter.
Using burst mode means that you're more likely to get that perfect shot when timing is critical.
This can also be useful when taking photos of you or your friends. If you set your camera to burst mode, you'll have several options to choose from and don't have to settle for the photo of you with your eyes closed.
5. Shoot Early Or Late In The Day
No matter how good you are at photography, there's always certain times of the day when your photos just won't look good.
For example, midday is the worst because the sun is at its peak and photos always come out with harsh lighting and lots of shadows.
The best time to shoot is during that glorious 'golden hour'. This is just after sunrise and just before sunset.
At these times, the sun is low in the sky and it will cast a warm glow over your photos instead of a harsh white light.
Good lighting can be the difference between a good photo and a great photo.
Try to arrive at the locations you want to shoot at around these times to get the best snaps.
6. Use Editing Software To Make Your Photos Pop
Getting a beautiful photo is partly taking a good photo but is mostly editing it in the right way.
Editing is one of the most important aspects of photography, as it is where your photos can really come to life.
Play around with the contrast, shadows, highlights, colors and more. Be careful not to over edit though.
The best editing software is Adobe Lightroom.
Discovering Lightroom changed everything for me – it took my photos from average to amazing almost overnight.
I used Adobe Lightroom to edit the photo below:
7. Think About What You're Wearing
You'll often see travel influencers in gorgeous, floor-length dresses in various places all over the world and they make for beautiful photos.
Whilst I'm not suggesting that as a tip because it's very impractical on a regular basis (but if it's your thing then go for it), it is important to think about your clothing when taking photos.
Avoid loud patterns and slogans as these can distract from the scenery.
Instead opt for plain clothes in neutral colors where possible.
8. Edit Out Anything Unwanted In The Background
You could stand around all day waiting for the perfect shot but sometimes it just doesn't happen.
Whether there is a person in the background or a trash can, it just ruins your shot. This happens to me a lot especially in busy locations.
All is not lost, you can simply edit the unwanted object or person out of your photo!
Don't worry, you don't need to be a Photoshop wizard to pull this trick off, there's tons of apps that will remove unwanted objects with a single tap!
My personal favorite app for this is called 'TouchRetouch' available on iOS and
Android. I've used it for years and it is so easy to use – no technical knowledge required at all.
Check out the photo below that I edited with a single tap using the app. As you can see, I quickly and easily removed the people and objects in the background.
9. Backup Your Photos
You don't want to spend all this time creating perfect photos just to end up losing them. From damaged SD cards to stolen cameras, it happens.
The best way to prevent losing your precious memories is by backing up your photos.
You can either buy an external hard drive from Amazon and back them up there or upload them to some cloud software.
10. Arrive Early
Do you ever see these unbelievable photos on travel influencers Instagram accounts and wonder how they got them?
Stood in front of the Taj Mahal, Trevi Fountain or Eiffel Tower without a single person around? When I visited the Trevi Fountain I could barely move because it was so busy so how did they get a completely empty photo?
The key is to arrive as early as possible and I'm not talking 9am, I mean like 6am. Yep, that's right, set your alarm early and head out just after sunrise for those epic, empty shots in the most iconic locations.
11. Learn Some Posing Techniques
When it comes to taking photos of yourself, learning some basic posing techniques will go a long way.
We've all taken those photos that look great but there's just something off about your pose and it looks awkward.
Try putting one foot in front of the other rather than just standing with them straight. For an even better shot, step forward onto your tiptoes slightly, this elongates the legs making them appear longer and leaner.
You could also try taking photos from behind or looking over your shoulder.
12. Add Movement To The Shot
Add some movement to your photos to make them more interesting. Try to keep the movements natural like something you would actually do – it can be as simple as just walking.
Instead of standing still, start walking down a busy Hong Kong street or spin around and let that skirt flow in front of the Taj Mahal.
Just make sure that your shutter speed is fast enough on your camera to avoid blurry shots.
Movement makes photos more interesting and eye-catching.
You'll likely get a few outtakes but you'll also get some amazing shots that you'll treasure forever.
13. Make Sure The Horizon Is Straight
If you're taking a photo that involves a horizon…make sure it is straight! This simple tip makes a big difference to the quality of your photo.
Try to keep the horizon straight when taking the photo but if you messed up a bit, don't worry.
You can use an editing app to straighten the photo and this usually sorts it out but you may lose a small section of the image.
14. Plan Your Photos Beforehand
The key to epic photos is planning! Before heading out to a location, think about what type of photo you're wanting to get.
Consider the composition beforehand and even check out what other people have done before. I use both Instagram and Pinterest for photo inspiration.
Just type in the location you want to shoot at and see what others have done. If you like something, try to recreate it in your own style.
You can also use these tools to find potential photo locations that you hadn't considered before.
15. Add People Into Your Photos
Adding people into your photos adds emotion and perspective.
When it comes to travel photography, people often like to live vicariously through people in photos. If the viewer can pretend the person in the photo is them, it creates more emotion and they are able to feel like they're experiencing the location themselves.
For example, if you're on a beach then try running off towards the ocean to give the photo some perspective and emotion.
People can also add a sense of scale to a photo. For example, adding a human to a photo of a mountain shows just how big the mountain actually is.
Check out the photo below that my partner took in Lagos, Portugal. The person on top of the rock gives a sense of scale to how big the rock is and makes the image more powerful.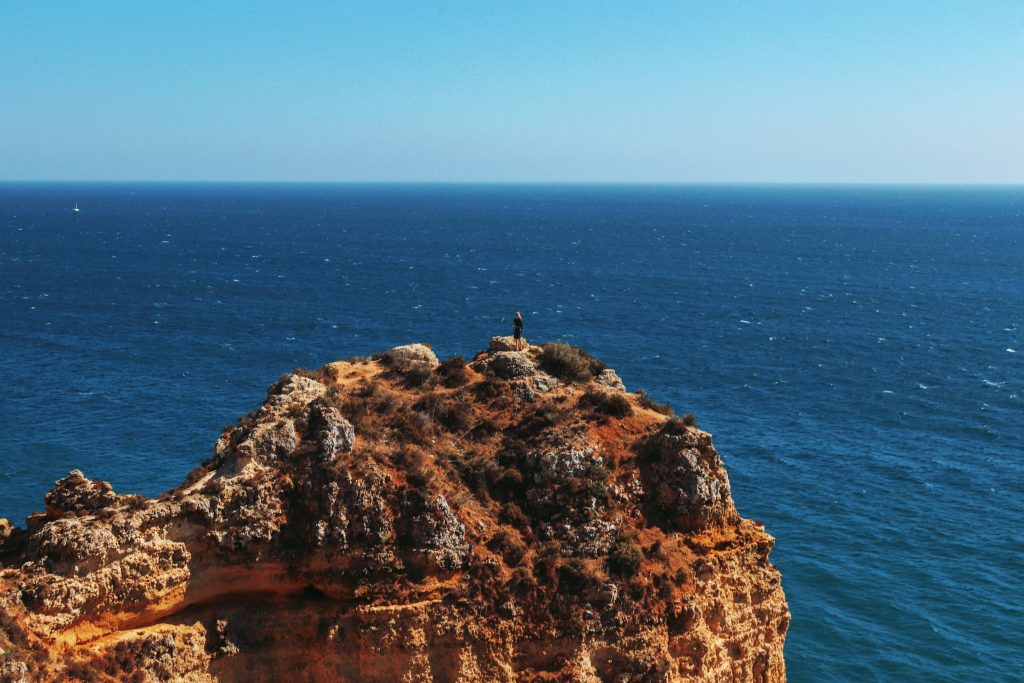 16. Focus On Framing Your Photos Correctly
Framing of photos is super important and you should give it some thought whenever taking a photo.
For example, if you have people in the photo, ensure you're not cutting their feet off. If you're taking a photo of a building, mountain, landscape etc make sure to leave some buffer space in the sky above.
Learning to properly frame a photo takes practice but you'll get there. All these things just give the photo an overall better look.
17. Apply The Rule Of Thirds
The rule of thirds is a basic photography concept that should help you to frame your photos better.
Imagine that your photo is divided into 3 vertical lines and 3 horizontal lines creating a grid of 9 squares.
If you have trouble visualizing it then most digital cameras with screens and even some mobiles have the option to show the thirds on the screen making it super easy.
The 4 points where the lines intersect are the strongest focal points of your image and the second strongest points are the lines themselves.
This means you should try to place the main subject of your photo on one of these points. You can also use this theory in landscape shots, try to place the horizon on one of the lines.
You don't have to apply this rule to every photo, just when it feels right. For example, symmetry is also really pleasing on the eye especially with buildings and roads.
18. Find An Alternative Angle
If you're at a world famous location it's super tempting to just snap the same photo as everyone else. Whilst these photos can turn out great, it's a good idea to try and find an alternative angle.
Try to find a different perspective that hasn't been photographed a million times.
Whether you're at the Taj Mahal, Machu Picchu or Big Ben, try to get a few unique shots that you'll be proud of.
Which Camera Should I Use?
If you're a beginner or just starting out with photography then I'd recommend just using whatever you have.
If you've got an iPhone or another phone with a decent camera then use it! The cameras on phones are getting better and better and you can get incredible shots on them.
I have an iPhone and use it regularly for photography.
If you're going to be using your phone then make sure you get one of these handy phone straps. It will prevent you from ever dropping your phone and it will stop it from being stolen if you're in a busy place!
Check out the photo below taken using portrait mode on my iPhone in Athens:

If you're ready to take the next step and get a camera, I'd recommend the Canon EOS Rebel SL3. This is a great entry level DSLR camera.
This is a great step up from a smartphone.
Make sure you get an extra SD card to ensure you never run out of memory mid shoot (it's the worst, trust me!). I'd recommend getting a 128G SD card for the most space.
Also grab an extra battery too because there's nothing worse than running out of battery before you've got your perfect shot. This one works for the EOS Rebel SL3 which we mentioned above.
---
Thanks for reading this post that gives you 18 easy travel photography tips for beginners that will instantly improve your travel photos.
Photographs from your travels are often the most precious thing you bring back from your trip so it's worth taking the time to make them as good as possible.
You can incorporate these tips and tricks easily without any prior knowledge of photography. They'll take your photos from average to amazing overnight.
Related Posts: