St Lucia is a super popular tourist destination famous for its mountainous scenery, jungle landscapes and epic white sandy beaches.
Each year more and more people look to visit this island paradise but where is St Lucia? Is St Lucia part of the US Virgin Islands?
In this post we'll debunk the geography myths about St Lucia to help you plan your trip.
Is St Lucia Part of the US Virgin Islands?
No, St Lucia is not part of the US Virgin Islands.
St Lucia is an Eastern Caribbean country located south of Martinique, northwest of Barbados and northeast of St Vincent whereas the US Virgin Islands are in the Northern Caribbean just east of Puerto Rico and southeast of Florida.
Both St Lucia and the US Virgin Islands are located within the Caribbean. The distance between them is 646 km (401 miles).
Check out the location of the two countries in the world map below: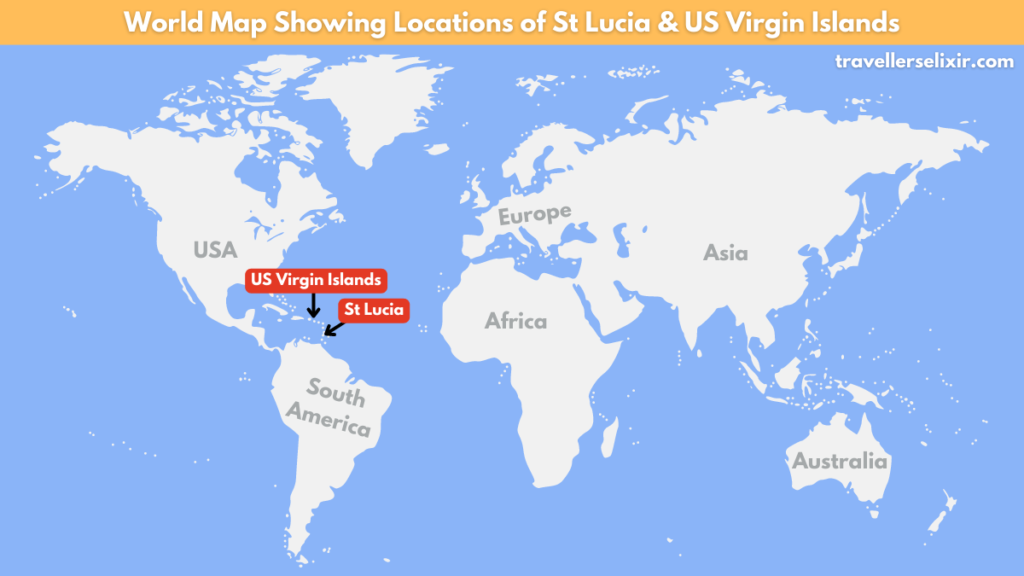 What Islands are a Part of the US Virgin Islands?
The US Virgin Islands is made up of the 3 main islands St Croix, St John and St Thomas, as well as 50 other small islands and cays.
The US Virgin Islands covers 346km2 in total with St Croix being the largest island covering 218km2 alone.
St Thomas, however, contains the capital city of Charlotte Amalie.
People often think that St Lucia is part of the US Virgin Islands due to the presence of 'st' in its name which is typical of the US Virgin Islands however St Lucia is completely separate.
Where is St Lucia in the Caribbean?
St Lucia is located in the Eastern Caribbean with the Caribbean Sea on one side and the Atlantic Ocean on the other.
Here's where St Lucia is in relation to other Caribbean islands:
St Lucia is 87 km (54 miles) south of Martinique.
St Lucia is 174 km (108 miles) northwest of Barbados.
St Lucia is 76 km (47 miles) north of St Vincent & the Grenadines.
St Lucia is 1,804 km (1,121 miles) southeast of Jamaica.
St Lucia is 1,967 km (1,222 miles) southeast of Cuba.
Check out the location of St Lucia on the map: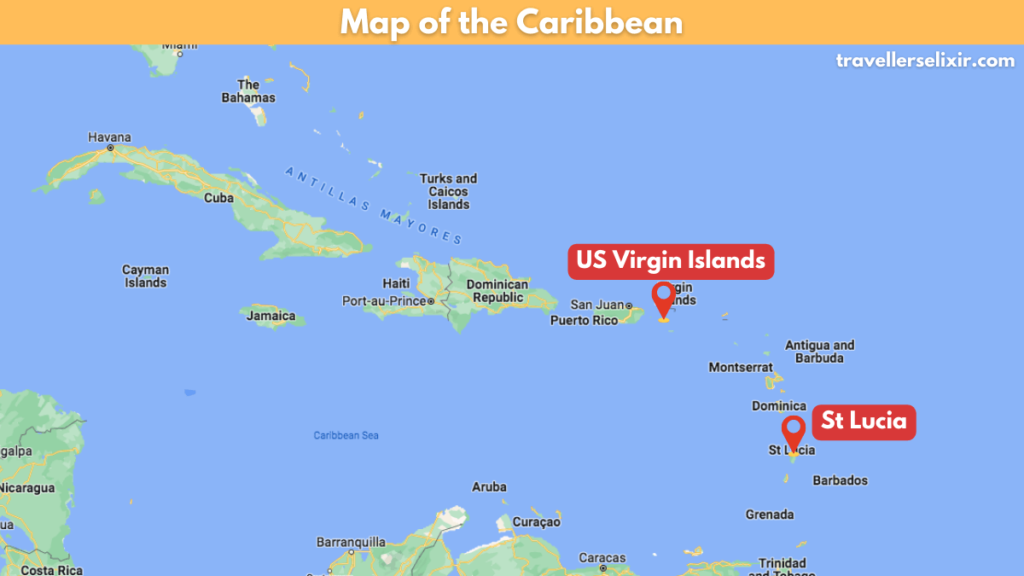 Which Country is St Lucia in?
St Lucia is its own country and isn't currently a part of any other country however it does form part of the British Commonwealth.
💡Fact: The British Commonwealth is a political association of 56 independent countries. Most of the members were formerly part of the British empire but today any country can join.
Previously St Lucia was part of both the British and French empires however it gained independence in 1979.
St Lucia switched control between the French and the British so many times (14 to be exact!) that it became known as the 'Helen of the West Indies' after Helen of Troy who the Trojan War was fought over.
Prior to being colonized in the 1600s, St Lucia was inhabited by the native Amerindian peoples.
The Amerindian peoples were made up of two separate groups: the Arawaks and the Caribs.
Today the island is home to over 179,000 people and, whilst it does still hold on to some distinctively English and French elements, it does have its own distinct culture.
Is St Lucia a US Territory?
No, St Lucia is not, and has never been, a US territory.
St Lucia does have a cooperative relationship with the US with the 2 countries having signed several treaties in the past.
What is St Lucia Known For?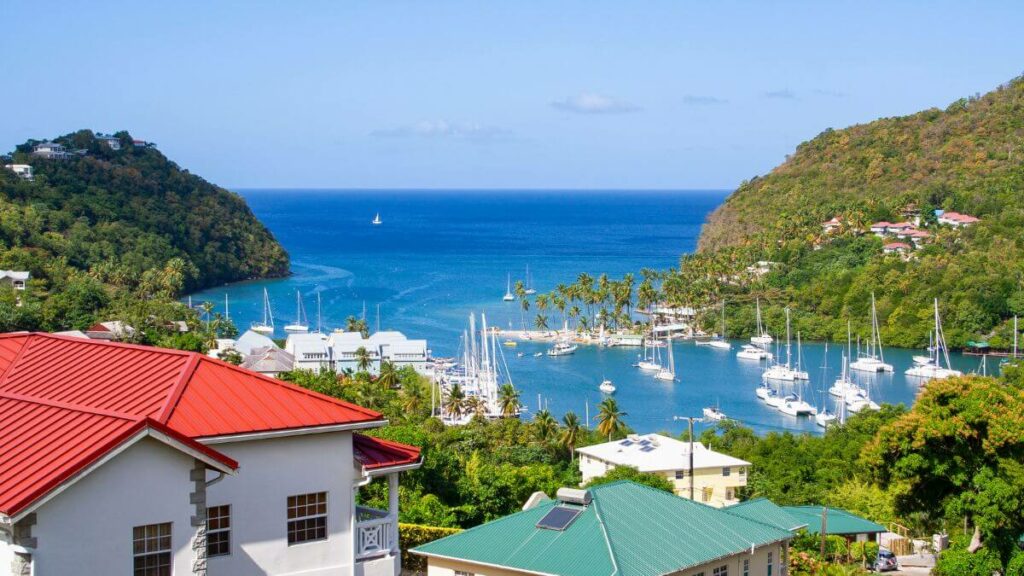 St Lucia is known for its volcanic mountains, lush jungles, cascading waterfalls and white sandy beaches.
If you're considering vacationing there, find out if St Lucia is worth visiting.
Here's a few of my favorite things that St Lucia is known for:
Piton Mountains
The twin peaks of the Piton mountains are certainly a sight to behold and up close, they look even better.
Gros Piton is the tallest of the two reaching 2,619ft (786m) tall. Petit Piton, the smaller mountain, still reaches an impressive 2,425ft (739m).
It is possible to climb both mountains however, surprisingly, the smaller Petit Piton is actually the more challenging climb. This is mainly because it is really steep.
The Gros Piton climb is tough but well worth the effort as you'll get mesmerising views of the whole island from the summit.
Pigeon Island
Pigeon Island is a 44-acre islet that forms part of St Lucia. It was actually used by pirates to raid passing ships in the 16th century.
It was also used by the British to spy on French ships during their numerous fights over the St Lucia. Today this island is a national park.
This tiny island was once completely isolated however back in the 1970s it was artificially connected to St Lucia so you can now easily access it from the main island.
Pigeon Island is filled with lush, green foliage and tons of interesting historical clues which give a glimpse into how life used to be there including several forts which were used to spy on passing ships.
Gorgeous Beaches
St Lucia has no shortage of beautiful beaches and, impressively, most of them come with breathtaking mountainous backdrops.
My favorite beach in St Lucia is Jalousie Beach, also commonly known as Sugar Beach.
This powdery white beach sits at the base of the colossal Piton mountains and comes complete with crystal clear turquoise waters.
It's a fantastic snorkeling location too so you can jump into the ocean to meet tropical fish like butterflyfish, parrotfish, eels and even barracudas.
Another beach that I love is Grande Anse Beach which is much quieter and more secluded. It feels more wild and rugged compared with other beaches in St Lucia.
Related Post: Sugar Beach St Lucia Snorkeling Guide
Waterfalls
St Lucia also has an abundance of cascading waterfalls.
My favorite waterfall in St Lucia is Toraille Waterfall which reaches 50ft and drops straight into a pool that you can actually swim in! It's pretty fun and super unique.
To reach most of these waterfalls, you will need to hike a little bit. It's totally worth it though as the waterfalls are just so beautiful.
---
And that's it!
Thanks for reading this post on if St Lucia is part of the US Virgin Islands.
Hopefully it answered some questions and debunked some myths about where St Lucia is in the world.
Many people also think that St Lucia is part of Jamaica however this myth is also false.
Thinking of visiting St Lucia?
Related Posts: